Scrolling through your Instagram feed from your couch? Just because you're at home does not mean you can't take interesting photos. That's because your home is filled with unexpected photo opportunities that often go unnoticed. Here are 5 ways to focus on the little details of everyday moments at home to help you capture fascinating photos.
1. Get creative with ornaments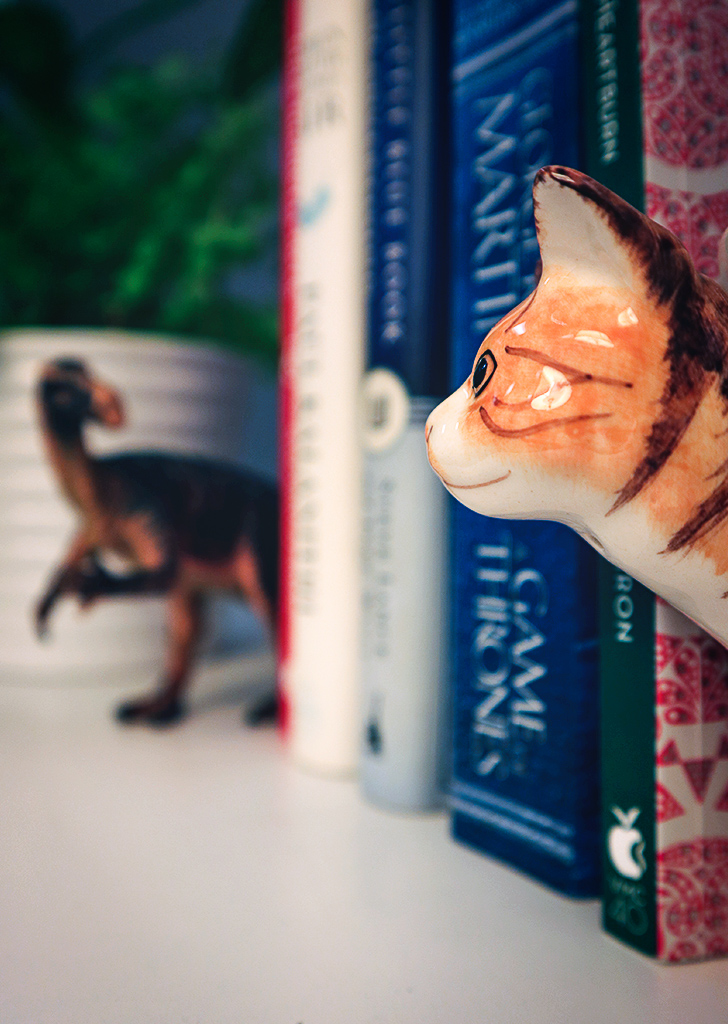 EOS M50, EF-M15-45mm f/3.5-6.3 IS STM lens, f/3.5, 15mm, 1/80sec, ISO400
What may seem like ordinary ornaments or knick knacks in your home can help you to create interesting photos. Think outside of the box and unleash your creativity as you move around to explore unusual angles or perspectives while taking the shots. Enjoy the freedom of shooting from various angles with the EOS M50's Vari-angle LCD screen, which rotates for easier shooting even when holding the camera in a vertical orientation.
Learn how to use perspective to translate your photos into a form of visual art with Capture Unique Perspectives with the Canon EOS M50.
2. Observe shadows
EOS M50, EF-50mm f/1.8 II lens, f/2.2, 50mm, 1/4000sec, ISO400
Play with light and shadows to accentuate beauty in the everyday. When you incorporate both light and shadows, it gives your subject form, depth, and texture. Shadows also add contrast and drama to an otherwise ordinary photograph. Look out for the time of the day when areas in your home are bathed in strong light, which casts shadows across your subject. For example, this door grille and its rusted parts that make you ponder about life's wear and tear.
3. Capture reflections
EOS M50, EF-50mm f/1.8 II lens, f/3.2, 50mm, 1/20sec, ISO500
A simple way to add interest to your photos is through reflections. Spot them on the most unexpected places: mirrors, shiny surfaces, windows and more. Experiment with angles and lighting to create eye-catching abstract shots. Expose for the brightest part of your photo to ensure a richer colour tonality.
In this instance, the lamp is the focal point that draws the viewer's eyes into the photo and keeps them there longer, before they wonder about the other elements. With an ISO speed that ranges from 100 to 25600, the EOS M50 gives you the freedom to capture detailed images with minimal noise, even under low light conditions.
4. Explore with toys
EOS M50, EF-M15-45mm f/3.5-6.3 IS STM lens, f/3.5, 15mm, 1/20sec, ISO20
Toys aren't just for playing; they're versatile and full of creative possibilities for photography. Get creative by incorporating them with everyday household items as you shoot from various angles. In this shot, placing the wooden toy boat on a blanket makes one feel like sailing away and exploring blue waters. Fitted with a 24.1 megapixels APS-C CMOS sensor, the EOS M50 enables you to capture images with refined details and superb colours.
Find out how to create unique images out of mundane objects with How to Capture Fascinating Images of Ordinary Things.
5.

Pause for a self(ie) reflection
EOS M50, EF-M15-45mm f/3.5-6.3 IS STM lens, f/1.8, 50mm, 1/60sec, ISO400
Why not add a personal touch by capturing a different kind of selfie? In this photo, soft and diffused light from a window outlines the photographer to create a silhouette reflected on a frame facing opposite. With the camera's built-in Wi-Fi/NFC function, enjoy easy transfer of photos to your smart devices. Or use the Camera Connect app to view all of your selfies on your smartphone and then choose the perfect one to share on social media.
For more inspiration on photography at home, check out these articles:
5 Perfect Baby Photo Set Ups You Can Do at Home
3 Interior Tips for New Homeowners
---
Receive the latest update on photography news, tips and tricks.
Be part of the SNAPSHOT Community.
Sign Up Now!
---