Products >>
All Products
All About the EOS 80D (1) – 45 All Cross-type AF Points
One of the characteristics about the AF system of the EOS 80D is that all AF points make use of a cross-type sensor. While the total number of 45 AF points is also an important quality, you can make more sophisticated use of the camera by gaining a better understanding of the characteristics and properties of the AF sensor. Let us start by learning how the AF sensor functions. (Photos and text by: Ryosuke Takahashi)
How does having 45 f/5.6-sensitive cross-type AF points contribute to AF precision?
Because there are 45 AF points on the EOS 80D, the area available for AF detection during viewfinder shooting is wider in all four directions compared to other existing models. This gives you a better chance of capturing the subject as intended.
Moreover, these 45 AF points have different characteristics, that all contribute to the AF performance of the EOS 80D. Having a good understanding of them will help you use your camera more effectively. 
All cross-type sensors: Form a sensing "web" that detects a wider variety of subjects
All 45 AF points consist of cross-type sensors. A cross-type sensor consists of a vertical line sensor and a horizontal line sensor intersecting at the centre, forming a sensing "web" that detects a subject with better accuracy than a single line sensor.  
For more about the difference between line sensors and cross-type sensors, check out the following article:
Camera FAQ #12: What is the Difference Between a Line Sensor and Cross-type Sensor?
f/5.6-sensitive AF points+ f/2.8-sensitive centre AF point: Work together for enhanced precision
An f/2.8-sensitive AF sensor uses two points of light near the f/2.8 aperture diameter. These two points are relatively far apart from each other compared to an f/5.6-sensitive sensor, and result in better focusing accuracy. However, should the subject be too defocused, it will still be hard for detection to be carried out. Detection is slower as a result. Also, because the light threshold is f/2.8, the lens' maximum aperture needs to be f/2.8 or brighter for the sensor to work.
Meanwhile, an f/5.6-sensitive AF sensor has relatively weaker focusing accuracy because the two points of light used for detection are nearer to each other. However, this also means that it can carry out detection without being restricted by the maximum aperture of the lens. f/5.6-sensitive AF sensors are also excellent for detecting subjects that are more significantly defocused. The combination of sensors with different sensitivities on the EOS 80D enhances AF detection capabilities.
Moreover, as shown in the diagram below, the centre AF point on the EOS 80D is of a dual cross type. For dual cross-type AF points, the four lines of the two types of AF sensors intersect each other, thereby enabling focusing with greater precision and at a faster speed. 
Layout of the 45 AF points
Selecting a different AF point
1. Press the AF area selection mode button or the AF point selection button
Pressing the AF area selection mode button or AF point selection button displays the selectable AF points inside the viewfinder. In the right photo above, the centre AF point has been selected.
2. Use the Main Dial, Quick Control Dial or Multi-controller to move the AF point
When all the AF points are displayed, you can turn the Main Dial (or Quick Control Dial) to move the cursor up, down or to the left or right to move the cursor to select a different AF point depending on your preference.
Feature 1: All cross-type AF points make composition more versatile
With cross-type sensors employed in all the 45 AF points, you can compose shots freely and enjoy greater AF precision without being subject to the shape or orientation of the subject. As the AF sensing area is broader, AF lock is almost unnecessary: You can determine the composition and carry out autofocus at the same time. As a result, you can get your camera ready faster, establish focus faster, and so have a higher chance of capturing the decisive moment. Also, misalignment in autoexposure (AE ) when AF is locked is less likely to occur.
EOS 80D/ EF-S18-135mm f/3.5-5.6 IS USM/ FL: 18mm/ Program AE (f/8, 1/250sec, EV-0.3)/ ISO 100
Even when the shape of the subject is close to a fine, straight line, either one of the cross-type sensors will respond to adjust the focus accordingly.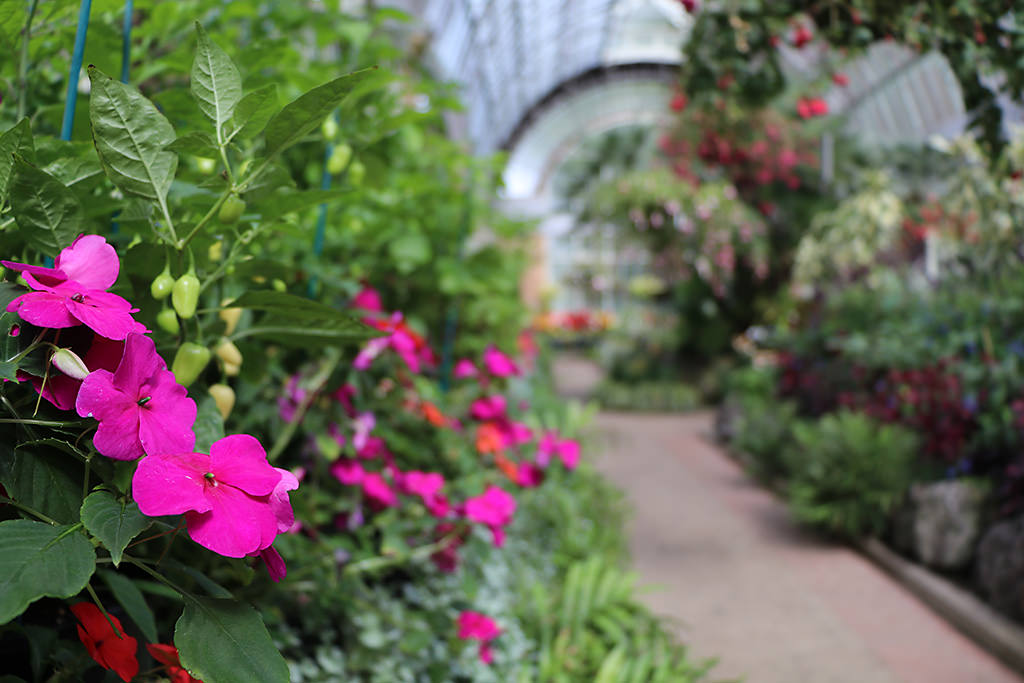 EOS 80D/ EF-S18-135mm f/3.5-5.6 IS USM/ FL: 18mm/ Aperture-Priority AE (f/3.5, 1/250sec, EV-0.3)/ ISO 100
The all cross-type AF points come in handy in a scene where the subject is positioned at the edge of the image, such as in the example above. You can compose a bold shot by making good use of the viewfinder coverage, which is approximately 100%.
Feature 2: The centre AF point works extremely well in dimly-lit scenes
The AF sensors of the centre AF point boast a high level of low-light performance, and are workable even at a low-light limit of EV-3.0. By gaining an understanding of this attribute, you will be able to make use of AF for focusing when the light in the surroundings is dim or close to the brightness of moonlight, such as when capturing landscapes at night or nocturnal animals.
More light will reach the AF sensor when the f-number of the lens is brighter (lower), thus making it more suitable for shooting in low-light conditions.
EOS 80D/ EF50mm f/1.8 STM/ FL: 50mm/ Aperture-Priority AE (f/1.8, 1/40sec, EV-0.3)/ ISO 8000
Even when photographing a dark subject inside a dimly-lit room, the AF sensors of the centre AF point, which support a low-light limit of EV-3.0, are able to detect the focus successfully.
Feature 3: Up to 27 AF points are usable when an extender is attached
The number of AF points and the type of AF sensor that are used by the AF system of the EOS 80D vary with the brightness of the lens attached. When an extender is mounted to the camera, the f/8-sensitive AF sensors are active. A maximum of 27 points can be used for AF, among which nine of them in the centre zone (marked in red) support AF using cross-type sensors. The AF areas on the two sides (marked in blue) are line sensors that detect horizontal lines.
A maximum number of 27 AF points remain usable even when the f-number becomes f/8 with the attachment of an extender, and this helps to ease your AF shooting experience.
EOS 80D/ EF100-400mm f/4.5-5.6L IS II USM + Extender EF 1.4xIII/ FL: 560mm/ Aperture-Priority AE (f/16, 1/2000sec, EV-0.7)/ ISO 6400
The AF points of the EOS 80D capture the subject with a surface and not just with one point. One of the key advantages is that you can compose your shots more freely—your compositions don't end up looking like the centre composition.
Tip 1: Use the Multi-controller for quicker AF point selection
Instead of using the AF area selection mode button, you can simply operate the Multi-controller to change your AF point selection quickly. Doing so takes one step less compared to the former, and therefore comes in handy when you suddenly chance upon a scene. For greater convenience, you can combine it with the settings in AF point selection pattern.
To change the setting, go to [C.fn III: Operation/Others] – [Custom Controls].  
Tip 2: Use "AF point selection movement – Continuous" for more flexible AF point selection
Selecting AF point selection movement to "Continuous" conveniently allows the AF point to cycle around to the opposite side when an AF point you selected reaches the outer edge of the image. As the AF points can be moved quickly in the left and right (or upward and downward) directions, this feature is not only suited for photographing activities with vigorous movements such as sports, but also comes in extremely handy for photographing unpredictable subjects such as pets.
To enable the AF point to cycle around to the opposite side, select [Continuous] when you are in an AF area selection mode other than 45-point automatic selection AF.
Receive the latest updates on photography news, tips and tricks by signing up with us !
Ryosuke Takahashi
Born in Aichi in 1960, Takahashi started his freelance career in 1987 after working with an advertising photo studio and a publishing house. Photographing for major magazines, he has travelled to many parts of the world from his bases in Japan and China. Takahashi is a member of the Japan Professional Photographers Society (JPS).

Digital Camera Magazine
A monthly magazine that believes that enjoyment of photography will increase the more one learns about camera functions. It delivers news on the latest cameras and features and regularly introduces various photography techniques.
Published by Impress Corporation