Tips & Tutorials >>
All Tips & Tutorials
Beautify Your Shots with the EF-EOS R Drop-in Filter Mount Adapter
The Drop-in Filter Mount Adapter EF-EOS R allows you to use an ND filter or CPL filter with any EF lens, even those that do not take a screw-in filter—like the ultra-wide-angle EF11-24mm f/4L USM. Find out more about the amazing things you can do in ths article. (Photos and text by: Yoshiki Fujiwara)
Of the different EF-EOS R mount adapters that let you use EF lenses with EOS R series cameras, the one with the drop-in filter is probably the most attractive. It lets you use a filter with any lens, regardless of the filter thread and diameter, simply by inserting a compatible filter into the adapter.
There are two types of drop-in filter mount adapter: One with a circular polarising (CPL) filter, and another with a variable neutral density (ND) filter that allows you to adjust the density from between the equivalent of ND3 to ND500 (effect equivalent to up to 9 shutter speed stops).
Drop-in Filter Mount Adapter EF-EOS R
The CPL and variable ND filters that come with the adapter are also available as separate add-ons. When you don't want any filter effects, you can insert a clear filter, sold separately.
2 notable features of the Drop-in Filter Mount Adapter EF-EOS R
#1: It works on any EF/EF-S lens
The mount adapter can be used on EF/EF-S lenses with no filter thread, such as the ultra-wide-angle EF11-24mm f/4L USM. And as the filter size doesn't matter, you don't need to buy different filters for different-sized lenses! This is especially handy for videography, where an ND filter is essential to control the exposure when shooting in bright conditions
#2: You can adjust the effect by turning the dial
To adjust the strength of the filter effect, turn the dial on the mount adapter. You can do it even as you check the effect through the EVF.
Using a circular polarising filter
Control reflections to capture the scene's original colours and details
EOS R / EF11-24mm f/4L USM/ FL: 11mm/ Manual exposure (f/8, 1/15 sec)/ ISO 100/ WB: Auto
Filter effect: Strong

What kind of scenes is a CPL filter good for?
Reflected light doesn't just prevent us from photographing things under the water surface, it can also make colours appear duller than what you see. By using a circular polarising (CPL) filter to polarise ("cut out") the reflected light, you can:
- Make water look clearer
- Intensify the blue of the sky
- Capture autumn colours in their full, fiery glory
On the Drop-In Filter Mount Adapter EF-EOS R with the CPL filter, you can adjust the polarisation effect by simply turning the dial.
Tip: Leaving in just a bit of reflection can enhance the dimensionality of the scene.
Intensifying the colours of the sky
1. Strong
2. Weak
3. No CPL filter
The reflection from sunlight caused the sky to appear white. You can barely see the tree on the left. Using the strongest effect on a CPL filter removed the reflected light, restoring details and colour.
Removing surface reflection
EOS R/ EF11-24mm f/4L USM/ FL: 24mm/ Manual exposure (f/8, 1/15 sec)/ ISO 200/ WB: Auto
Filter effect: Strong
1. Strong
2. Weak
3. No CPL filter
The sunlight reflecting off the pond surface is so strong that without a CPL filter, only the reflection of the surrounding trees would be captured. That would have made a good shot on its own, but I wanted to show the fallen leaves inside the pond, too, which was where the CPL filter helped.

Here are some more scenes where a PL filter proved helpful:
2 Ideas for Photographing Flowers in the Evening
Quick Tips for Photographing Rainbows
Using a variable neutral density filter
Achieve longer exposures to blur moving water and clouds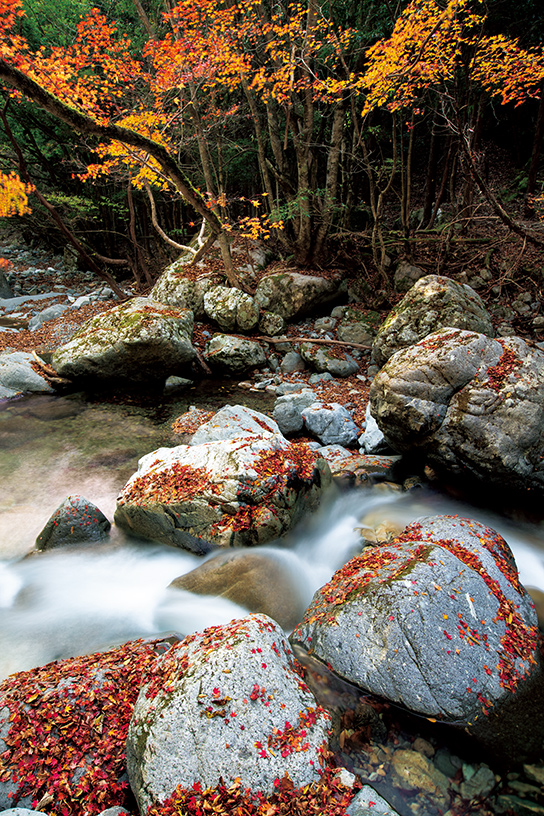 EOS R/ EF11-24mm f/4L USM/ FL: 24mm/ Manual exposure (f/8, 8 sec)/ ISO 200/ WB: Auto
Filter effect: Strong

What kind of scenes is an ND filter good for?
A neutral density (ND) filter reduces incoming light, allowing you to shoot with a slower shutter speed even in bright conditions such as midday sunlight. With it, you can:
- Make the flow of water look silky smooth
- Blur clouds
- Use a slow shutter to shoot fireworks
- Use the maximum aperture even in bright sunlight

Drop-in Filter EF-EOS R Mount Adapter: Simplify your equipment
Normal ND filters have a fixed density, and you would have to use a filter with a different density if you want to slow down your shutter speed by a different amount.
However, the variable ND filter that comes with the EF-EOS R mount adapter allows you to use densities anywhere between ND3 to ND500, which slows down the shutter speed from between 1.5 to 9 shutter speed stops. This gives you the versatility to go from creating just a tiny bit of blur, to doing long exposures for as long as 30 seconds.
Making water look silky
1. Strong
2. Weaker: 1 sec
3. No ND filter: 1/6 sec
Using a slow shutter smoothened the flow of water, making it appear calm and quiet. This was achieved by adjusting the ND filter to achieve a strong effect that slowed shutter speed to 8 seconds. At f/8, without a filter, the optimal shutter speed is a much shorter 1/6 second.
Make water surfaces look like glass
EOS R/ EF11-24mm f/4L USM/ FL: 11mm/ Manual exposure (f/8, 15 sec)/ ISO 100/ WB: Auto
Filter effect: Strong
1. Stronger: 15 sec
2. Weaker: 1.5 sec
3. No ND filter: 1/20 sec
In this long exposure, the movement of the waves and currents has been flattened so that the lake surface is as smooth as a mirror, which helps to draw the viewer's attention to the wooden posts. This was achieved by using a higher density on the ND filter, which slowed the shutter speed to 15 seconds.
Final tip: Combine two filters if your lens allows
If your lens can also take a screw-on filter, you can use it together with the filter in the mount adapter. Using an ND filter and a CPL filter together will allow you to make water both smooth and clear in your shots.
For more scenes captured with the help of an ND filter, check out:
3 Tips to Elevate Your Wedding Storytelling (and Why the EOS R Helps)
Using Lens Filters: 2 Techniques from Professional Photographers
---
Receive the latest update on photography news, tips and tricks.
Be part of the SNAPSHOT Community.
Sign Up Now!
---
About the Author
A monthly magazine that believes that enjoyment of photography will increase the more one learns about camera functions. It delivers news on the latest cameras and features and regularly introduces various photography techniques.
Published by Impress Corporation
Formerly a professional snowboarder, Fujiwara took the opportunity to embark on a second career as a photographer after retiring due to an injury. He has since won a number of international photography awards for his nature photography and cultural portraits. In 2019, he became the first Japanese person to win an award in the 'People' category of the 2019 National Geographic Travel Photo Contest. Besides providing photos for National Geographic, Fujiawa also contributes to camera magazines in Japan and abroad, and engages in a wide range of activities including books, talk shows, and company calendars.
http://www.yoshiki-fujiwara.com/
Instagram: @yoshiki_fujiwara