A kit lens is usually bundled with your first interchangeable lens camera, whether it is a DSLR or mirrorless camera. For those who are new to photography, these kit lenses are great; they cover wide angle to telephoto range, allowing them to learn how various focal lengths affect their photos. But as some of you progress on in your photography journey, you may discover a niche that you want to specialise in. For example, if you want to focus on landscape photography, you would want to invest in a dedicated wide-angle lens.
In this first of a two-part series, we will explore the wide-angle and standard lens options for the four Canon lens mounts, exploring not only the native choices but also how some lenses can be attached to another mount via an adapter. For example, the EF-M mount can accept both EF and EF-S lenses with the Canon Mount Adapter EF-EOS M.
To find out what options you have for telephoto and macro lenses, click here.
For easy reference on which mount can accept which lenses, here's a handy table: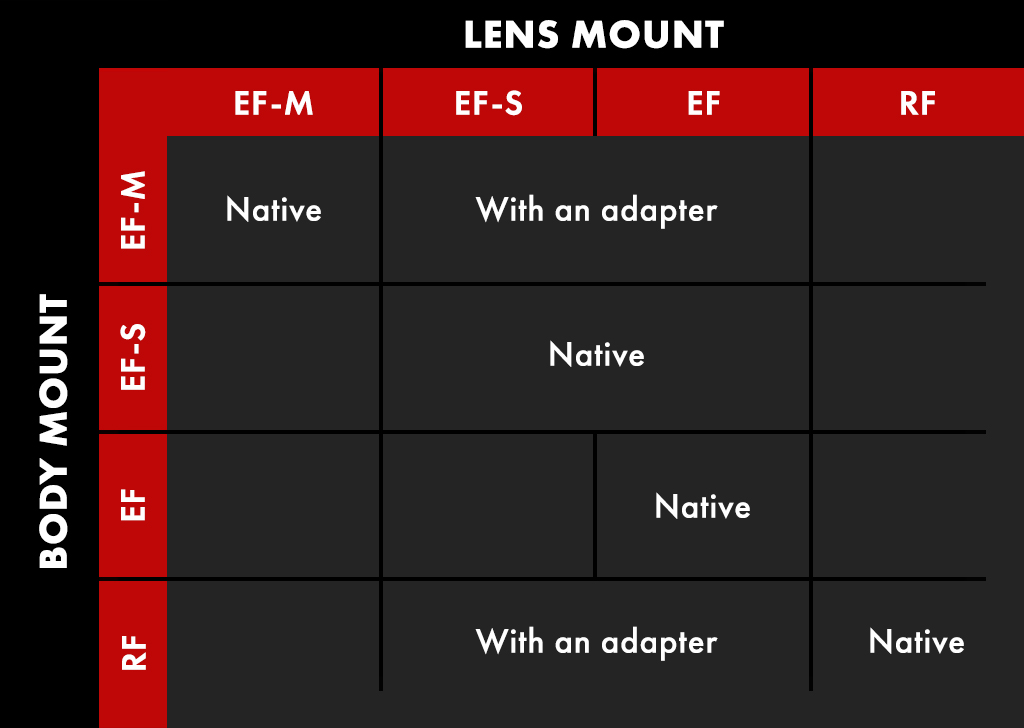 Ultra Wide-Angle and Wide-Angle Choices
For reference, ultra-wide-angle refers to 24mm or wider, while wide-angle refers to 35mm and wider.
Suited for EF-M cameras such as the EOS M50 Mark II, this lens delivers a super wide field-of-view of 18mm (in 35mm format) at its widest setting, allowing photographers to capture a wide expanse of the landscape in a very compact package.
Delivering an equivalent of 16mm (in 35mm format) when it is zoomed out with a large aperture of f3.5, this lens is designed for photographers who have an EF-S mount camera such as the EOS 850D or mounted on an EF-M mount camera like the M50 Mark II via an adapter. The zoom range also offers flexibility for you to crop out unnecessary elements in the frame while keeping the resolution of the shot.
Its designation of an L lens says it all; this lens is a prime option for full-frame DSLR users who want a well-designed lens that allows them to capture breathtaking wide-angle shots. It also has a constant f4 aperture at all focal lengths. If you find the f4 aperture limiting, there is the EF16-35mm f/2.8L IS USM. While designated as an EF lens, it can easily be mounted on an EF-S camera or EF-M body (via an adapter), though the crop factor will mean that at its widest it will only be 26mm.
The latest RF lens to join the line-up is the RF14-35mm f/4 L IS USM, which gives RF photographers a native ultra-wide-angle option. Before this lens was released, RF users would have to mount the EF equivalent via an adapter to shoot ultra-wide-angle shots.
With an ultra-large aperture of f/1.4, you can expect some creamy bokeh out of this lens meant for EOS M cameras. When mounted, this lens gives an equivalent field-of-view of approximately 50mm, making this a versatile walk-about lens. At 235g, it wouldn't weigh you down either. When paired with a lightweight EOS M body, this combination makes it great for street photography.
This pancake lens may give a field-of-view of 38mm when mounted on EF-S and EF-M cameras, but don't let its diminutive nature fool you. The large f/2.8 aperture is also versatile enough to let you shoot in low-light conditions.
For many full-frame photographers, this is a must-have in their arsenal of lenses. Lightweight, compact and affordable, this 50mm lens gives great value for money. For EF-S and EF-M photographers, this lens becomes a large aperture 80mm portrait lens for their cameras. There is also an f/1.4 and f/1.2 variant.
The RF version of the 50mm lens is almost as compact and light when compared with the EF50mm version. It's not hard to see why this is a lens that almost all RF photographers will have in their camera bags.
Depending on the mount of the camera you are using, your choice of lenses is vast. On top of that, using an appropriate adapter will open up even more options for you. Some adapters are multi-functional, such as the EF-EOS R Drop-in Filter Mount Adapter, allowing you to mount EF and EF-S lenses on an RF body, and slot in a neutral density filter.
Click here to read the second part of this series, detailing options for telephoto and macro lenses.