Happenings >>
All Happenings
Canon Announces EF-S35mm f/2.8 Macro IS STM with Built-in Macro Lites
Canon has announced their latest interchangeable lens, the EF-S35mm f/2.8 Macro IS STM, the first EF-S lens designed with built-in Macro Lite technology. Similar to the EF-M28mm f/3.5 Macro IS STM, this lens comes with built-in Macro Lites. Being an EF-S lens, it can be used with APS-C DSLRs, such as the EOS 7D Mark II and the EOS 800D. (Reported by: Nao Iiduka)
The Macro Lites can be independently lighted, and have their brightness adjusted
The EF-S35mm f/2.8 Macro IS STM is the first EF-S lens designed with built-in Macro Lite technology. This makes it a unique lens which resolves common difficulties encountered in macro photography, such as situations where you cannot approach the subject, or when you have shadows cast onto your subject.
With its compact size and tapered design at the front of the lens, it is much easier to get close to subjects, and the Macro Lites, built-in the front of the lens, enable the subject to be brightly illuminated. The lens also features a minimum working distance of 30mm and life-size maximum magnification.
The lens features 2 built-in Macro Lites (white LED ring) with one on each side of the front of the lens, and a Macro Lite ON button located on the body of the lens, which enables you to illuminate one or both of the lights, or adjust the brightness level between bright and dim.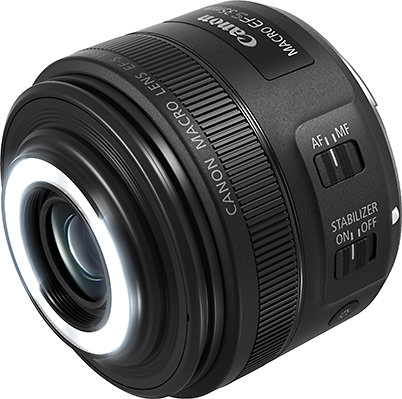 Hybrid IS corrects both shift and angular camera shake
The EF-S35mm f/2.8 Macro IS STM comes equipped with Hybrid IS (which compensates for up to 4 shutter speed stops), that is not only capable of correcting angular camera shake, but also corrects shift camera shake, which is a common problem encountered in macro photography when shooting at a high magnification.
The lens also features a lead screw-type STM, which enables smooth video AF.
The EF-S35mm f/2.8 Macro IS STM constitutes of 10 elements in 6 groups which includes 1 aspheric lens, and a 7-blade circular aperture. It has a minimum focusing distance of 0.13m and dimensions of length 55.8mm, a widest area of 69.2mm, and weight of 190g. A filter of diameter 49mm may be attached via a lens hood.
Modular Transfer Function (MTF) Graphs
Other than that, the lens comes bundled with a Lens Cap EF-S35, and a Lens Hood ES-27, which prevents a white ring being reflected into photographs.
Lens Cap EF-S35
Lens Hood ES-27
Receive the latest updates on photography news, tips and tricks by signing up with us!
About the Author
Delivers daily news related to topics such as digital cameras and peripheral devices, and imaging software. Also publishes articles such as reviews on the use of actual digital camera models and photo samples taken using new models.
Nao Iiduka is a freelance editor who edits and writes for magazines, mostly computer and camera-related magazines. Perhaps due to his roots in DTP-related magazines, he has in-depth knowledge in inkjet equipment and a wide range of printers, from large size commercial printers to inkjet printers for home use, as well as scanners and digital cameras.