Happenings >>
All Happenings
Canon Announces New EOS 77D and EOS 800D: Different Interfaces for Different Shooting Styles!
On 15 February 2017, Canon announced two new DSLR cameras, the EOS 77D, geared towards photography enthusiasts, and the EOS 800D, a beginner-friendly model. Both cameras feature an APS-C-size CMOS sensor, and are compatible with EF-S lenses and EF lenses. (Reported by: Makoto Suzuki (Digital Camera Watch))
EOS 77D
The EOS 77D shares the same basic features as the EOS 800D, but is enhanced with additional features geared to cater to photography enthusiasts. It is available in two kits, one the EF-S18-135mm f/3.5-5.6 IS USM lens and the other with the new EF-S18-55mm f/4-5.6 IS STM lens, as well as just the body alone.
In comparison with the simple, first-timer friendly interface on the EOS 800D, the EOS 77D is equipped with operational controls that more closely resemble those available on higher-end DSLRs, such as control dials on its top and rear panels and an AF-ON button.
The EOS 77D also features an CMOS image sensor with approximately 24.2 effective megapixels, a normal ISO speed range of ISO 100 – 25600, and support for movie shooting in Full HD 50p/60p with a new function for shooting time lapse movies. The image processing engine is DIGIC 7.
The intelligent viewfinder has a magnification of approximately 0.82x, with a field-of-view coverage of approximately 95%. The focusing screen is fixed, and the shutter speed ranges from 1/4000 – 30 seconds, with maximum X-sync speed at 1/200 seconds.
For continuous shooting, the camera is able to shoot at up to approximately 6 frames per second (fps). The AF sensor system consists of up to 45 all-cross-type points, of which up to 27 points are compatible with f/8.
The touch panel LCD monitor is 3.0 inches with approximately 1,040,000 dots of effective pixels.
For Live View shooting, both the EOS 77D and the EOS 800D use Dual Pixel CMOS AF, where all pixels on the image sensor are used as phase difference detection AF sensors. The cameras also include the Smooth zone AF mode, which made its debut on the EOS M5 and enhances autofocusing on moving subjects over a larger area.
Here, it is worth mentioning that both the EOS 77D and EOS 800D have achieved the world's fastest AF focusing speed of 0.03 seconds* during still shooting in Live View. *[Editor's note: This point was added by the SNAPSHOT editorial team as of 15th February 2017 and was not in the original Digital Camera Watch article.]
Besides Wi-Fi/NFC connectivity, both the EOS 77D and the EOS 800D support Bluetooth low energy technology which allows a constant connection to smart devices that automatically switches to Wi-Fi where necessary.
The EOS 77D uses the LP-E17 battery, which allows approximately 600 shots (viewfinder shooting mode) and 270 shots (Live View mode) to be shot in a single charge. External dimensions are 131 × 99.9 × 76.2mm, and the weight is approximately 540g including batteries and memory card, and approximately 493g (body only).
* Among all the interchangeable lens digital cameras incorporating the APS-C size image sensors with phase-difference detection AF on the image plane
As of February 14th, 2017 (Researched by Canon).
Calculated based on the resulting AF speed measured according to the CIPA guidelines.
(Varies depending on the shooting conditions and the lenses used.) Internal measurement method.
[Measurement conditions]: Focusing brightness: EV 12 (room temperature, ISO 100)/ Shooting mode: M/ Lens used: EF-S18-55mm f/4-5.6 IS STM (at focal length of 55mm) / Live View AF shooting using the shutter button/ AF method: Live 1-point AF (with Center AF point)/ AF operation: One-Shot AF
EOS 800D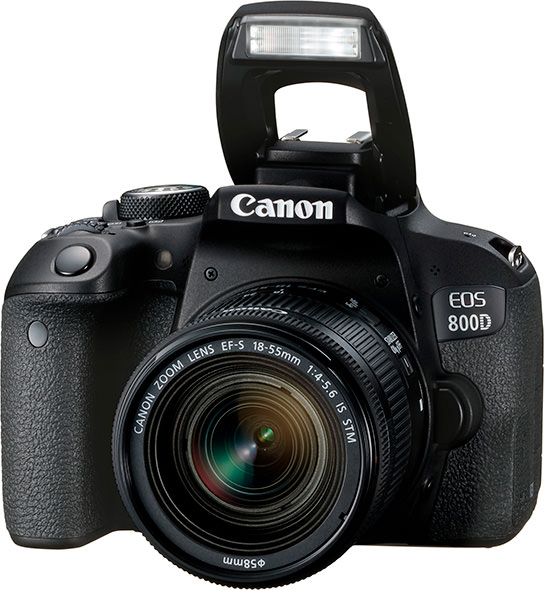 Although the EOS 800D, intended as an all-rounder camera for new users of DSLR cameras, shares similar fundamental functions and specifications as the EOS 77D, its default user interface is set to the simple Guided mode, which features explanations, photos and graphics that provide first-time DSLR camera users with a fun, beginner-friendly guide to camera functions and settings. This mode, too, is available on the EOS 77D, but as an alternative to the latter's default Standard interface.
The camera comes in two kits as well as body only. The first kit contains the new EF-S18-55mm f/4-5.6 IS STM lens, whereas the second kit comes with the EF-S18-135mm f/3.5-5.6 IS STM.
The EOS 800D shared the same external dimensions as the EOS 77D: approximately 131 × 99.9 × 76.2mm. It weighs approximately 532g with batteries and memory card, and approximately 485g without (body only).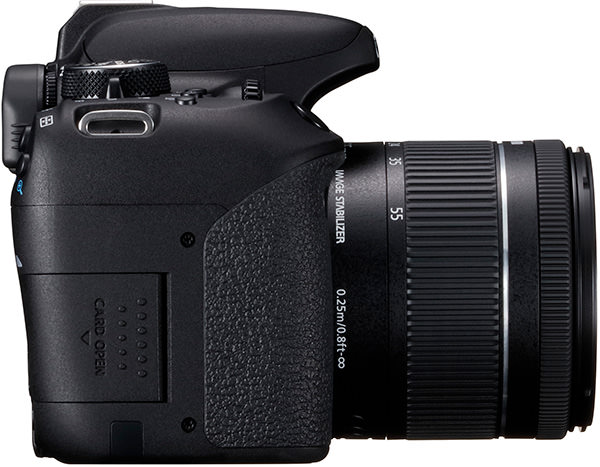 New "Guided" mode helps new users to understand and navigate camera settings
Both the EOS 77D and EOS 800D feature the option of a new "Guided" interface for entry-level users. When enabled, the mode displays easy-to-understand descriptions for parameters in functions such as exposure compensation, AF area selection and aperture setting (e.g. "Blurred" and "Sharp" for the latter).
New Group Photo mode
A new Group Photo mode has also been added to the Special scene modes available on the EOS 77D and EOS 800D. In this mode, aperture is automatically adjusted to f/8 – f/11 to avoid diffractive blur, and other settings are also automatically adjusted to reduce subject blur and camera shake.
New Bluetooth remote control allows remote operation within a 5m radius
Both the EOS 77D and EOS 800D can be used with the new Bluetooth-compatible remote control, Wireless Remote Control BR-E1. Unlike previous remote controls which used infrared transmission, this new remote control is capable of operating within a 5m radius. It can also be used with the Power Zoom Adapter PZ-E1 to carry out zoom operation.
Wireless Remote Control BR-E1
Receive the latest updates on photography news, tips and tricks by signing up with us!
About the Author
Delivers daily news related to topics such as digital cameras and peripheral devices, and imaging software. Also publishes articles such as reviews on the use of actual digital camera models and photo samples taken using new models.