Products >>
All Products
Canon EOS-1DX Mark II: The Giant of Professional Flagship Cameras

Canon EOS-1DX Mark II, 1/100 sec, f/7.1, 15mm, ISO200; photo by Ace Wu
As a professional photographer, I'm always trying to push the envelope, so I need a camera that helps me realise my creative vision. Canon's flagship DSLR, the EOS-1DX Mark II, has proven that it can deliver.
Underwater photography presents tremendous challenges for any camera: Some fish may be tiny and blend perfectly into their surroundings, while others might have highly reflective bodies and move very fast in huge schools. But the EOS-1DX Mark II makes light work of these tough shooting conditions. The high-resolution full-frame sensor produces vibrant colour and crisp detail even at higher ISO settings, and its incredibly fast and accurate autofocus nails focus every time.
See also: Why Professional Photographers Use the EOS-1D X Mark II

Canon EOS-1DX Mark II, 1/125 sec, f/11, 11mm, ISO40; photo by Ace Wu
In one instance, I followed a resident school of barracudas for several days at Blue Corner in Palau. By the fifth day, the fish seemed to accept my presence and allowed me to swim among them. Relying on the amazing accuracy of the autofocus system in the EOS-1DX Mark II, I was able to concentrate fully on composition and make the most of a once-in-a-lifetime opportunity to capture how the school must appear from an individual's perspective. The exceptional dynamic range of the camera's sensor also made it possible to bring down the highlights in post-processing, and extract all of the stunning details in these shiny fish.

Canon EOS-1DX Mark II, 1/160 sec, f/16, 100mm, ISO1000; photo by Ace Wu
In another example, my aim was to produce a more dramatic environmental fish portrait. The idea was to use a light with a filter to colour the background a dramatic blue and then attach a snoot (essentially a cylindrical tube) to a second light to direct a beam of white light onto the body of the fish. Here, the EOS-1DX Mark II's Artificial Intelligence (AI) Servo Autofocus mode, working with the EOS Intelligent Tracking and Recognition (EOS iTR) AF technology, closely tracked the fish as it moved and ensured pin-sharp focus when I hit the shutter.
See also: 4 Keys to Capturing Lovely Underwater Photos in Shades of Aquamarine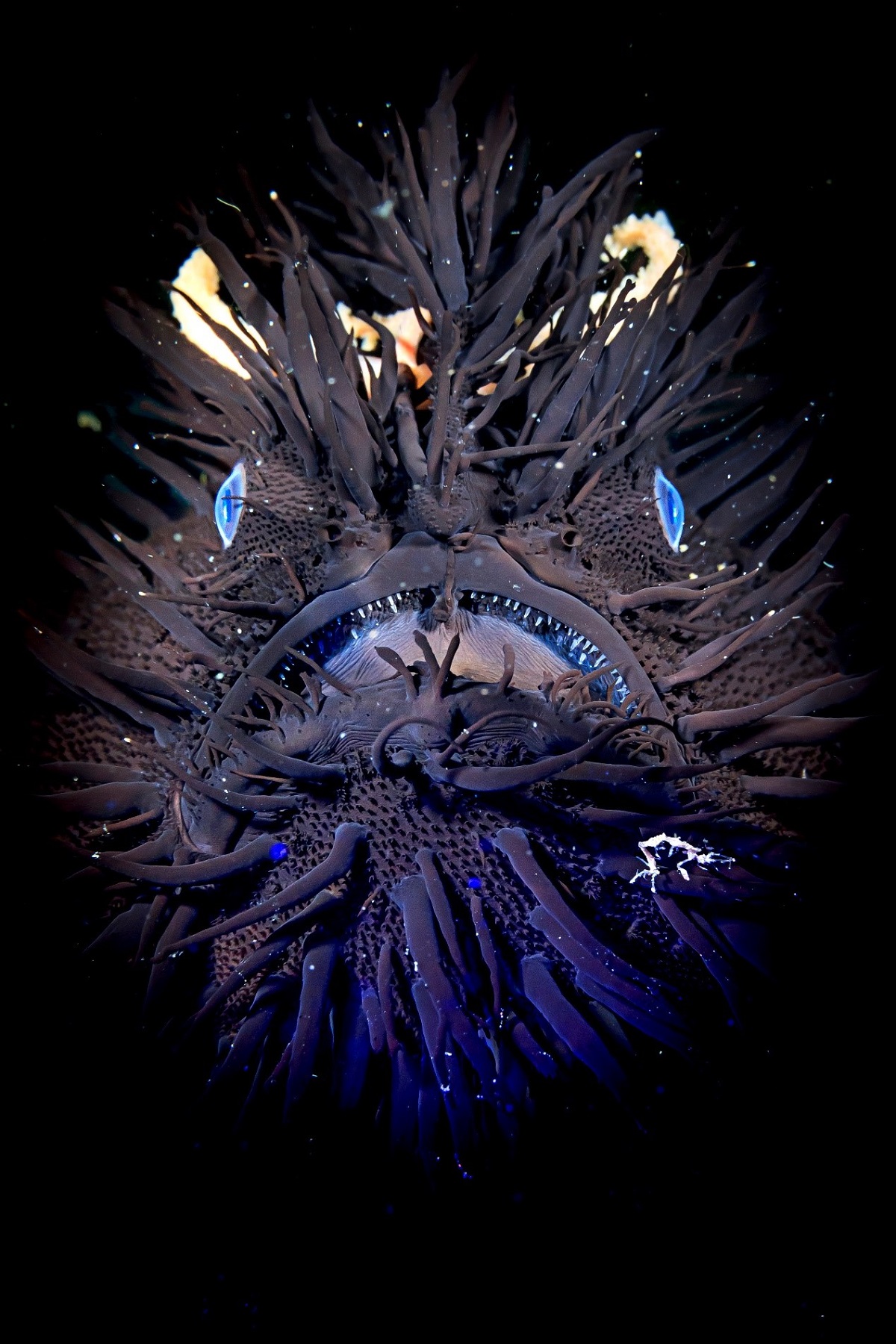 Canon EOS-1DX Mark II, 1/200 sec, f/16, 100mm, ISO1000; photo by Ace Wu​
Read on for more underwater photography tips:
How to Enter Water Safely with Your Camera
10 Tips to Get You Started in Underwater Photography
Macro Lens Techniques: Liven Up Your Underwater Photos with Foreground Bokeh Dots!