Tips & Tutorials >>
All Tips & Tutorials
Create a Cool, Serene World with Water Reflections and White Balance
Ever wanted to capture a cool, serene looking shot of a scene after the rain? You can create such a cool image simply by paying more attention to the white balance settings and to choosing the subject. (Photo and text: Kazuo Nakahara)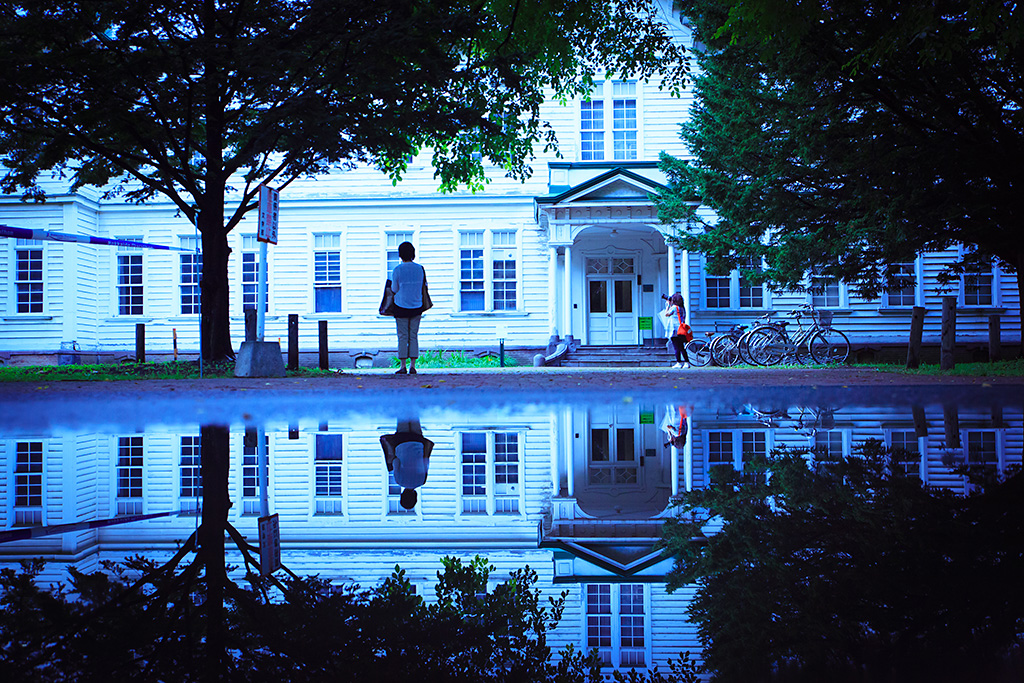 EOS 5D Mark II/ EF24-70mm f/4L IS USM/ FL: 35mm/ f/4, 1/1,600 sec/ ISO 1000/ WB Tungsten
I focused on the scene before me in front of the pool of water at my feet after the rain. To create a cool and serene image, I set the White Balance (WB) to Tungsten and incorporated the symmetry in the image into the composition.
STEP 1:  I chose the pool of water as the subject to evoke the idea of coolness
The key point in taking a cool photo is to choose a subject associated with a cool colour. As a pool of water evokes the coolness of an image, the image can be made even cooler if you set the WB to produce a cool colour. I took the shot close to the water surface so that the actual scenery and its reflection in the pool of water would appear symmetrical.
STEP 2:  Set the WB to Tungsten to emphasise the cool tones
To enhance the cool colours, I set the WB to Tungsten. When shot with Automatic WB (AWB), the cool tones of the water were not emphasised, imparting a warmth to the picture. As sunlight tends to appear cooler on a cloudy day, remember that the colour will be compensated and the picture will not turn out cool toned if you shoot with AWB.
TIP:  Focus on the buildings when shooting a mirror image
Focus on the actual subject instead of the reflection when shooting a mirror image. This is because the apparent distance of both the actual building and its reflection in the pool of water is the same from the camera. If you focus on the actual subject, the reflection will also be focused.
Focus to infinity if the reflected object is in the background.
Kazuo Nakahara
Born in Hokkaido in 1982, Nakahara turned to photography after working at a chemical manufacturing company. He majored in photography at the Vantan Design Institute and is a lecturer for photography workshops and seminars, in addition to working in commercial photography. He is also a representative of the photography information website studio9.

Digital Camera Magazine
A monthly magazine that believes that enjoyment of photography will increase the more one learns about camera functions. It delivers news on the latest cameras and features and regularly introduces various photography techniques.
Published by Impress Corporation