Inspirations >>
Photos & People
Creating Stylish Moments: A Fashion Interview
An art lover and creative fanatic, every image fashion photographer Milton Tan takes is thoughtfully crafted with vision and style. Milton not only pushes the envelope on runway photography, he's also completed a time-lapse film recently. We catch up with him to learn about his style and his favourite fashion shots.
How did you get started in fashion photography?
I started shooting landscapes and products. After a while it occurred to me that the kinds of photos I truly admired were the ones that involved people. When flipping through magazines I was especially drawn to photos of people. The fashion ads and editorials caught my eye the most. That was when I decided to pursue fashion photography. It allows me to photograph people where they can project their best looks.
How challenging is it to photograph a runway fashion show? What tips do you have for someone starting out as a fashion photographer?
You have to get your exposure right within seconds as the first model walks down the runway. After that it stays the same throughout the show. Though media pits can be extremely squeezy, the photographers I met have always been nice and careful not to get in the way.
To catch the most flattering pose, it's important to photograph the model when one leg is in front of the other. You only have a matter of seconds to do so, depending on the length of the runway. One of the main challenges is to get a good shot before the model turns around and leaves.
As you've mentioned, "straight-on" vertical runway photography is boring.  Can you share your motivation behind your merged photos and what you want to achieve with this style?
If one photo tells a thousand words, two would tell two thousand. My intention is to show and tell more in a single picture. This is when I'll merge two or three photos into one. It also creates an interesting way to look at runway photos besides the usual repetitive straight-on perspective.
What essential equipment do you normally use for fashion and runway shoots?
For fashion runways I'll use my Canon EOS 5D Mark III with an EF 70-200mm lens. This choice of lens is a technical requirement due to the length of the runway, which is why a telephoto lens is necessary. When shooting portraits I can use anything from ultra-wide angles to primes and telephoto lenses with my EOS 5D Mark III. With more versatility while shooting portraits, I can go with any lens I feel is necessary to execute the required look.
Can you share some of your favourite photos and the background to them?

Gucci Spring Summer show, Singapore. Instead of the usual runway photo, I saw an opportunity to capture a shot from a different perspective. This happened as a model walked past the Gucci logo just before exiting the runway.

Digital Fashion Week 2015. Final checks just before the show started.

Digital Fashion Week 2015. We had some time backstage before the show started so I got the models to pose against a black wall and lit them with the flash on my camera by bouncing it off a white curtain behind me. It turned out better than I expected.

Victoria Beckham Show at Singapore Fashion Week 2015. I captured a model in between two other just as she was about to enter the runway. This displayed good depth and also lots of focus on the brand's logo.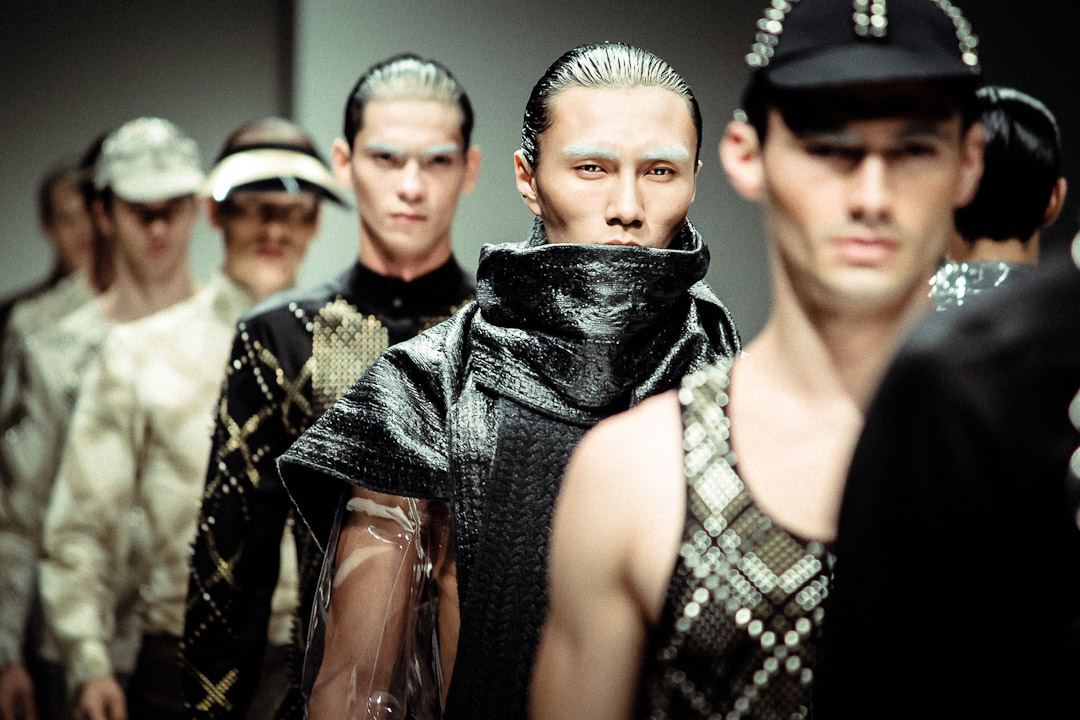 Men's Fashion Week 2012. It was the first Men's Fashion Week I shot, and my favourite photo out of the thousands captured. It left an impression on me even until this day.

Audi Fashion Festival 2013. I captured the intense look on the model's face from a different angle while she stood posing for the photographers in the media pit.
What do you do to constantly improve and keep up with technology and happenings?
I constantly read photography blogs and magazines for inspiration and I enjoy experimenting with different techniques and even time-lapse films.
Isaiah Tan
Profile of writer


A professional videographer with a love for photography, Isaiah Tan runs a video production company and a small bar in Singapore, among other businesses. He enjoys experimenting with different photographic techniques and always wants to learn and discover more of the world around him.

Milton Tan
Profile of photographer


A professional photographer based in Singapore, Milton Tan loves art and anything creative. He shot numerous high fashion brand's shows including Gucci's seasonal collections, Singapore Fashion Week, Audi Fashion Festival, and Digital Fashion Week. Besides photography, he also shot a short film series titled 'The Air Traffic', which was featured in notable media outlets such as Discovery Channel and Daily Mail. To learn more about his works, visit

miltontan.com/photograph

y

.