Products >>
All Products
EOS M6 Mark II: Make Each Fleeting Moment Tell a Vivid Story
On 28 August 2019, Canon announced a new mirrorless camera, the EOS M6 Mark II, which succeeds the EOS M6. Lightweight and compact with an APS-C format CMOS sensor that boasts 32.5 effective megapixels, the camera is also equipped with the latest DIGIC 8 image sensor and huge improvements to specifications such as continuous shooting speed, ISO speed, and AF capabilities, helping you to capture fleeting moments in beautiful detail.
The fast, portable mirrorless camera that won't let you miss shooting opportunities
At first glance, the EOS M6 Mark II does not look very different from its successor, apart from the body finishing that makes it look a little more luxurious. It comes in black and silver versions, and its vintage-like design and feel will probably delight camera connoisseurs.
In addition to the high, 32.5 effective megapixel image resolution, the EOS M6 Mark II is also capable of:
- A maximum shutter speed as high as 1/16,000 of a second
- Continuous shooting at up to 30 frames per second (fps) with AF tracking
All this is packed into a compact, lightweight body that is convenient to take out with you, ready to capture everyday shooting opportunities.
Below, we take a closer look at some of the camera's noteworthy features.
New 32.5-megapixel CMOS sensor, higher-than-ever image resolution
The EOS M6 Mark II's 32.5 effective-megapixel resolution is 30% higher than the 24.2 megapixels on Canon's current highest resolution APS-C format EOS cameras. It is more than sufficient for A3 printing.
The high pixel count is supported by the powerful DIGIC 8 image processor, also found on the EOS R and EOS RP full-frame mirrorless cameras. Together, these improve low light ISO performance, resulting in less visible noise and larger native ISO ranges of 100 to 25,600 (expandable to 51,200) during still shooting, and 100 to 12,800 (expandable to 25,600) during movie shooting.
EOS M6 Mark II/ EF70-300mm f/4-5.6 IS II USM/ FL: 200mm/ Flexible-priority AE (f/8, 1/4 sec)/ ISO 100/ WB: Daylight
Shutter speeds as high as 1/16,000 sec; up to 30 fps RAW burst shooting
In addition to the usual mechanical shutter, the EOS M6 Mark II comes with an electronic shutter that is capable of shutter speeds as fast as 1/16,000 of a second. It also operates with no mechanical shutter sound, which is useful for photographing scenes where silence is important, such as formal events, stage performances, sleeping babies, or even tense sports scenes.
EOS M6 Mark II/ EF-M32mm f/1.4 STM/ FL: 32mm/ Manual exposure (f/2.5, 1/16,000 sec)/ ISO 400/ WB: Daylight

Shooting speeds unprecedented on an EOS camera
An additional new 'High Speed Continuous Shooting +' mode allows continuous shooting at up to 14 fps with AF tracking (Servo AF).
For those who want even higher burst speeds, there is a new, unprecedented RAW Burst mode that is capable of shooting RAW images at as fast as 30 fps with AF tracking, which is a first for an EOS camera. It also supports a 'Pre-shooting' feature, which, when enabled, records moments up to 0.5 seconds before the user releases the shutter. With these features, users can be more assured of capturing decisive moments—possibly even before they manage to press the shutter button!
Dual Pixel CMOS AF: Enhanced with DIGIC 8
EOS M6 Mark II/ EF50mm f/1.8 STM/ FL: 50mm/ Aperture-priority AE (f/2.2, 1/125 sec)/ ISO 200/ WB: Daylight

The improved processing power of the DIGIC 8 image processor has made more possible with Dual Pixel CMOS AF. The EOS M6 Mark II is equipped with:
- A larger AF area that comprises up to 88% × 100% (horizontally × vertically) of the image display area*, which enables focus to be acquired quickly and accurately even if the subject is located close to the edges of the frame;
- Up to 5,481 selectable AF positions during AF area manual selection. In other words, place your subject anywhere, and there will be a nearby AF point to detect it;
- A variety of AF methods to support different scenes, such as:
o Single-point Spot AF, which has a very small AF frame for precise, pinpoint focusing
o Support for Eye Detection AF in the Servo AF and Movie AF modes; and
- Low light focusing at up to EV -5 during still shooting, making it easy to autofocus even in dark lighting conditions.
* With compatible lenses. 80% × 80% on non-compatible AF lenses.
Crop-free 4K 30p/25p video
On the EOS M6 Mark II, you can shoot videos at up to 4K 30p/25p with no crop. In other words, it's possible to record videos of grand landscapes and tight interior spaces with the same angle-of-view that you get during still shooting.

Various image stabilisation features for smoother, steadier footage
The EOS M6 Mark II is equipped with Movie Digital IS, which uses in-body gyro sensors to provide 5-axis digital image stabilization (IS), making it possible to obtain steady footage even when shooting while walking. When paired with a lens with built-in IS, the camera is capable of Combination IS, which combines both in-lens optical stabilisation and in-body digital image stabilisation for even better results.

A variety of frame rates and video shooting modes for greater ease of expression
High Frame Rate shooting in Full HD 120p/100p is also available, allowing you to create seamless slow motion movies in high resolution. In addition, you can also get creative with modes such as 4K Time Lapse Movies and HDR Movies.
Quick, easy wireless connectivity with smart devices
Good things must be shared, and that includes good pictures and video! The EOS M6 Mark II caters to that with its Wi-Fi and Bluetooth connectivity, including support for Bluetooth pairing on multiple devices. You can look forward to:
- Easy smart device pairing and image/video file transfer via the Canon Camera Connect app
(Larger 4K movies can be simultaneously compressed into Full HD files for easier transfer and upload to social media)
- Remote Live View still and video shooting via the Canon Camera Connect app
- Constant, low-powered pairing via Bluetooth low energy technology
- Automatic backup of images to a paired computer/device/cloud storage
- Geotagging images via a smart device
New operational controls for faster manoeuvring
The significant jump in specifications and performance is accompanied by improvements to operability. This includes:
- A new AF/MF switch on the back of the camera body, making the function more accessible to users who previously had to go to the camera menu to reach it due to the absence of such a switch on EF-M lenses.
- The FV (Flexible-priority) mode, first seen on the EOS R, which allows users to quickly override camera-determined exposure settings without having to switch between different exposure modes.
The assortment of dials on the EOS M6 Mark II provides a hands-on, analogue operational feel.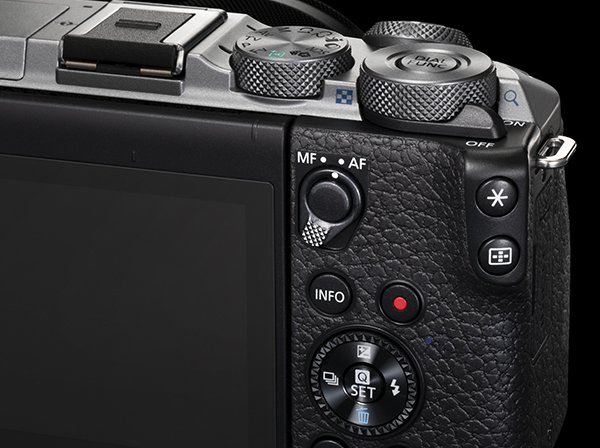 A new switch allows easy toggling between MF and AF.

Those who desire to use the camera with a viewfinder can attach the external EVF-DC2, sold separately. The Touch & Drag AF allows easy control of the AF area through touchscreen operation even while looking through the EVF.
The display screen does not blackout even at the maximum continuous shooting speed of 14 fps, allowing subjects to be tracked with no interruption.
The optional EVF-DC2 uses a 2.36-million dot OLED panel.
The EOS M6 Mark II with the EVF-DC2 attached.
Users who are constantly on the go will be glad to know that the EOS M6 Mark II supports USB charging (Micro USB Type C) via the Power Adapter PD-E1, sold separately.
EOS M6 Mark II key specifications
Image sensor
approx. 32.5 effective megapixels; APS-C format CMOS sensor
Image processor
DIGIC 8
Native ISO speed (still shooting)
100 - 25,600 (expandable to 51,200)
Native ISO speed (movie shooting)
100 - 12,800 (expandable to 25,600)
AF (Live View)
Dual Pixel CMOS AF
LCD monitor
3.0-inch, approx. 1.04-million dot tilt-type touch panel
Continuous shooting (max.)
14 fps (One-Shot AF, Servo AF)
RAW burst mode: 30 fps (Servo AF)
Max. shutter speed
1/8,000 sec (mechanical shutter)
1/16,000 sec (electronic shutter)
Movie shooting
4K: up to 30p/25p
Full HD: up to 120p/100p
Size (approx.)
119.6 × 70.0 × 49.2mm
Weight (approx.)
408g (with battery, memory card)
EOS M6 Mark II (black)
EOS M6 Mark II (silver)
EOS M6 Mark II sample images
EOS M6 Mark II/ EF-M11-22mm f/4-5.6 IS STM/ FL: 11mm/ Aperture-priority AE (f/4.5, 1/40 sec, EV-0.7)/ ISO 1600/ WB: Daylight
EOS M6 Mark II/ EF85mm f/1.4L IS USM/ FL: 85mm/ Aperture-priority AE (f/1.4, 1/250 sec)/ ISO 100/ WB: Daylight
Find out more in: Agile × Versatile: EOS M6 Mark II
Also see: 7 Reasons Why Canon's Mirrorless Cameras Will Up Your Social Media Game
---
Receive the latest update on photography news, tips and tricks.
Be part of the SNAPSHOT Community.
Sign Up Now!
---