Tips & Tutorials >>
All Tips & Tutorials
How I Nailed the Shot: Plum Trees and Sea of Clouds During Golden Hour
Spring in Japan is not just about sakura! As they are one of the first flowers to bloom at the start of spring, plum blossoms are also very important to Japanese culture, and symbolize vitality, hope and renewal. A landscape photographer shares how he captured this beautiful shot of plum blossom trees bathed in golden morning light, surrounded by a sea of clouds. (Reported by: Katsuhiro Yamanashi, Digital Camera Magazine)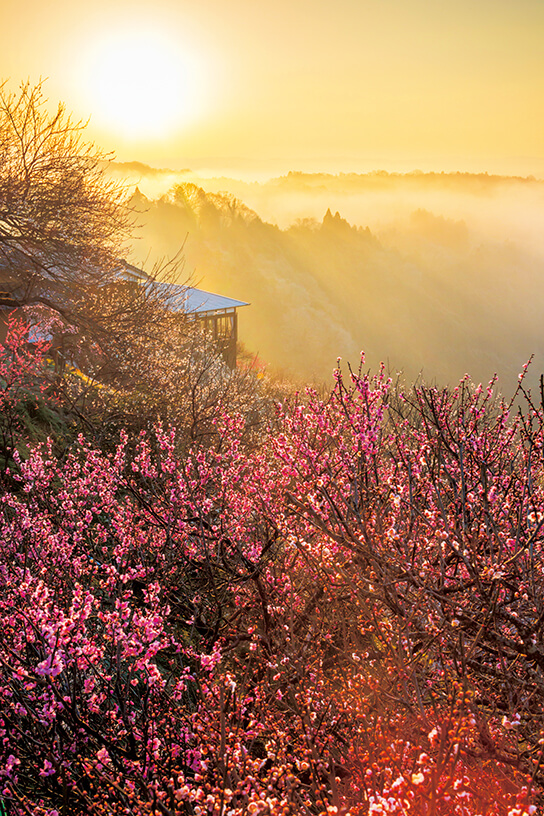 EOS 5D Mark III/ EF28-300mm f/3.5-5.6L IS USM/ FL: 40mm/ Aperture-priority AE (f/16, 1/125 sec)/ ISO 400/ WB: Auto
Location/Time of shoot: Houra Plum Grove, Tsukigase, Nara Prefecture/ 6.30am
Time of year: Early March
The shooting conditions
The observatory terrace at Houra Plum Grove is one out of a few well-known scenic spots within the Tsukigase Plum Grove, also known as the Tsukigase Plum Valley, where over 10,000 plum trees bloom from late February to March. In the early morning, if the conditions are right, you will be able to see the Nabari River below enveloped in a sea of clouds. That is exactly what I saw at around 6am on the morning of my shoot.
I waited for the sun to rise higher. At around 6.30am, the sunlight finally streamed in from the southeast, making the red plum flowers glitter and tinting the sea of clouds golden-orange. The dreamy yet dramatic sight that resulted was very different from what I saw the previous day afternoon, when I had surveyed the same spot. I knew that this was a moment that I had to capture.
Shooting decisions that I made

Vertical framing
The plum trees in the foreground are my main subject, but the morning sun and its sunbeams were also very important elements. Shooting vertically allowed me to include all three elements in the frame for maximum impact.
Learn more about composition techniques in:
Composition Basics: Framing, Horizontality and Verticality
Professional Composition Techniques (1): Visual Guidance, Unexpectedness, and Subtraction

A narrow aperture
The plum blossoms were right in front of me whereas the background was rather far away. I narrowed the aperture to f/16 to achieve a greater depth-of-field and hence, a sharper shot.
Learn more about the different effects you can achieve with different aperture settings in:
In Focus: Aperture Settings for Various Scenes

Camera position and ISO speed
To avoid capturing the railings of the observatory terrace in frame, I adjusted my tripod higher and fixed my camera so that it was tilting downward. This position increases the risk of camera shake, so I increased the ISO to 400, which allowed me to shoot at 1/125 second.
Key technique: Take advantage of side lighting
If you are shooting in the morning, especially at a time when the sun is shining from a diagonal angle, try to shoot in backlight or semi-backlight. The sunlight passing through the flower petals will not only give them a translucent glow, but also add dimension to each branch.
Tip: When shooting white flowers (like the white plum blossoms in the shot above), try to shoot against a dark background. You could also underexpose the shot a little. These will make the white flowers stand out more.
Getting to the shooting spot: Tsukigase Plum Grove, Nara City, Nara Prefecture

By car: around 60 minutes from Nara City, 90 minutes from Osaka.
1. From the Shirakashi IC on the Meihan National Highway, go onto Prefectural Road 82 towards Tsukigase.
2. At the junction before Tsukigase Post Office, turn right onto Prefectural Road 753.
3. Turn left to Romantopia Tsukigase and head towards Shinpukuji Temple. In total, this is around 15 minutes' drive from the Shirakashi IC.
4. There is a paid carpark in the area. The Houra Plum Grove is about 5 minutes' walk away.
Bus: Around 1h 10 minutes from JR/Kintetsu Nara Station. Alight at Oyama.
Site: https://narashikanko.or.jp/spot/nature/meisho-tsukigasebairin/ (in Japanese)

Need travel photography tips? Click here to check out our new ebook:
Lens Techniques for Travel Photography
Learn more about how your photography decisions can change your shot in:
Whether or Not to Include the Sun in the Frame
Front Light or Backlight?
Before or After Sunrise?
---
Receive the latest update on photography news, tips and tricks.
Be part of the SNAPSHOT Community.
Sign Up Now!
---
About the Author
A monthly magazine that believes that enjoyment of photography will increase the more one learns about camera functions. It delivers news on the latest cameras and features and regularly introduces various photography techniques.
Published by Impress Corporation
Born in Tokyo in 1945, Yamanashi worked at a publishing company after his graduation from the Tokyo College of Photography (now known as the Tokyo Polytechnic University), and for 4 years, journeyed around Japan visiting and photographing famous sightseeing spots. After he left the company, he became a freelance photographer, eventually establishing his own company, Yamanashi Photo, in 1989. Besides taking stock images, he also provides photographs for corporate calendars, camera and travel magazines, and posters for Japan Railways.