Products >>
All Products
How Well Do You Know Your f/4L Zoom Lenses?
As the "little brother" of the f/2.8L fixed aperture zoom series, with similar image quality to photographers who required higher mobility. Why are some features such as image stabilisation possible on f/4L zoom lenses but not on f/2.8L lenses? What were the challenges in keeping the f/4L zoom lenses compact and portable? Canon's lens development team tells us why and more.
The different concepts behind the f/2.8 and f/4 lens series
The f/2.8L zoom lens series
Canon's flagship zoom lenses; combines state-of-the-art technology with expertise
As Canon's flagship zoom lenses for professionals, the tough, durable f/2.8L lenses enable a broad range of photographic expression with their bright, f/2.8 maximum aperture and beautiful, creamy bokeh. Infused with sophisticated optical design and built using long-established advanced optical theories as well as ultra-precise processing technologies, they boast outstanding optical performance and excellent operability close to that associated with prime lenses.
The f/4L zoom lens series
Combines mobility with high optical performance
The lenses in this series combine a compact body, affordability and excellent optical performance. They were designed to provide portable, easy-to-handle lens options for situations where a photographer would want to reduce his/her gear load, such as for landscape photography. The f/4L zoom lens series includes zoom ranges not available in the f/2.8L zoom lens series.
Compact and portable, with the high image quality of the f/2.8L zoom lenses
- What inspired the development of the f/4L zoom lens series?
Product planning representative: The f/2.8L zoom lens series was extremely well-received by professional photographers. With its success, we wanted to create a similar system of f/4 zoom lenses, which would achieve higher mobility while retaining the same image quality. This series is positioned to be "second (backup) lenses for professionals". Having a smaller aperture diameter also made it possible to keep the prices affordable, making the lens accessible to more users desiring professional-quality equipment.
Optics design representative: It may be a sibling to the f/2.8L zoom series, but optical performance is not compromised in any way. In fact, when you compare the images shot at maximum aperture, both zoom series achieve almost the same high image quality.
Product planning: f/2.8 is an appealing and popular aperture, but there are also a number of professional photographers who prefer to use f/4. f/4 lenses can have higher mobility, which also means that you can easily take them out, attach them and shoot with them anytime. Therefore, with the f/4 zoom lens series, we have expanded the options available to users with different shooting styles and requirements.
1985
New FD80-200mm f/4L: A lightweight zoom lens with high image quality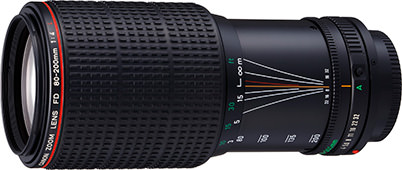 Developed as a part of the highly acclaimed L series of lenses, this lens was not only high performance but also compact and lightweight. You can call it the predecessor to the EF lens f/4L zoom series.
2003
EF17-40mm f/4L USM, released at the same time as the EOS 10D
Usability was the focus in the design of this standard zoom lens for APS-C-sized cameras. The focal range was thus extended towards the telephoto range, providing a zoom range not found in the f/2.8L zoom series.
2005
EF24-105mm f/4L IS USM, released at the same time as the EOS 5D
Achieving a high-magnification zoom starting from the 24mm wide-angle end, this versatile zoom lens was equipped with IS, a feature not found in the f/2.8L zoom series.
Equipped with in-lens image stabilisation from wide angle to telephoto
- Why was the f/4L series able to be equipped with IS?
Mechanical design representative: f/4L lenses can be configured with a smaller entrance pupil due to the smaller maximum aperture. This means that we didn't have to increase the size of the lens to accommodate the image stabilisation (IS) unit. However, we did have to come up with a way to arrange the lens barrel configuration and IS unit to retain the same high image quality as the f/2.8L lenses, and that was a chance to showcase our skill.
Electronics design representative: IS continues to evolve every day. Our latest lens, the EF70-200mm f/4L IS II USM, stabilises images by up to 5 stops according to CIPA standards. With better IS performance, users can use slower shutter speeds, but you would then need to compensate for low frequency shaking, i.e., the strong vibration of the camera body. We managed to compensate for this by coming up with a control mechanism that ensured that the low-frequency signals sent by the gyro sensor are transmitted as much as possible.
Product planning: The f/4L zoom series has four IS lenses covering different focal ranges from wide angle to telephoto. It is a system of lenses with high mobility, and there are different lens options to match your shooting intent. This is what makes the series appealing.
The f/4L series provides a number of IS-equipped lens options—something currently not available in the f/2.8L series
The image stabiliser unit
(From left)
EF16-35mm f/4L IS USM
EF24-70mm f/4L IS USM
EF24-105mm f/4L IS II USM
EF70-200mm f/4L IS II USM
The EF70-200mm f/4L IS II USM helps you to achieve steady handheld night shots. It achieves up to 5 stops image stabilisation*.
IS ON
Focal length: 200mm
ISO 800 1/6 sec. f/4
IS OFF
Focal length: 200mm
ISO 800 1/6 sec. f/4
* CIPA standard. At focal length 200 mm, using the EOS-1DX Mark II.
Developing a dedicated microcomputer chip for enhanced focus and aperture control
- Are there any improvements to the unseen parts?
Electronics design: From around 2007, we began to include dedicated EF lens microcomputer chips. Until then, we used general-purpose microcomputer chips, and external components to form dedicated circuits for controlling parts such as the USM and IS. However, the general-purpose chips did not provide all the features that we wanted, which resulted in issues with the lens mount area and performance. For these reasons, we started to develop a dedicated microcomputer chip optimised for EF lenses. We also installed the latest microcomputer chip on the EF70-200mm f/4L IS II USM, equipping the lens with enhanced calculation and processing abilities.
Electronics design: Koji Okada, Mechanical design: Shigeki Sato
Electronics design: Using a dedicated microcomputer chip enables a high level of performance and integration. It achieves more precise control and also reduces the area needed for the lens mount, which helps to make the lens more compact. Now, we are striving to evolve further, and progress to something with better performance and higher functionality. Almost all EF lenses released in 2007 or later are equiped with this dedicated microcomputer chip for advanced electronic performance.
- What does better control translate to?
Electronics design: During movie shooting, it makes it possible to drive the USM at a low speed, and also enables seamless operation of the electromagnetic aperture during movie shooting. For still image shooting, we usually want to achieve focus on subjects as quickly as possible, and it is the same for narrowing and widening aperture. However, for movie shooting, it is the complete opposite—focus and aperture transitions need to be controlled, gradual and seamless.
Mechanical design: We took the needs of movie shooting into consideration when we developed the dedicated chip. It is very difficult for the USM to drive focus at a low speed, so we needed a new method of control that was not merely an extension of the existing system. The USM that we now use looks the same as the old one used before 2007, but there are huge improvements to the way it moves.
Electronics design: Both the f/2.8L and f.4L zoom series are designed to minimise lens operating noise as much as possible. We succeeded in suppressing IS drive noise considerably on the EF70-200mm f/4L IS II USM, which was also due to the dedicated microcomputer chip.
Electronics design: Koji Okada
The quest to create the ideal lens for the next era
- How do you think the f/2.8L and f/4L zoom series will develop in the future?
Product planning: Both series of zoom lenses have evolved together with the cameras that professionals use, such as the EOS-1 series and EOS 5D series. We have always sought to develop the ideal lens for professional users, and this desire is what motivates us to take on new challenges. It is also an ongoing challenge to improve design and production technology so that we can constantly produce better lenses.
In every era, we aim to achieve lens performance and quality that will satisfy the professional users of the next era. Imaging trends and culture may change, but as long as there are professional photographers who seek new ways to express themselves through images and see the value of imaging, we are committed to evolving the professional lens system so that it supports the EOS system in that era.
We hope that all users will look forward to the future of the L-series zoom system.
Developer profiles
(from left)
Product planning: Kengo Ietsuka
Ietsuka is in charge of product planning for the EF lens series. He handles the commercialisation and performance improvement of EF lens, including the f/2.8L and f/4L zoom lenses.
Optics design: Hiroshi Endo
Endo has been involved in the optical design aspect of EOS system development since its debut. He has handled the development and design of large diameter aspherical lenses, the key technology of the large aperture L-series zoom lenses, since he first started working at Canon.
Mechanics design: Shigeki Sato
Sato has been in charge of EF lens' mechanical design since he started working at Canon. He has contributed significantly to technological innovation and reliability improvement since the rapid acceleration of digitisation in 2000.
Electronics design: Koji Okada
Mainly in charge of IS unit control, Okada works to ensure that EOS cameras and EF lenses pair well with each other, and is currently in charge of the system mechanisms of the matching components, which transmit information between the camera and lens.
Lens processing: Hisakazu Nakamitsu
Nakamitsu monitors the overall efficiency of the entire production department as well as quality control, which helps to ensure a stable supply of high-quality professional lenses.
Production technology: Kenichi Okushima
Okushima is in charge of technical support for mass production. His department contributes to ensuring the high precision of ground aspherical lenses, promotes the automation of high precision spherical lens processing, and also collaborates with the product design department to advance the study of new technologies.
This interview was conducted on the occasion of the release of Canon's new EF70-200mm L lenses. Please also read:
The Little-Known History of Canon's f/2.8L and f/4L Zoom Lenses
Canon Unveils the EF70-200mm f/2.8L IS III USM
Canon Announces the EF70-200mm f/4L IS II USM
---
Receive the latest update on photography news, tips and tricks.
Be part of the SNAPSHOT Community.
Sign Up Now!
---