With a new camera or lens release every other year, many are tempted to spend thousands each time to upgrade their equipment in a bid to stay competitive, but is it really necessary?
How many bells and whistles do you actually need to take a beautiful picture anyway? Too many cameras come equipped with so many settings that they overwhelm even geekiest camera enthusiasts!
With that in mind, I have gone out and captured some street photos with a PowerShot G7 X, just to prove my point that it's not always about having the most expensive equipment or lens.
1. A camera is just a tool for capturing light
Even with the latest technology, the impact an image has on a viewer is still highly dependent on the subject, composition and the light. So long as the camera has a full manual setting, one should be able to capture a couple of good images without having to empty the bank on the latest gears.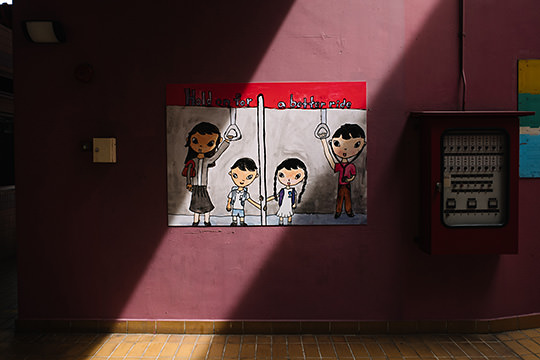 PowerShot G7 X/ (f/3.5, 1/500 sec)/ ISO 125
2. Vision and creativity comes first
As the famous American photographer Ansel Adams once said: "There's nothing worse than a sharp image of a fuzzy concept." Do not spend so much time and effort worrying about your gears that you forget what really matters - focus on your vision and creativity first, rather than relying on your tools to do that for you.
PowerShot G7 X/ (f/11, 1/2000 sec)/ ISO 125
3. Push yourself with boundaries
Working within limitations helps you to become a better photographer. Trying using a prime lens (which has no zoom feature but has a larger maximum aperture and faster shutter speed) so that you are forced to move around to get your shots. Or trying shooting on a roll of film, so that you have to think twice about your composition before clicking the shutter. If you can teach yourself to milk every last bit out of whatever gear happens to be lying around, it will definitely make you a more resourceful and versatile photographer.
PowerShot G7 X/ (f/2.0, 1/60 sec)/ ISO 160
Adrian Seetho
A wedding and street photographer based in Singapore, Adrian loves quirky moments and interations, and documenting them raw as they are. Unlike most who regard film photography as a relic of the past, he embraces it as a way of true self expression and the only tangible method of documenting a moment and keeping it carefully stored for future generations. His work is about capturing the goodness and beauty of all that is created, and believes that doing wedding photography offers the single, most-frequent opportunity for him to witness the pinnacle of all creations – Love.