In Lesson 10, I will explain how wide-angle zoom lenses affect the impression of your photos. If you intend to start using a mirrorless camera, or have just purchased a new camera, this series of articles provide easy-to-understand lessons on techniques for capturing charming photos using the EOS M, which boasts high image quality and simple operability. By learning the basics of cameras and photography, you will be able to produce the shots you want easily! (Photos by: Yuji Ogura, Written & Organized by: Camera Biyori Editorial Department)
Q: How do wide-angle zoom lenses affect the impression of your photos?
A: Wide-angle lenses are capable of capturing a wider area of view. Besides that, they also come in handy when trying to photograph in a narrow space where movement of the photographer is restricted. Extreme wide-angle lenses distort and warp images which may cause objects close to the camera to appear larger while those in the distance to appear smaller.
EF-M11-22mm f/4-5.6 IS STM
Lens construction: 12 elements 9 groups
Closest focusing distance: Approx. 0.15m
Max. magnification: Approx. 0.3x
Filter size: φ55mm
Size: Approx. φ60.9×72.9mm
Weight: Approx. 220g
Designed for the EOS M, the EF-M11-22mm f/4-5.6 IS STM wide-angle zoom lens offers an angle of view equivalent to approximately 18 to 35mm in the 35mm format. Besides capturing a wide area, the closest focusing distance of about 15cm enables photographers to take shots at a close distance from the subject.
Comparison of Angle of View
Compare the angle of view in the following shots, where the architectural structure is captured from the same distance at an angle of view of 18mm and 11mm respectively.
Wide-angle End of Standard Zoom (18mm)
At 18mm, the two sides of the building are cropped off.
Wide-angle End of Wide-angle Zoom (11mm)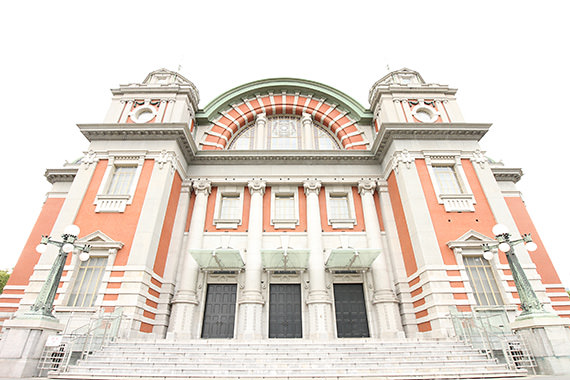 At 11mm, the building is captured in its entirety. The perspective effect makes it look larger than it actually is.
Exploring Photos with a Sense of Expanse
When you are capturing a shot of a tall building from the ground level, or when it is difficult to maintain sufficient distance from the subject in an indoor location, using a wide-angle lens helps you to capture the view in its entirety to bring out the expanse or depth. The resulting photo gives an objective impression as if photographer was standing at a distance away from the subject.
Canon's first mirrorless camera, the EOS M, comes in four colour variations (black, red, white, and silver) so you can pick your favourite!
Yuji Ogura
Ogura's work in photography expands from shooting photographic works to development and printing films. He is one of the tutors at the "Camera Biyori Photography School". He started his career as an engineer at a film laboratory and later establishes his own "mogu camera" lab. He also runs the "mogu sun" portrait studio.

Camera Biyori
Camera Biyori is a Japanese photography magazine introducing charming photos and daily joy with cameras. Suggesting fun activities relating to cameras and photography, Camera Biyori editorial department also offer the "Camera Biyori Photography School" to recommend its readers to engage in photography and have fun.
Published by Daiichi Progress Inc.