Products >>
All Products
Remarkable EF-S55-250mm f/4-5.6 IS STM Telephoto Zoom Lens with Stepping Motor
Popular for its high-performance and cost effectiveness, telephoto zoom lens EF-S55-250mm f/4-5.6 IS II now comes with the stepping motor (STM) to join the EF lenses lineup as a newly designed lens. Employing the UD lens, image quality has also improved. Here, Yukihiro Fukuda tests its image quality and operability out in the field. (Reported by: Yukihiro Fukuda)
Take Advantage of the Quiet and Quick AF during Still and Movie Shooting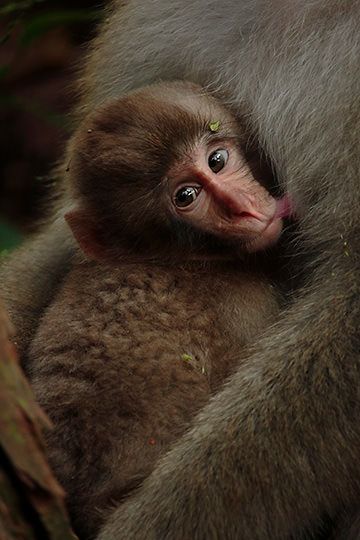 Focal Length: 250mm
EOS 70D/ EF-S55-250mm f/4-5.6 IS STM/ FL: 250mm/ Manual exposure (1/50 sec., f/5.6)/ ISO 1600/ WB: Daylight
With a focal length equivalent to about 400mm in the 35mm format at the telephoto end, this lens is suitable for capturing camera-shy subjects. The IS feature works well even at a shutter speed of 1/50 second to produce satisfactory results.

Focal Length: 55mm
EOS 70D/ EF-S55-250mm f/4-5.6 IS STM/ FL: 55mm/ Aperture-priority AE (1/500 sec., f/5.6, +1EV)/ ISO 1600/ WB: Daylight
I ran into this juvenile monkey while I was resting in the forest. The wide-angle side of the lens allowed me to obtain a landscape-like shot. The minute details of the trees are accurately reproduced.
The popular telephoto zoom lens now comes with shorter closest focusing distance and lighter weight
The EF-S55-250mm f/4-5.6 IS STM was released at almost the same time as the EOS 70D. While maintaining the same focal length range, it is about 15g lighter than the EF-S55-250mm f/4-5.6 IS II, and the closest focusing distance is also shorter by approximately 25cm. A stepping motor (STM) has also been employed for the AF drive mechanism, making it an attractive lens with silent, smooth and high-speed AF operation. The focal length is equivalent to about 80-400mm in the 35mm format, covering the most crucial range for animal photography, which is my area of specialty. Below is a report of test shots taken out in the field with this lens and the EOS 70D.
EF-S55-250mm f/4-5.6 IS STM
Lens construction: 15 lenses in 12 groups
No. of aperture blades: 7
Max. aperture: f/4-5.6
Min. aperture: f/22-32
Closest focusing distance: approx. 0.85m
Filter size: φ58mm
Size: approx. 70 × 111.2mm
Weight: approx. 375g
The first thing that amazed me was the compact size. During my trekking trips in search for animal subjects, I generally carry with me the EF70-300mm f/4-5.6L IS USM and the EOS-1D C, which weigh about 2,580g in total. In contrast, the combination of the EF-S55-250mm f/4-5.6 IS STM and the EOS 70D, which weighs only about 1,130g, made me feel as if I was walking in the mountains without my camera gear.
Slightly longer in total length than other similar models
Compared to the EF-S55-250mm f/4-5.6 IS II, the total length when the lens is set to the telephoto end is slightly longer, but this difference is almost insignificant during actual use. Due to the lightweight design, balance can be maintained even when the lens tube extends out during telephoto shooting.
Left: EF-S55-250mm f/4-5.6 IS STM
Red: 177mm
Blue: 111.2mm
Weight: 375g
Right: EF-S55-250mm f/4-5.6 IS II
Red: 150mm
Blue: 108mm
Weight: 350g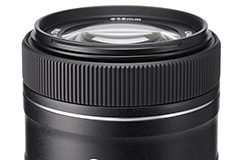 Use of an electronic focusing ring
An electronic mechanism is adopted for the focusing ring located at the end of the lens. Although the movement of the zoom ring is smooth, focusing torque is slightly weak. Nonetheless, the performance of the lens is sufficiently good since it is rarely necessary to perform manual focusing using this class of lenses.
Amazing operability with compact design and quiet STM movements
When I pointed the camera at a subject and turned on AF, focus was established swiftly and silently. Although ultrasonic motor (USM) is quiet too, operation of the STM is so remarkably silent that I do not even feel any vibration through my hands. Meanwhile, focusing speed of the STM is comparable to that of the USM. With the introduction of a Dual Pixel CMOS AF on the EOS 70D, the significantly enhanced performance of Live View AF has attracted the attention of many DSLR movie enthusiasts. The STM lens, which almost does not emit any sound, is therefore an effective choice for those who are particular about noise generated during the movie-shooting process.
Optimal balance with the body of EOS 70D
The lens, combined with the camera body, weighs about 1,130g in total, while the slim diameter of about 70mm makes the lens easy to hold even by female users. The smooth movement of the zoom ring helps to prevent your posture from being disrupted during zoom operation.
Color reproduction and high contrast makes shooting fun for all photographer
In terms of image quality, there is sufficient contrast, and color reproduction is also impeccable. In this trial shoot, I chose monkeys in the mountains as my subject. However, the shooting conditions were harsh. The lack of colors in the subject and the low-light condition of the forest made monkeys challenging subjects. Establishing focus using AF was also difficult. Despite so, the EF-S55-250mm f/4-5.6 IS STM and EOS 70D combination produced results beyond my expectation, and I am convinced that the latest lenses make the best choice. Chromatic aberration, which was one of my concerns, was almost non-existent.
UD lens element excellent for correcting chromatic aberration
A noteworthy feature of this lens is the use of a UD lens element. While many tend to compare it with the EF-S55-250mm f/4-5.6 IS II due to the identical focal length range, they should be regarded as two totally different types of lenses.
Lens Construction
Blue: UD Lens
Red: IS Unit
EF-S55-250mm f/4-5.6 IS STM
Wide
Tele
EF-S55-250mm f/4-5.6 IS II
Wide
Tele
Spatial Frequency
Max. Aperture
f/8
S
M
S
M
10 lines/mm
30 lines/mm
MTF curve provides an actual feel of the high image quality
Compared with the MTF characteristics chart of the EF-S55-250mm f/4-5.6 IS II, we can tell that the central resolution is high at both the wide-angle end (55mm) and the telephoto end (250mm) of the EF-S55-250mm f/4-5.6 IS STM. The curve toward the peripheral area of the image is also smooth, suggesting that beautiful bokeh effect can be obtained.
The EF-S55-250mm f/4-5.6 IS STM covers a range of angle of view that is frequently employed for animal photography. It boasts a level of image quality that is comparable to that of higher-spec lenses. What surprised me is the reasonable pricing, considering the level of performance that even mid-class and higher-level photographers would find satisfactory. For those who have the intention to take up animal photography, but are looking for some lightweight equipment, this lens is highly recommended.

Closest Focusing Distance
EOS 70D/ EF-S55-250mm f/4-5.6 IS STM/ FL: 166mm/ Aperture-priority AE (1/800 sec., f/8)/ ISO 800/ WB: Daylight
The lens has a closest focusing distance of about 85cm, and a maximum magnification of approximately 0.29x. Boasting a high level of close-up shooting capability, it can also be employed in a way similar to that of a telephoto macro lens.

Bokeh
EOS 70D/ EF-S55-250mm f/4-5.6 IS STM/ FL: 250mm/ Manual exposure (1/200 sec., f/6.3)/ ISO 1600/ WB: Daylight
The point in focus appears extremely sharp. Light penetrating through the trees in the background forms beautiful round bokeh, bringing out the refreshing air of the forest.

Backlight
EOS 70D/ EF-S55-250mm f/4-5.6 IS STM/ FL: 70mm/ Manual exposure (1/250 sec., f/5.6)/ ISO 1600/ WB: Daylight
Here, I tried to capture a backlit shot with the sun included in the composition. No significant flare or ghosting is observed, demonstrating the strong capability of the lens in handling harsh shooting conditions.
Yukihiro Fukuda
Born in 1965 in Tokyo, Fukuda spends more than half the time each year out in the field. With the introduction of the EOS-1D C, he is currently actively engaged in shooting 4K movies in addition to still photos. He is also the author of numerous books.