Inspirations >>
Photos & People
Shooting Cities: An Interview with Viven Balsomo
"Cyclist"
It is one thing to be a good photographer, and another to be a good street photographer. The art of capturing raw human emotion requires one to not just understand his equipment, but also his subject. Viven Jose Balsomo tells us what it takes to make it out there on the streets.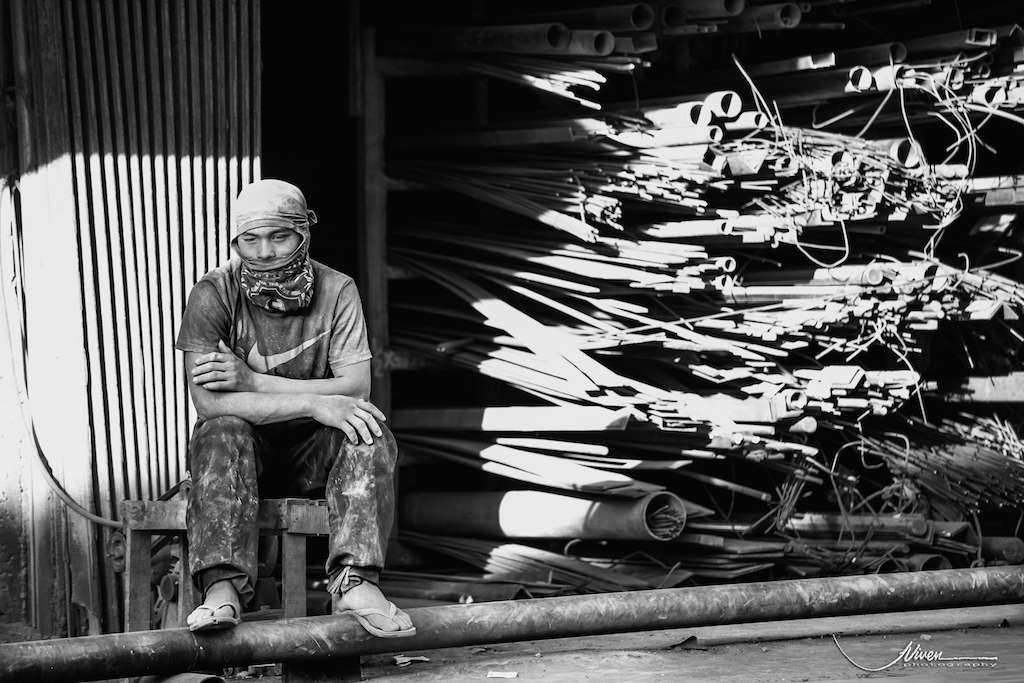 "Rest"
Why street photography?
Street photography is random. Unlike some genres where you can do more planning, shooting on the streets poses the challenge of being able to compose a good shot within a messy and unpredictable environment, and I love it.
"My Chopper"
Does street photography necessarily need to be at an open and public space?
Preferably it should it, as street photography is about capturing candid moments and "un-manipulated" scenes. If it's not in a public space, you'll lose the "authenticity" of street photography.
What do you look out for when photographing on the streets?
I keep an eye out for general life in streets and what kinds of human emotions I can capture. I also look for situations where there is contrast lighting, for example, heavy shadows on a bright day, as this could possibly add more drama to final photo.
"Faith"
Does street photography really need people in it?
Most of the time, it should, but there are cases where featuring non-living subjects can be interesting as well. Like a photo of a broken fire hydrant gushing water backlit in the sun – there is might be less drama, but it doesn't mean it can't be a good photo.
"Sisters"
If so, how then should you approach strangers when you want to photograph them?
This is probably the most challenging aspect of street photography, which is why I prefer using a long lens so I can capture the scene from afar without "interrupting" my subject matter. If they notice me however, I would simply smile and ask (through gestures) if I can take their photo. If they agree, I'll show them what I've shot and if they ask for a copy, I'll hand them my card or get their email so I can send them the photo after -- I always ensure I keep my word. If they aren't agreeable, then I'll just walk away and look for something else to shoot.
"Lost in Thoughts"
How candid should street photography (portraits) be?
There's more real emotion when shot candidly, as the subject is completely unaware. On that note, there are some good street photos where the subject was looking straight into the camera too. Focusing on their eyes is crucial to getting a good photo.
"Push"
How do you work around having too many elements in the background?
The first rule for me in street photography is to always have a clean background. In order to achieve this, I prefer the EF70-200mm f/2.8L IS II USM lens, as it allows me a shallow depth-of-field and I am able to isolate my subject. I'll also look for good angles where I can shoot with lesser elements in the background.
What are some tips to calm a super nervous and camera-shy person?
The best way is to shoot discreetly. In scenarios where this is unavoidable, I find that smiling and talking helps to put them at ease. Remember, for most of us, smiles are contagious!
Some say that when there's tree or water or some sort of nature in the frame then it isn't street photography. What are your thoughts on this?
Why not? The key thing about street photography is the subject matter – as long as the background doesn't divert the viewer's attention, any background can be incorporated into street photography.
What makes a great street photo?
The combination of human drama and good lighting. Technical aspect like focus, framing, composition and getting the right exposure also helps to enhance the image and add more value to the shot.
"Business As Usual"
Colour or black and white, why?
When it comes to street photography, I prefer shooting in black and white. I like my street shots to feature high contrast and dark shadows against bright lights, which is a little hard to express in colour. However, there are some cases where it's better to use colour, like when there's contrasting colours or colour isolation.
How similar is street photography to photojournalism?
I think photojournalism is about documenting a story, where street photography is more artsy. In photojournalism, some photos are still accepted even with technical faults, so long it tells the story it intended. Street photography on the other hand, focuses on technical skills like composition, lighting, focus and exposure.
"Smile"
What are some of your favourite references when it comes to street photography?
I don't have any favourites! I keep an eye open at all times, be it looking at print media, on the web or on social media. Whenever I see a good street photo –regardless of its origins- it inspires me, motivates me and challenges me even more.
Jose Viven Balsomo
Profile of photographer


An engineer based in Singapore, Jose Viven Balsomo's interest in photography started while he was working in the United States. He has travelled around the world to cover festivals, events and landscapes, and is a curator for an online photo contest website. He is a big fan of the black and white genre, and now shoots everything from fashion to macro and to street photography.