Happenings >>
All Happenings
Taking on the Challenge with EOS 5D Mark IV! – EOSnation Seminar Report
Featuring two titans of photography, India played host to a press launch and two seminars, in which improved features of the new EOS 5D Mark IV were highlighted. Check out this report for feedback from the professionals, in case you missed your chance to attend this event.
On 26 August 2016, just 1 day after the EOS 5D Mark IV was announced globally, Canon India Pvt. Ltd. had arranged for a dedicated press launch event in Delhi, as well as two EOSnation seminars, where renowned professional photographers Prakash Tilokani, who specializes in wedding photography, and Alex F. Buchholz, prolific in fashion, advertising and portrait photography, shared with their audiences their experience using this latest incarnation of the EOS 5D series.
Visitors appreciating the colours and details captured with the EOS 5D Mark IV.
Noise pattern when shooting at high ISO speeds is very smooth, very gentle
Professional portrait and fashion photographer Alex F. Buchholz captivating his audience with his impressions about the EOS 5D Mark IV.
Designed to be a high performance all-rounder with uncompromising image quality, the EOS 5D Mark IV caters to a wide variety of styles and genres of photography.
Alex F. Buchholz, a professional portrait and fashion photographer currently based in Delhi, was given the chance to review the camera and find out how well it copes with the various challenges that accompany his field of expertise.
During his seminar talk, Alex highlights that the EOS 5D Mark IV addresses issues he had encountered previously, particularly when shooting under low light conditions.

In his opinion, although there is no significant change in the amount of noise at high ISO speeds compared to the Mark III (the EOS 5D Mark IV sees only a slight increase in its native ISO range of 100–32000), he emphasizes that the noise pattern on the Mark IV is very smooth, very gentle. On one of the many portrait examples he shared with the audience, he mentions that the noise level present in the shot, is the typical noise level he would want if he wanted to include it on purpose, with plenty of details in the shadows and highlights.

The biggest improvement, is that the noise is not affecting the skin tones, which, as he noted, is one of the biggest issues professional retouchers have when having to work with images taken at very high ISO speeds.
The EOS 5D Mark IV delivers excellent low-light performance with less risk of noise affecting image quality.
Alex moved on to discuss other improvements, beneficial to his workflow, such as the improved AF, frame rate, and metering system. One additional improvement he had already found very helpful with the EOS-1D X Mark II, is the expansion of AF points. He asked his audience, how many times have you had to focus and reframe? He emphasized that this is not a real problem when shooting at an aperture of f/5.6, but when you shoot at f/2.8 this becomes a nightmare. Previously, his option was to shoot bigger and crop the image, but with the EOS 5D Mark IV, the higher capability of moving around the focus points make it easier to focus wide-open, with less problems with reframing.
Reproduces colour marvelously, requiring little to no post-processing
Professional wedding photographer Prakash Tilokani (center) and his son Rahul Tilokani answering questions posted by viewers of the Delhi seminar, which was streamed live.
Prakash Tilokani, a veteran in the wedding photo industry, is a role-model for thousands of wedding photographers in India. Working his way up from humble beginnings, he currently photographs the weddings of India's rich and famous.
In his segment of the seminar, Prakash highlighted some of the challenges of wedding photography to his audience. As a wedding photographer you are required to work under the most challenging lighting situations. There are shots that cannot be redone, so you have to be on top of your game at all times. One of the priorities of photographing weddings is to have a camera which performs well under low light conditions. Prakash emphasized the improved performance of the EOS 5D Mark IV at higher ISO settings, resulting in low noise images.
He also discussed the newly developed 30.4 megapixel full-frame CMOS sensor, which, he felt, captures intricate details and reproduces colour marvelously, requiring little to no post-processing. The camera's improved fast continuous shooting speed of 7 fps is excellent for capturing scenes where his subjects are in motion, such as on stage or during a dance.
Prakash lauded the Dual Pixel CMOS AF on the EOS 5D Mark IV, which enables focus to be attained fast and accurate, even when shooting at wide open apertures of f/1.2, and enables smooth and fast AF during video recording, as well as Live View shooting. He was impressed with the touch screen functionality allowing the photographer to shift focus at the touch of a finger, useful for shooting at low angles for example.
Subject tracking also sees improvement, as he highlighted that the camera's AF system is able to accurately focus on subjects moving towards the camera, a definite benefit to wedding photographers photographing the couple walking down the aisle.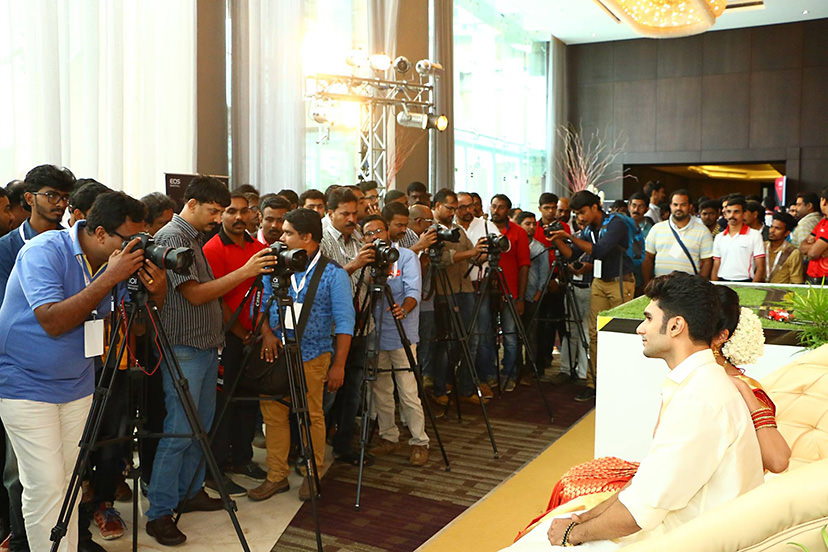 Attendees of the second EOSnation seminar, held in Kochi on 30 August, trying out the Dual Pixel CMOS AF feature along with the touch-focus function.
Continuing the powerful legacy of the 5D series
The EOSnation seminar in Delhi was preceded by the EOS 5D Mark IV press launch, where Andrew Koh, Vice President of Consumer Imaging and Information Centre (CII) at Canon India Pvt., before unveiling the EOS 5D Mark IV, traced back the history of the EOS 5D series, and why there was so much hype for this latest incarnation.
The first EOS 5D, released in 2005, was Canon's first digital full-frame camera that was developed into a compact size, giving good all-round performance at an affordable price. In 2008, the Mark II proved to be a game-changer in the entire camera industry, as for the first time a DSLR came equipped with Full HD video capabilities. The bar was raised further in 2012, with the Mark III, which saw better high ISO speed performance, and positioned itself to become de facto standard camera for wedding photography in India, according to Mr. Koh.
The EOS 5D Mark IV improves on what was already good in the predecessor, with many excellent features inherited from other EOS models, such as the advanced 61-point High Density Reticular AF II system and the renowned Dual Pixel CMOS AF technology from the flagship EOS-1D X Mark II, the Mirror Vibration Control System (MVCS) from the EOS 5DS / 5DS R, and the HDR movie capability from the EOS 80D, among others.
The EOS 5D Mark IV press launch was spearheaded by Kazutada Kobayashi, President & CEO of Canon India, who talked about the history of Canon Inc. and the business development of the company in India. Currently, there are over 200 Canon Imaging Square (CIS) stores in 94 cities. Chances are, there is a CIS store near you, where staff members will be glad to show you the EOS 5D Mark IV, and tell you more about its refinements in image quality, performance and versatility.
Canon opens its 200th Canon Image Square store in India
Canon Image Square ( Location in India )
For those who were unable to attend, the EOSnation seminar held in Delhi was streamed live on YouTube. To view the video, click here.
Receive the latest updates on photography news, tips and tricks by signing up with us!