Tips & Tutorials >>
All Tips & Tutorials
What's Your Photography Style & Which Camera Is Great for You
If you're posting on social media such as Instagram and Facebook, you are (knowingly or unknowingly) a content creator. Knowing what you're best at or interested in is a great start to perfecting your photography skills. If you're still unsure of which photography genre you're most into, let us help with this infographic.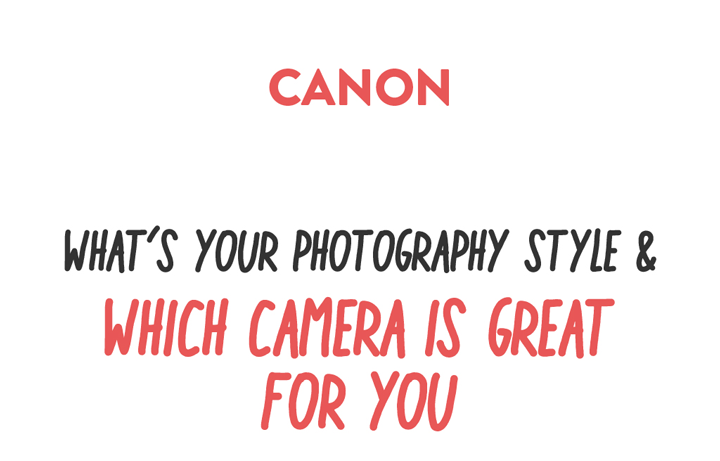 My Family, My Friends, and I
You have a reputation of being the family photographer, or the designated photographer for any friends' gatherings. It is not because you own a camera, but because you enjoy capturing moments that are worth sharing on social media.
Your goal: Portrait Photographer
Your Equipment: Canon EOS M6 Mark II with EF-M32mm f/1.4L STM lens
To help you with that, we recommend you read 5 Tips to Get the Perfect Family Photos.
Fashion is Everything
You love taking OOTD shots, and often ask your fashionable friends to pose in front of your camera. As a fashion-forward individual, you follow fashion magazines such as Vogue and Elle, as well as fashion bloggers and Instagrammers online.
Your goal: Fashion Photographer
Your Equipment: Canon EOS M100. It's cute, lightweight, and powerful with 24.2-megapixel APS-C sensor and a 180-degree tilt-up LCD touch screen and full HD 60p video recording capability
Big Cities and Boundless Landscapes
You love cities and nature. To get the best city shots, you sometimes venture up to a rooftop bar to capture the entire city skyline. When you're in nature, you find the perfect vantage point to photograph scenes of pristine beaches and long bridges fading gently into the rainforest.
Your goal: Landscape Photographer
Your Equipment: EOS RP. With the EOS RP, you can achieve focus even if your composition involves tiny specks of subjects placed on the image periphery.
Sports Lover and In-Action Shots
You love capturing moments of sporting excellence, where the body and mind are pushed to their limits. You love to unveil the focus, determination, and commitment of the competitors.
Your Goal: Sports Photojournalist
Your Equipment: EOS R. The full-frame mirrorless camera has a near-instantaneous 0.05-sec AF (never miss a shot again), and a weather-resistant magnesium alloy body that is perfect for outdoor sporting activities. Couple that with Eye Detection AF in Servo AF (to track your moving subject) and you have a truly powerful camera for sports photography.
The Wilderness and Those That Dwell Within
Safaris, nature reserves and zoos are your favourite places to go, and when you're not patiently waiting in the wild, you love taking photos of your friends' adorable pets.
Your goal: Wildlife Photographer
Your Equipment: EOS 7D Mark II. The DIGIC 6 imaging processor will you give the flexibility and power to shoot in different conditions and lighting situations, and the 65-point all cross-type AF and 10 fps continuous shooting is great for capturing unpredictable movements.
Creativity is on the Streets
Exploring the streets is one of your favourite past times, and capturing strangers' faces, their actions and moments give you immense satisfaction. You love photographers the likes of Henri Cartier-Bresson, Eric Kim, and Dave Krugman.
Your goal: Street Photographer
Your Equipment: EOS M5. Want to look cool while shooting on the streets? Go for the EOS M5. Besides looking like a true hipster, the EOS M5 is a top of the line mirrorless camera, which comes with Dual Pixel CMOS AF (capable of super-fast autofocus) and a touch screen AF operation for you to touch-focus-shoot all on one LCD screen.
Food is Bae
Food…Glorious food! You enjoy looking through food-themed Instagram pages and follow famous food bloggers online. Whether it's breakfast, lunch, dinner, or even a simple street snack, you never missing out on an opportunity to take a food shot.
Your goal: Food Photographer
Your Equipment: PowerShot G5 X Mark II. It's a nifty little camera designed with powerful features including a pop-up electronic viewfinder, an f/1.8-2.8 lens for high-quality shots even under low-light conditions, as well as Wi-Fi connectivity that allows you to transfer your photos effortlessly from the camera to your phone–perfect for social media posting!
Night Cityscape Photography
If you enjoy taking images that have an aura of mystery, or capturing low-light elements within a city, here's one just for you. You know capturing those quick-moving car headlights and city lights is something you enjoy.
Your goal: Night Photographer
Your Equipment: EOS R. One of the best things about EOS R is its dark focus limit of EV -6, which means that the camera allows you to focus on your subject even under very low-light conditions. If night photography is your thing, then the EOS R is the right choice for you.
Whichever your style might be, pick up your camera and go take some photos, and if you'd like a copy of this infographic, you can download it here.
---
Receive the latest update on photography news, tips and tricks.
Be part of the SNAPSHOT Community.
Sign Up Now!