How do you take a jump shot that makes a subject look like they are levitating off the ground? It's not just as simple as using the fastest shutter speed on your camera! Professional portrait photographer Haruka Yamamoto explains why she chose a particular shutter speed. (Reported by: Haruka Yamamoto, Digital Camera Magazine)
Question: Can you guess what shutter speed was used to capture the following shot?
EOS 5D Mark III/ EF70-200mm f/2.8L IS II USM/ FL: 200mm
Options
a) 1/125 sec
b) 1/500 sec
c) 1/2,000 sec
d) 1/8,000 sec

Hint: The shooting conditions
Where: A walkway that gave a clear, unobstructed view.
Subject distance: The model was about 10m away.
Lighting conditions: It was a little dim, so I set the ISO speed to ISO 2000.
Concept: An angel floating down to earth
Instructions to model: Jump straight up. (This shot was taken on the way down.)
Why this shutter speed?
1. To freeze motion
To capture jump shots so that the subject looks like they are hovering in mid-air, you need to use a fast shutter speed to freeze their movement. A shutter speed that is too slow results in motion blur that will also blur the outlines of the subject and make the shot look less surreal.
2. To use a wider aperture
The shutter speed also affects the aperture setting that you can use. For the shot to be more outstanding, you need to create background bokeh to achieve better subject-background separation, and that is best done with a very wide aperture (f/2.8 in this shot).
Learn more in: The Relationship Between Lens Aperture and Bokeh

Let's take a look at the same shot captured at different shutter speeds.

a) 1/125 sec
At 1/125 sec, there is motion blur in the model's skirt and hair. The optimal aperture to achieve the correct exposure is f/11, which is not wide enough to create a nice, creamy bokeh.
Tip: The flowier the outfit, the more the motion blur when the subject jumps

b) 1/500 sec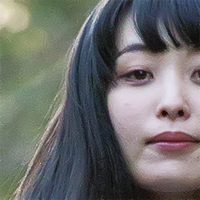 There is still motion blur in the model's skirt and hair even when we double the shutter speed to 1/500 sec. The optimal aperture for correct exposure is a little wider at f/5.6, but the background bokeh created still isn't satisfactory.

c) 1/2,000 sec
This is our ideal shutter speed. The skirt is sharp, and I can use the f/2.8 maximum aperture to create stronger background bokeh.

d) 1/8,000 sec
When we go even faster to 1/8,000 sec, which is the fastest shutter speed available on my camera, the shot is underexposed even at the maximum aperture. I could have used a higher ISO speed to make the shot brighter, but I didn't as the image noise would intensify and make the skin look rough and grainy.
Here's what you can do at shutter speed 1/8,000 sec:
Step-by-step Guide to Capturing Splashing Waves at Fast Shutter Speed Settings
The finer details: How to get an even better shot
1. Use a telephoto lens to create stronger bokeh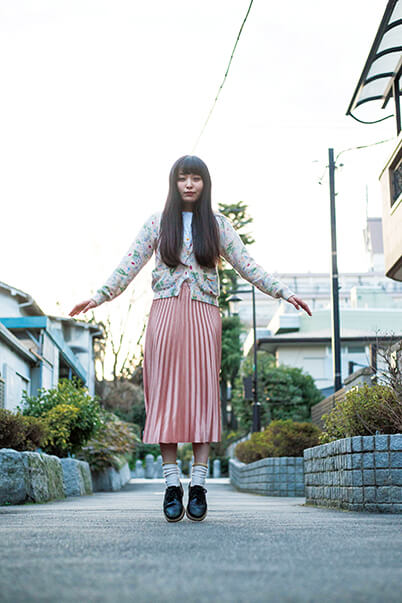 Shot at 50mm
I can't emphasise this enough, but the key to making floating jump shots like this successful isn't just to make the subject look like they are hovering in the air: They should also look like they are also "floating out" from the background. Using a telephoto lens will help to make the background bokeh look stronger and achieve better subject-background separation. In comparison, the image shot by a standard lens at 50mm, shown above, shows too the background detail too clearly.
See the gif below for a comparison.
2. Shoot tilting up from a lower angle
Shot at eye level
To enhance the "hovering in the air" effect, shoot from a lower angle, preferably with your camera as close to the ground as possible. I squatted to take the eye-level shot above—notice how the subject does not seem to be floating off the ground as much?
To take the main shot, I laid on the ground, but you probably won't have to if you shoot in Live View on a camera that has a Vari-angle, fully-articulating LCD monitor.
Find out about the different effects you can create with different shutter speeds in:
Wildlife in Motion through Shutter Speed Control
Camera Settings to Use for Awesome Slow Shutter Shots!
Sports Photography: How to Emphasize Speed by Contrasting Stillness with Motion
For more portrait photography tips, check out:
Techniques for Posing and Directing Portrait Subjects
5 Portrait Photography Techniques to Take You from Day to Night
Portrait Photography: 3 Aperture Settings Favoured by Professional Photographers

What kind of jump shots have you taken, and why did you choose the settings that you used?
Share them with us on My Canon Story and stand a chance to get featured!
---
Receive the latest update on photography news, tips and tricks.
Be part of the SNAPSHOT Community.
Sign Up Now!
---
About the Author
A monthly magazine that believes that enjoyment of photography will increase the more one learns about camera functions. It delivers news on the latest cameras and features and regularly introduces various photography techniques.
Published by Impress Corporation
Born in Tokyo, Yamamoto is a freelance photographer who shoots for a variety of mediums that include magazines, CD jackets and advertisements. She also has her own blog, where she posts shots from an ongoing photography series "Otome-graphy [Maiden-graphy]", which seeks to remove existing stereotypes of young women as well as address Yamamoto's own issues about aging. A collection of these shots was published in book form in 2018.