Products >>
All Products
EOS 80D Lens Pairing Review: EF-S10-18mm f/4.5-5.6 IS STM
An interchangeable lens allows you to expand a DSLR's range of photographic expressions. In this series, I will review Canon's EF-S lenses using the popular mid-range model, the EOS 80D. The star of this article is the compact and ultra-wide angle zoom lens equipped with an image stabilizer and the largest angle of view in the EF-S series, the EF-S10-18mm f/4.5-5.6 IS STM. (Reported by: Ryosuke Takahashi)
---
Key Benefits
- Useful for slow shutter speeds: Equipped with a powerful image stabiliser
- Compact and lightweight design—ideal for use with the EOS 80D
---
10mm
EOS 80D/ EF-S10-18mm f/4.5-5.6 IS STM/ FL:  10mm (16mm equivalent)/ Aperture-Priority AE (f/4.5, 1/40 sec, EV+0.3)/ ISO 200/ WB: Daylight
By getting up close to the subject, I was not only able to take a magnified view of the beautiful, blooming roses, but also managed to create a striking image by casually capturing the brilliant colours of the flower shop and the passers-by. The main subject becomes even clearer when the aperture is set to maximum. (Photos by: Yurika Kadoi)
10mm
EOS 80D/ EF-S10-18mm f/4.5-5.6 IS STM/ FL: 10mm (16mm equivalent)/Manual Exposure (f/8, 1/200 sec)/ISO 200/WB: Daylight
A wide angle of view is great when you want to incorporate multiple elements. By utilising the perspective distortion effect, unique to ultra-wide-angle lenses, on buildings made up of both straight and curved lines, I was able to create an image of the buildings that was reminiscent of a patchwork quilt. (Photos by: Yurika Kadoi)
Strong perspective distortion effect brought about overwhelmingly by a wide angle of view
An ultra wide-angle zoom lens is the perfect lens to be fitted to the EOS 80D as it is able to capture the widest range possible. It lets you obtain an angle of view of 16 - 29mm at 35mm film equivalent, allowing you to enjoy taking pictures at a truly wide angle range. Although the angle of view at the wide angle end is the same as that of the EF-S10-22mm f/3.5-4.5 USM, a lightweight design is achieved by making the front lens element more compact and shortening the telephoto end. Furthermore, by equipping it with an image stabiliser with up to 4 stops of correction in shutter speed, it's now easier to shoot in Live View where the shooting posture tends to be unstable compared to viewfinder shooting.
A number of the latest optical technologies have been incorporated into the lens design. By reducing the minimum shooting distance to 22cm, wide macro shooting performance surpasses that of the EF-S10-22mm f/3.5-4.5 USM (minimum shooting distance of 24cm). Focusing can also be performed smoothly for both still images and videos thanks to the use of a lead-screw-type STM in the drive of the inner focus lens.
The optical characteristics lie in the compact design achieved in the aspherical lens elements. By placing an aspherical lens element with a high curvature as the second lens to skilfully control directly incoming light as well as an aspherical lens element as the 14th lens, distortion aberrations which cannot be fully corrected with a normal lens can be corrected properly. Although distortion aberrations tend to stand out more when shooting at a wide angle, as the lens' aberration correction data is registered in the EOS 80D, you can still enjoy shooting at a fairly wide angle of view if you turn on the distortion aberration correction function to correct the straight line distortions.
Tip: Increase the image review time, and ensure that distortion aberrations have been corrected
When distortion aberrations are corrected, the angle of view captured tends to be slightly narrower than that seen in the viewfinder. As a result, you may wish to increase the image review time displayed immediately after the picture is taken so as to fully check if your photographic intent has been affected. If you want to check through the entire screen, select either "8 sec" or "Hold" for the Image review time to ensure you have sufficient time to do so.
The image review time can be set from "Image review" in Shooting Menu 1.
---
EF-S10-18mm f/4.5-5.6 IS STM
(16 - 29mm equivalent when fitted with the EOS 80D)
Lens configuration: 11 groups 14 elements
Minimum shooting distance: 0.22m
Maximum shooting factor: 0.15X
Filter ratio: φ67mm
Maximum diameter x length: Approx. φ74.6×72mm
Weight: Approx. 240g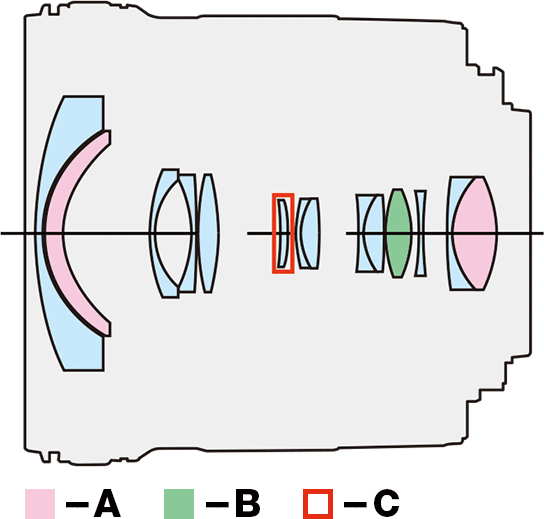 Lens configuration diagram
A: Aspherical lens element
B: UD lens element
C: Image stabilizing unit
---
Lens hood:  EW-73C (sold separately)
---
Ryosuke Takahashi
Born in Aichi in 1960, Takahashi started his freelance career in 1987 after working with an advertising photo studio and a publishing house. Photographing for major magazines, he has travelled to many parts of the world from his bases in Japan and China. Takahashi is a member of the Japan Professional Photographers Society (JPS).

Digital Camera Magazine
A monthly magazine that believes that enjoyment of photography will increase the more one learns about camera functions. It delivers news on the latest cameras and features and regularly introduces various photography techniques.
Published by Impress Corporation