Minimalistic photography is often overlooked in a busy world where our sight is overwhelmed with objects, colours, and a million other things. Shooting in a minimalistic style teaches you to think outside the box, look beyond the clutter, and find that perfect space void of noise.
EOS 5D Mark II, EF24-105mm f/4L IS USM, f/8.0, 35mm, 1/320secs, ISO500 by Sergey Norin
Drawing inspirations from the concept of minimal in art, which emerged in New York in the early 1960s as a form of abstract art, minimalist photography involves high simplicity and limited number of compositional components such as shape, colour, and line. It creates an opportunity for a viewer to see the world differently, and embraces freedom for interpretation and openness. Here are a few simple tips to help you kick start your minimalist photography adventure.
Simplicity is Key
Lose the information, keep the impact. Frame your composition in a way that it is simple yet powerful. While you attempt to remove unnecessary and distracting details out of a photo, make sure to convey your message by bringing the attention back to the concept/subject. Post-processing is an option to remove unwanted details, but if you can frame the subject without having to crop too much away, you save time on editing your photos thereafter.
Find out more about compositions: Composition Basics!
EOS 7D, EF50mm f/1.8 II, f/8.0, 50mm, 1/1000secs, ISO200 by Adam Wyles
Go for Textures and Colours
Minimalist photography doesn't mean monochromatic hues. Use eye-catching colours – complementary colours such as orange and blue or red and yellow – for dramatic effect and to make your photo pop. Textures too, play a part in minimalist photography thanks to its lines. Use light (natural or artificial) to enhance the texture and contrast in your visual.
More on how to experiment with light in this article: How to play with lighting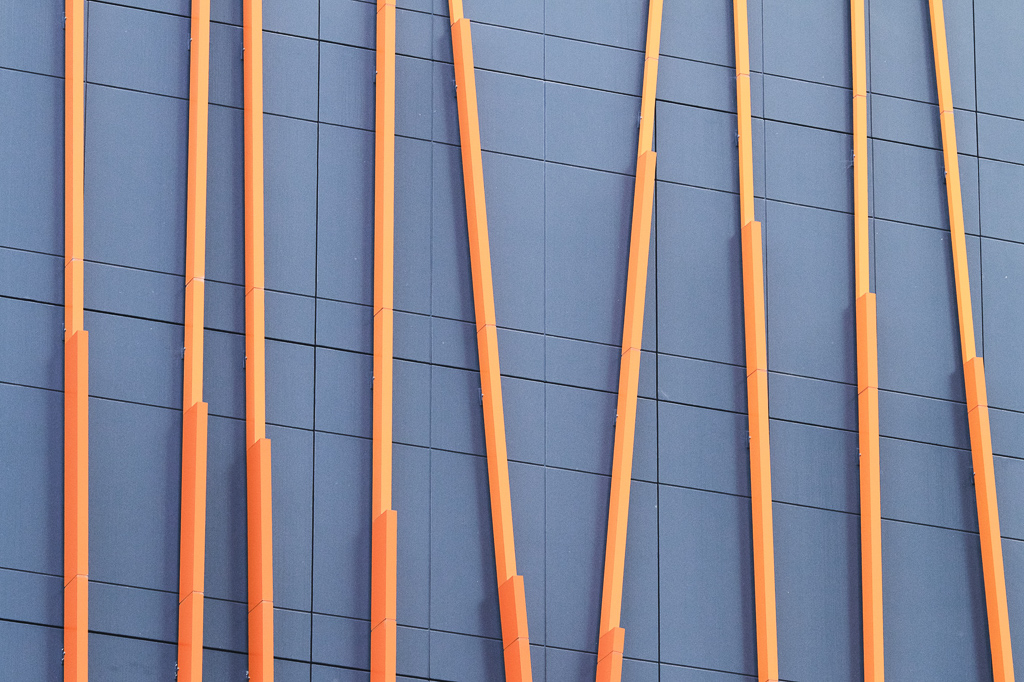 EOS 7D, EF135mm f/2L USM, f/8.0, 135mm, 1/200secs, ISO1250 by VirtualWolf
Seek Out Beautiful Lines and Geometric Patterns
Don't think "plain" when shooting minimalistic photos. Geometric patterns in architecture is as great subject to photograph as is pleasing to the eye. The trick is to highlight the details around you – walls, windows, roofs are some great elements to play with for minimalist photos.
Learn ways to capture the beauty of buildings: 4 Tips to Capture the Beauty of Buildings
EOS 5D Mark II, EF24-105mm f/4L IS USM, f/6.3, 24mm, 1/60secs, ISO1600 by Sergey Norin
Play with Negative Space
Playing with negative space is a tricky business, but when done right, can turn out breathtakingly beautiful. Negative space around and between the subject provides breathing room for the eyes, helps declutter the photo, and at the same time create emphasis on the subject, effectively drawing viewer's eyes to where it should pay attention to.
EOS 5D Mark II, EF50mm f/1.4 USM, f/2.8, 50mm, 1/640secs, ISO100 by Tobias Abel
Receive the latest updates on photography news, tips and tricks by signing up with us!