Products >>
All Products
Buyer's Quick Guide: Speedlite 270EX II
The Speedlite 270EX II lets you carry out bounce and remote control photography while retaining a compact, portable size. Be it for street, product, or travel photography, it is perfect for those who just want a small and lightweight external flash to have on hand at all times. (Reported by: Teppei Kohno)
Speedlite 270EX II: Compact and handy for day-to-day activities
Front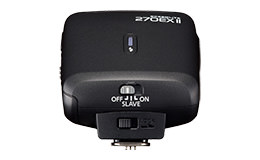 Rear
The Speedlite 270EX II is a great help in such scenes:
- Street or travel photography, when you need your subjects to be brightly illuminated.
- To give ample lighting in food and product photos—this is especially important for e-commerce.
3 strengths of the Speedlite 270EX II
Point 1: Flash head can be tilted upwards for bounce photography
0°
60°
75°
90°
Bounce photography
The flash head of the Speedlite 270EX II can be tilted upwards at 4 angles (0°, 60°, 75° & 90°), enabling the user to direct the flash at either the ceiling or a wall to create a softer light.
Point 2: Shoot with your Speedlite and camera in any position you desire
The Speedlite 270EX II doubles as a remote flash release as well. Pressing the remote flash release button with the Speedlite facing the camera starts a 2-second countdown, after which the shutter will be released with the Speedlite firing off at the same time. You can thus position the Speedlite 270EX II anywhere you desire for the photoshoot.
Point 3: Its compact size makes it easy to carry around
The Speedlite 270EX II weighs about 155g. It is approximately 65.8 x 65.2 x 77mm (W x H x D), and fits snugly into any small pocket in your camera bag. That being said, it goes very well together with other smaller-sized DSLRs such as an EOS 1300D.
Use the Speedlite 270EX II to achieve shots like these:
1. Street photos with brightly illuminated subjects
EOS 760D/ EF50mm f/1.8 STM/ FL: 50mm (80mm equivalent)/ Aperture-priority AE (f/2.8, 1/125 sec)/ ISO 100/ WB: Auto
Bringing the Speedlite 270EX II around on a day-to-day basis is no hassle at all thanks to its small size and light weight, making it an invaluable companion when shooting pictures on the streets or on travels. It is simple and fuss-free to use for illuminating subjects in scenarios where light is insufficient. In the example photo above, the sculpture was sufficiently bright thanks to the flash from the Speedlite.
2. Attractive food photos using wireless flash photography with multiple lights
EOS 760D/ EF-S18-55mm f/3.5-5.6 IS STM/ FL: 55mm (88mm equivalent)/ Manual exposure (f/5.6, 1/4 sec)/ ISO 400/ WB: Auto
In the example above, the photo of the cake was shot with the camera's built-in flash firing from the front, while the Speedlite 270EX II was handheld to illuminate the cake from the rear, creating a backlit scene. The Speedlite 270EX II is an extremely convenient external flash that helps create adequate lighting not only when photographing desserts or food, but also products, such as for online retail.
Here are some basic product photography techniques to try
Speedlite 270EX II Main Specifications
Guide Number: Approx. 27m at ISO 100
Flash Coverage:
EF lens: 28mm/50mm
EF-S lens: 17.5mm/31.3mm
Wireless Release Function: Infrared (Max. ~5m from front of camera)
Number of Flashes: Approx. 100 – 680 flashes
Recycling Time: Approx. 0.1 – 3.9 seconds
Power Source: Two AA-size/LR6 Alkaline Batteries
Dimensions (W×H×D): Approx. 65.8×65.2×77mm
Weight: Approx. 155g (Speedlite body only, without batteries)
Accessories
Speedlite Case
A dedicated case for carrying around the Speedlite 270EX II.
Mini-stand (circled in red)
Used for positioning the Speedlite 270EX II on surfaces such as on table tops.
Considering other Speedlites? We summarized the features of 3 of them for you:
Which Canon Speedlite Flash to Choose?
For information about the kind of photos you can take with Speedlites and tips on how to achieve them, check out:
In Focus: The Basics of External Flash Photography
---
Receive the latest update on photography news, tips and tricks.
Be part of the SNAPSHOT Community.
Sign Up Now!
---
About the Author
Born in Tokyo in 1976, Kohno graduated with a Social Work degree from the Department of Sociology of Meiji Gakuin University, and apprenticed with photographer Masato Terauchi. He contributed to the first issue of photography magazine PHaT PHOTO and became an independent photographer after that, in 2003. The author of many books, Kohno not only shoots all sorts of commercial photographs, but also writes prolifically for camera and other magazines.