Tips & Tutorials >>
All Tips & Tutorials
Camera FAQ #2: How Do I Focus Accurately With Manual Focus (MF)?
This series is all about answering questions regarding cameras you thought you knew (but didn't). In this article, I will describe a manual focusing method used by professionals that will help you to accurately focus on a desired point (Reported by: Shirou Hagihara).
Use Live View magnification for accurate focusing that surpasses the limits of the naked eye
Normal Live View display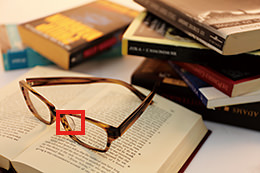 I wanted to focus accurately on the desired position. In this shot, the focus was the centre of the spectacle frame.
Live View magnification function
Using the Live View magnification function, you can move the magnifying frame to the desired focus point and display the area in an enlarged view. On the EOS 5DS, the picture can be magnified up to a maximum of 16 times.
When using an optical viewfinder for MF, there is naturally a limit to the accuracy you can achieve since you are focusing by eye. However, on DSLR cameras this issue can be overcome: By using the magnified display function in Live View or in the electronic viewfinder (EVF) to magnify the picture to the maximum, you can focus accurately without the dimensions getting distorted.
How to use MF and magnify in Live View
Set the camera or lens to MF. Then, set the camera to Live View and move the AF frame to the position that you want to focus on. Touch the magnification display icon on the lower right of the screen.
Touching the magnification display icon will magnify the display 5 or 10 times. The magnified point can be moved with the cross keys or by moving the cursor on the screen.
Turn the focusing ring of the lens to adjust the focus.
Take the photo after confirming that the shot has been focused accurately.
Shirou Hagihara
Born in 1959 in Yamanashi. After graduating from Nihon University, Hagihara was involved in the launch of the photography magazine, "fukei shashin", where he worked as an editor and a publisher. He later resigned and became a freelance photographer. Currently, Hagihara is engaged in photography and written works centring on natural landscapes. He is a member of the Society of Scientific Photography (SSP).
Digital Camera Magazine
A monthly magazine that believes that enjoyment of photography will increase the more one learns about camera functions. It delivers news on the latest cameras and features and regularly introduces various photography techniques.
Published by Impress Corporation