Tips & Tutorials >>
All Tips & Tutorials
Capture Crucial Moments in Sports with the Canon EOS M6 Mark II

Canon EOS M6 Mark II, 1/2000 sec, f/2.8, 22mm, ISO 100
If you've ever been to sports outings and events, you are probably familiar with how energetic, vibrant and fast-paced most of them are. Trying to get crystal clear images can be an uphill task, on top of the frustration and disappointment that come with missing a crucial moment when you take yet another blurry shot.
Canon's new EOS M6 Mark II is an approximately 32.5MP mirrorless camera equipped to help you capture the precise moment that your friend executes a volleyball spike. Even if you've never tried your hand at capturing live sports action, the Canon EOS M6 Mark II makes it easy for you to get started with a range of useful photography and videography features -- all while looking sleek and stylish!
Achieving Focus is a Breeze
With the Dual Pixel CMOS AF, autofocus (AF) is fast and precise with an extensive AF area of up to 88% x 100% when you pair the EOS M6 Mark II with a compatible lens. This makes all the difference in getting a clear shot during a fast game of basketball, where you can still achieve focus accurately even when you see the player dribbling to the edge of your camera screen. Having up to 5,481 selectable AF positions or maximum 143 segments (during Face + Tracking AF) also offer you greater flexibility in composing your shots as you can choose to focus on almost anywhere on your screen.
Learn more: How to Shoot Sports Photography: The Camera Settings You Need to Know
You can also get up close and personal with shots of your friends and favourite athletes in sharp, clear focus with the EOS M6 Mark II's Eye Detection AF. This function is supported in both the Servo AF and Movie Servo AF modes and allows you to effortlessly track focus on your subject's eye with high precision, so you can enjoy crystal-clear portraits during your sports outings.

Canon EOS M6 Mark II, 1/1250 sec, f/5.6, 135mm, ISO 250
Never Miss Another Moment with High FPS
We get it. Action-packed sports make it hard for you to predict what someone's next move will be. Luckily, the new EOS M6 Mark II camera delivers stunning, high-speed continuous shooting when it matters. Harnessing the Dual Pixel CMOS AF's tracking performance, the camera fires up to 14 frames per second (fps), making it impossible for you to miss any critical moment.
Learn more: Sports Photography Tips: The Badminton Games
The EOS M6 Mark II also has a brand new RAW burst mode that allows you to shoot continuously for up to 30 fps. Not only can you capture the perfect sporting moment in RAW, you'll also enjoy greater flexibility during post-processing to enhance your photographs even further. In fact, when you have Pre-shooting enabled, the camera starts recording around 0.5 seconds before you even click the shutter button! Crystallise the exact moment that someone sends a shuttlecock sailing through the air.
Enhanced Flexibility with a Viewfinder
Shooting outdoor sports events can be difficult when the bright sunlight casts reflections and glares on your LCD screen. A viewfinder lets you concentrate on focusing on your fast-moving subject to capture that crucial sporting victory. You can use the Canon EOS M6 Mark II with the external EVF-DC2 viewfinder (sold separately), which provides an intricate and accurate display through a whopping 2.36 million dots. With a near 100% coverage, what you see in the EVF is practically what you'll get in your actual shot! Have your photographs turn out just the way you've imagined.
Together with the Touch & Drag AF function, you can refine your shots and adjust your point of focus quickly and intuitively via touchscreen while looking through the EVF.
Learn more: Autofocusing using the Viewfinder
Beautiful Videos with 4K
If you'd rather dive into videography at sports events, the EOS M6 Mark II is equipped with features to support you. The EOS M6 Mark II shoots breathtaking high quality 4K videos without cropping your angle of view. That means you can take breathtaking, wide-angle videos of the entire basketball court or swimming pool and capture the energy of the raving fans!
Want to add some dramatic effect to your videos? Just switch to the EOS M6 Mark II's high frame rate shooting in Full HD 120p/100p to shoot in slow motion. Marvel at your friend's epic slam dunk, soaring through the air in slow motion!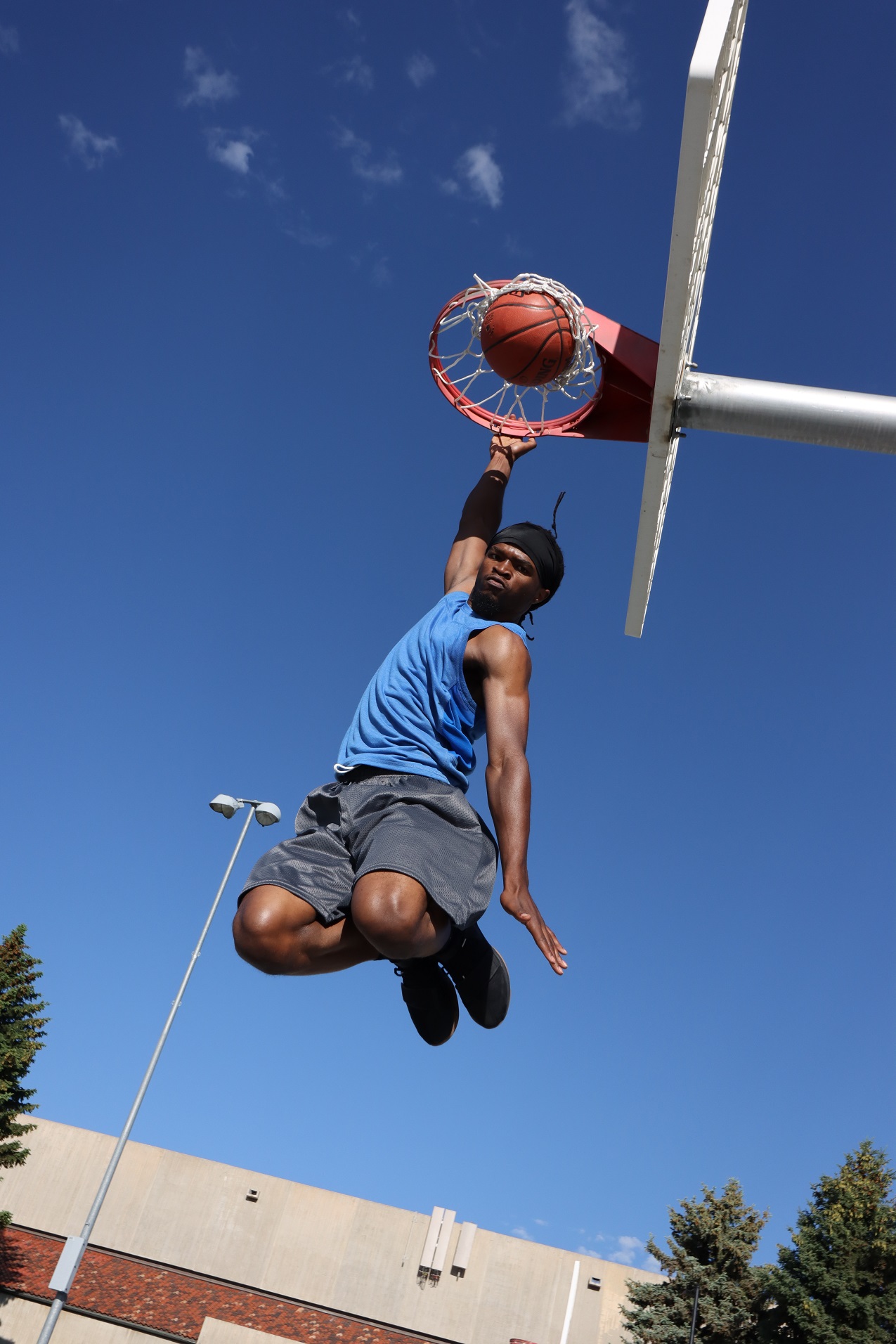 Canon EOS M6 Mark II, 1/2000 sec, f/6.3, 22mm, ISO 400
Stylish, Portable and Compact
To top it all off, the EOS M6 Mark II is about 36% the size of a mid-range DSLR camera. You'll definitely be shooting more comfortably during these sports events. Plus, the stylish retro design of the silver model will easily be a topic of conversation when you show off the EOS M6 Mark II to your friends and family!
Preserve Your Memories at Sports Events with the EOS M6 Mark II
The next time you want to capture sharp, rich and beautiful images and videos of sports players, the Canon EOS M6 Mark II camera has got you covered. Immerse your friends and family in the sweet glory of a sporting victory with crisp images, or experience the raw passion of the game again and again with memorable videos.