EOS R, RF28-70mm f/2L USM, f/2, ISO 2000, 151s, 28mm
Hailing from Taiwan, Shirley Wung has consistently been placed as one of the top five photographers in the world for landscape photography and has clinched the number one spot for three consecutive years from 2018 to 2020. Using the EOS R system, Shirley seeks out interesting scenes and captures them with her unique vision. We caught up with Shirley to find out more about her work and how she has benefitted from using the R system.

EOS R, EF15mm f/2.8 Fisheye, f/16, ISO 100, 10s, 15mm
Hi Shirley! We noticed you have been teaching photography for over six years now. From an amateur photographer to now professional/teacher, could you share with us your journey?
I love to travel, and even before turning professional, I brought along my point-and-shoot camera for all my trips. It was during a trip to Greece that I was first exposed to a DSLR. After which, I was mentored by a Japanese photographer to shoot weddings. From there, I had captured more than 100 weddings, including more than 10 joint ceremonies held at Taipei City Hall.
Other than weddings, I like to take pictures of fireworks too. One year, when I was taking shots of fireworks, I chanced upon a director who introduced me to the Taiwan Tourism Board. I was commissioned to take landscape images for their tourism campaigns for three years.
Six years ago, Canon Taiwan came to me and asked if I was interested in being their educator. Since I love to share and teach, it was a "yes" from me! Since then, I've been the ambassador for various camera models, such as the M50, EOS R and of course, the new R5. While teaching, I participated in various local and global contests and have clinched top spots in more than 80 contests.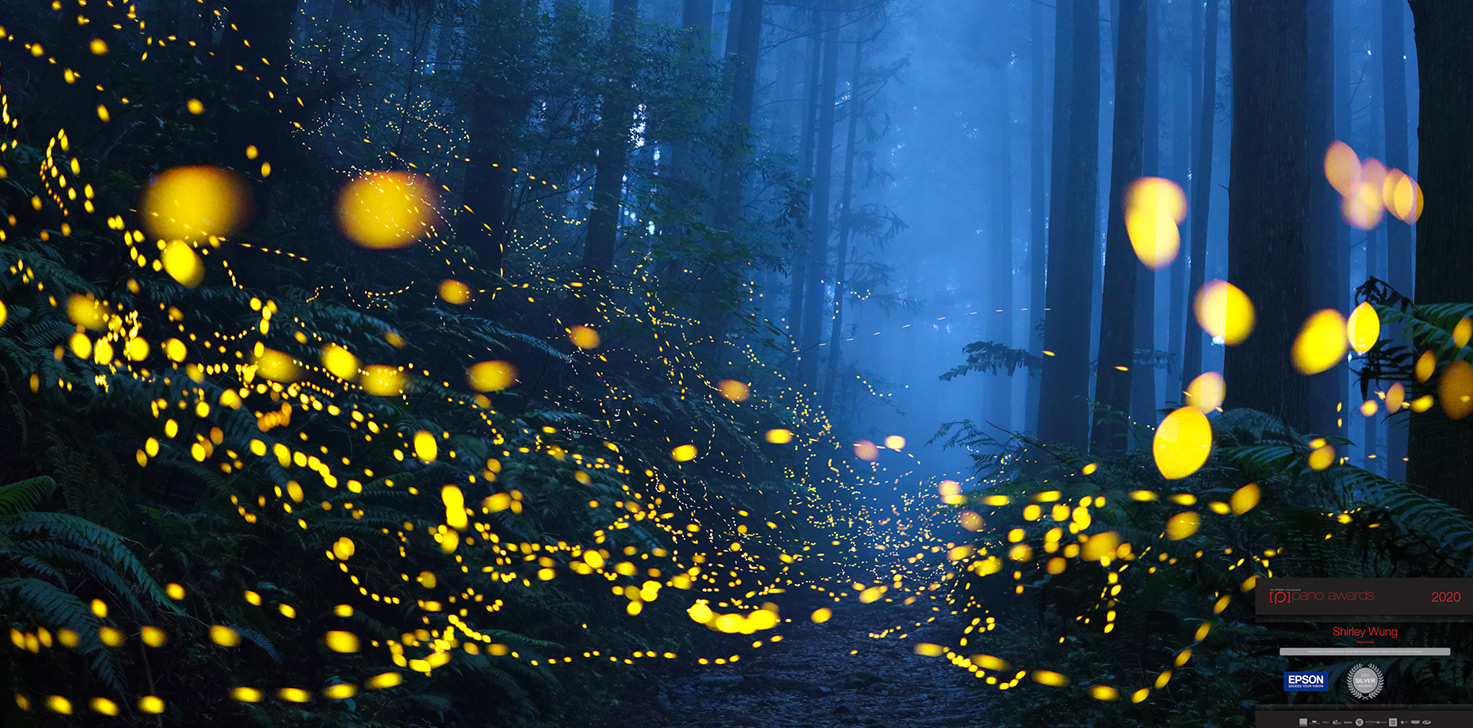 EOS R, RF50mm f/1.2L USM, f/1.2, ISO 1600, 25s, 50mm
We see that you have won many awards and endorsements. Which are your favourite shots that won you those awards?
I love low-light photography because it is challenging to tackle.
EOS R, EF16-35mm f/2.8L II USM, f/22, ISO 100, 30s, 16mm
As for these dreamy shots of flowers and petals, I like to seek beauty in everyday life.

EOS R, RF28-70mm f/2L USM, f/4, ISO 6400, 1/160s, 28mm
For the portraits I had shot, I liked to imagine the stories behind these people and how they touched the viewers. It's even better when I can combine a series of these portraitures to tell another story of these subjects.
EOS R, EF100-400mm f/4.5-5.6L IS II USM, f/7.1, ISO 1600, 1/1000s, 234mm

EOS R, EF11-24mm f/4L USM, f/4, ISO 3200, 1/60s, 11mm
We notice that the EOS R has been one of your more commonly used cameras. Are there any photos you've taken using the EOS R that you can share with us?

EOS R, EF70-200mm f/2.8L IS III USM, f/16, ISO 400, 30s, 100mm

EOS R, RF28-70mm f/2L USM, f/5.6, ISO 400, 8s, 28mm
From the photos on your Instagram, we see that you've started shooting more with the EOS R5. How long have you been using it, and how has the experience been so far?
I purchased the EOS R5 as soon as it was announced last year and have been using it for the past five months. For me, the most attractive feature is the five-axis In-Body Image Stabilizer which provides up to eight stops of stabilization with compatible RF lenses. This allows me to shoot in low-light conditions at a slower shutter speed with low ISO. This feature is especially important if I am not using a tripod.
In addition, the DIGIC X image processing engine gives the EOS R5 an incredible burst mode of up to 20 frames per second. At the same time, Dual-Pixel CMOS AF II makes autofocusing fast and accurate, even in low-light conditions.
Which Canon lens do you prefer? Do you have any preferable camera and lens combinations to use when shooting for landscape, travel and astrophotography?
My go-to optics come down to three RF zoom lenses. They are the RF15-35mm f2.8 L IS USM, RF28-70mm f2 L USM and the RF70-200 f2L IS USM.
If I am shooting portraiture on my travels, I will use the R5 with the RF28-70mm f2.8L USM. But when it comes to landscape, sunrise or sunset shots, the R5 would usually be paired with the RF15-35mm f2.8 L IS USM. If I am shooting astrophotography such as star trails, the R5 would have either the RF15-35mm f2.8 L IS USM or the EF8-15mm f4 L Fisheye USM attached.
What functions of the EOS R / EOS R5 are your personal favourite?
For me, the EOS R and R5's touch-and-drag autofocus feature allows me to shoot faster when I am using the electronic viewfinder. But when the camera is mounted on a tripod and I am shooting in low-light conditions, I prefer to tap on the touch-enabled Vari-angle LCD screen to focus on the scene. When I am taking pictures of people, the R5 has face and eye focus priority, or when I am shooting wildlife, it's able to detect the animal's face and focus on it quickly.
What do you think is one of the biggest advantages of the R system over the traditional DSLR set up?
The EOS R system is much smaller in size and lighter compared to a traditional DSLR. For photographers like myself with smaller hands, it's less tiring to hold the camera, especially for longer periods. When I need to change a lens on location (which can be dusty), the R5's shutter curtain is lowered when the camera is powered down, which helps to ensure that dust doesn't enter the camera body and stick to the sensor.
The whole experience of using the R and the R5 is extremely pleasant. I can shoot with the electronic viewfinder and use the touch-and-drag to adjust my focus points. Next, just after taking the shot, I can view the image playback within the high-resolution EVF and adjust the camera settings right away for the next shot. All these can be done without taking my eyes off the viewfinder. This allowed me to focus more on my subject and not miss any interesting moments.

EOS R, EF15mm f/2.8 Fisheye, f/16, ISO 800, 136s, 15mm
From your photos, you seem to gravitate towards long-exposure photography. What is it about long-exposure photography that you love? Do you have any tips you can give to a beginner trying this for the first time?
I love the tranquillity that long exposure can bring to an otherwise busy-looking scene.
When taking photos of a water body such as the sea or a lake, using a slower shutter speed can make the water surface look calm and quiet. Similarly, when taking pictures of clouds, a slow shutter speed can create a dreamy effect.
In addition, when you are taking pictures in low-light conditions, using a slower shutter speed will allow you to capture at lower ISO settings. You can also use a smaller aperture such as f8, which increases the depth of field.
For similar articles:
2 Landscape Photography Tricks to Transform Your Images on The Spot
Minimalist Landscape Photography with The Sky
3 Camera Features for Fine-tuning your Landscape Shots to Perfection