Products >>
All Products
Field Testing the EF-S35mm f/2.8 Macro IS STM
The EF-S35mm f/2.8 Macro IS STM released in April 2017 is an EF-S series macro lens with built-in Macro Lites that is not only great for macro photography, but also as a standard lens with a focal length of 56mm equivalent. I took this lens out for a test shoot, and here is my review. (Reported by: Sayaka Suzuki)
A versatile macro lens that can also cover everyday scenes with a standard focal length
The EF-S35mm f/2.8 Macro IS STM has a closest focusing distance of 0.13m, meaning that you can freely get up close to your subject. This expands the range of scenes around you where you can use macro photography, such as for photographing minute objects. Moreover, you can also use this lens as a 56mm equivalent standard lens, which can cover most everyday shooting scenes, such as street photography while walking around, as well as family portraits. This gives you the added advantage of having to carry less lenses around with you.
EOS 800D/ EF-S35mm f/2.8 Macro IS STM/ FL: 35mm (56mm equivalent)/ Aperture-priority AE (f/2.8, 1/1,250 sec, EV+2.7)/ ISO 200/ WB: Auto
This lens not is only suitable for macro photography but also for standard photography. It achieves sharp depictions with no visible distortion, and properly captures horizontal lines as straight lines.
EOS 800D/ EF-S35mm f/2.8 Macro IS STM/ FL: 35mm (56mm equivalent)/ Manual exposure (f/2.8, 1/160 sec)/ ISO 1600/ WB: Auto
As it is a bright lens with a maximum aperture of f/2.8, it lets you maintain a shutter speed of 1/160 sec at ISO 1600 even in a dimly-lit room. This level of shutter speed is necessary for capturing a baby, whose limbs are always moving.
The beautiful bokeh effect it produces is impressive. Both the foreground and background bokeh effects are spread beautifully, without any cause for worry about aberrations. Because Canon's Hybrid IS system is employed in the lens body, I felt the lens was surprisingly resistant to camera shake even at slow shutter speeds in low-lit scenes. With this single macro lens, you can freely get up close to your subjects, making photography more fun than ever.
You may also be interested in: [Babies Part 2] Getting Up Close to Cute Details
EOS 800D/ EF-S35mm f/2.8 Macro IS STM/ FL: 35mm (56mm equivalent)/ Aperture-priority AE (f/2.8, 1/1,250 sec, EV+2.3)/ ISO 200/ WB: Auto
Whenever I suddenly encounter subjects that move me while out for a walk, I often only realize the reason for that later on when I see the result of the shoot. Take for example, a dandelion being blown around by the wind. The form of its seeds wrapped up inside was just like a parent desperately trying to protect the seeds. This small world seen up close is like a tale just waiting to be discovered. There is also a beautiful bokeh effect spread out in the background.
That said, let's look at three key features of this lens.
Feature #1: Macro Lites that can be controlled independently
This ground-breaking attempt of mounting Macro Lites onto the lens not only gives it a distinctive appearance but is also very practical. Depending on the subject, there might be times where using the lighting on one side only produces a better result than when using lighting on both the left and right sides of the lens. The Macro Lites give you the flexibility to control the lighting to suit the image, regardless of your subject.
Left light (from photographer's POV)
Right light (from photographer's POV)
Both lights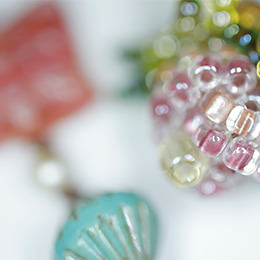 EOS 800D/ EF-S35mm f/2.8 Macro IS STM/ FL: 35mm (56mm equivalent)/ Aperture-priority AE (f/2.8, 1/1,250 sec, EV+2.3)/ ISO 200/ WB: Auto
When you get up close to a plant that is green all over, the colour of the leaves tend to blend into each other, making it difficult to bring out the texture of the characteristically thick leaves. However, the lighting in this shot allows shadows to be cast on each individual leaf, so that they look more three-dimensional.
Feature #2: A tapered lens design
Have you ever experienced the frustration of having your lens cast a shadow on your subject the closer you get when shooting small subjects? With this lens, you no longer need to worry. The head of the lens is tapered, making it difficult for the lens itself to cast a shadow on your subject.
Feature #3: A lens hood that prevents glare
If glare from the white Macro Lites stands out when photographing metal or other reflective items, I recommend attaching the screw-type ES-27 lens hood that is included with the lens. The hood not only acts as a cover for the Macro Lites, preventing glare, but the exterior is the same as that of the standard lens. When using the Macro Lites, it is necessary to remove the lens hood.
Related article: 3 Reasons Why You Should Start Using a Lens Hood
Lens Hood ES-27
Lens construction diagram
A: Aspherical lens
Specifications
Lens configuration: 10 elements in 6 groups
Minimum aperture: f/32
Number of aperture blades: 7
Minimum shooting distance: 0.13m
Maximum magnification: 1x
Filter diameter: φ49mm
External dimensions: approx. φ69.2 × 55.8mm
Weight: approx. 190g
You can also refer to the following articles for example shots taken using a macro lens.
EF-M28mm f/3.5 Macro IS STM Photo Review
Uncover a Whole New World with Macro Lenses
Macro Lens Techniques - Get Fresh, Appetising Pictures of Tarts & Pastries
---
Receive the latest update on photography news, tips and tricks.
Be part of the SNAPSHOT Community.
Sign Up Now!
---
About the Author
A monthly magazine that believes that enjoyment of photography will increase the more one learns about camera functions. It delivers news on the latest cameras and features and regularly introduces various photography techniques.
Published by Impress Corporation
After graduating from the Department of Design in the Tokyo University of Art and Design, Suzuki worked in video production before becoming an independent photographer in February 2012. A versatile photographer who shoots a variety of genres ranging from daily life photography to advertising work, her passion revolves around "lifestyle". She seeks to cherish the things within a 5-metre radius of herself in her personal projects. Suzuki also runs AtelierPiccolo, a shop that brings together the two things she loves most: lifestyle and photography.

Website: http://suzukisayaka.pupu.jp/about.html
Instagram: @sayakasuzuki_photo