Inspirations >>
Photos & People
Getting Great Photos of Your Child's Sunny Smile
There's nothing more enjoyable than capturing your child's beaming smile on camera. Nowhere was this clearer than at the child photography workshop that Canon Vietnam held for DSLR beginners. What kind of secrets to photography did they discover that got everyone jumping for joy? We bring you our report on the fun-filled workshop. (Edited by: Etica)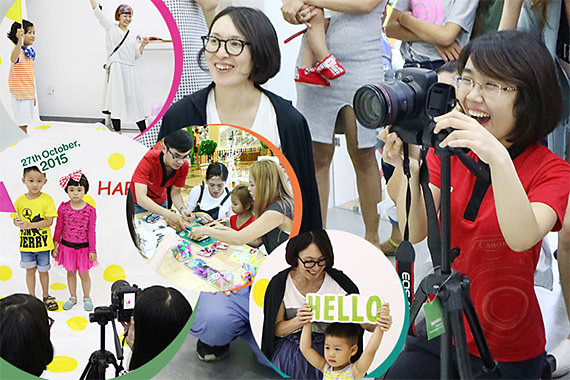 Use a pop art background and eye-catching props to shoot adorable pictures of your kids!
On 27 October 2015, Canon Vietnam held a child photography workshop in its showroom, which was led by the instructors, Naomi Yajima (editor in chief of a Japanese camera magazine) and the photographer masacova!. Both instructors had previously presented numerous such workshops in Japan.
For this workshop, a set with a pop art background of yellow polka dots was prepared. There were also some eye-catching props such as boards with words like "HELLO" and "LOVE" written on them, bow ties, and flags that had been handmade by the staff of Canon Vietnam. The staff had painstakingly prepared everything to ensure that everyone had fun at the event.
Of course, it wasn't all fun and games. There was a lecture on the key tips to bear in mind for a fun photo session with your child, which we will explain in detail.
Child Photography Tip 1: Adjust your camera settings
(1) Set the shooting mode to Program AE (
) mode.
This mode allows you to adjust the brightness of the photo using exposure compensation.
(2) Increase the exposure compensation slightly.
This is recommended to capture a bright and cute image of your child.
(3) Set the drive mode to Continuous Shooting.
This way, you are less likely to miss any photo opportunities.
Child Photography Tip 2: Think beforehand about how you want to shoot
(1) Mount your camera on a tripod, and take note of the horizontal and vertical lines in your image as you plan your composition.
(2) Think ahead about the composition and staging.
If you have a clear idea beforehand about how you want to shoot, such as whether you want your child to stand or sit at a certain point, wave a flag, or jump, you will be able to concentrate on the shoot without getting flustered.
Child Photography Tip 3: Work at the child's pace!
(1) Taking a long time to shoot is a no-no.
Adjust to the child's pace, and take care not to push them too much.
(2) If you talk to the child and make them laugh while you're shooting, they will relax and you will be able to draw out some great expressions.
Add cute decorations to your favourite photo
At the end of the lecture, it was finally time to start shooting! The highlight of the event was when the parents sang along with their children and communicated with them while they were having their pictures taken. ♪
After the shoot, each child selected their favourite photo, had it printed, framed, and even got to decorate their own photo. By simply adding decorations such as washi tape and stickers, the children created cute frames that would make great additions to their rooms. ♡
Decorating photos and displaying your photos at home is a great way to enjoy them. We'd like to thank everyone who took part in this event.
Naomi Yajima
An editor for various books, magazines and advertising media. Editor-in chief of Japanese camera magazine Camera Biyori, she is aso director of the photography school, Camera Biyori School. In 2007, she started her company Etica, which plans events concerning camera and photography.
masacova!
A photographer for various magazines and advertising media, she also produces her own products that use the photos she takes. She has been taking photos for the cover page of Japanese camera magazine "Camera Biyori" since its first issue.