Products >>
All Products
Guide to New Features on the EOS M5 #3: Smooth Zone AF
Handy for photographing moving objects, the addition of the Smooth Zone AF has enhanced the AF function on the EOS M5. In this article, I will explain the advantages of the Smooth Zone AF and the various other AF methods, as well as the kinds of subjects suitable for each method. (Reported by: Kazuo Nakahara)
Smooth Zone AF is ideal for subjects with unpredictable movements
The most enhanced shooting function on the EOS M5 is the AF functionality, which results from the image plane phase-difference detection AF carried out by the Dual Pixel CMOS AF system. Three AF methods are available on the EOS M5: Face + Tracking, Smooth Zone AF, and 1-point AF.
Among those, the newly added Smooth Zone AF is an extremely powerful function when used to photograph moving objects. The focusing method uses an AF frame equal in size to 9 1-point AF frames, and can be considered similar to functions such as Group AF and AF Point Expansion. Smooth Zone AF is characterized by its ability to focus on something that moves among the subjects broadly covered by the AF points, so it is an extremely useful function when shooting objects with unpredictable movement.
The AF area for Smooth Zone AF is made up of 9 normal-sized 1-point AF frames.
This gives reassurance when capturing images of subjects that move unpredictably such as animals or children, or even during soccer games when a player performs a complicated move. When the Touch & Drag AF (previously described) is combined with the Servo AF (to be described later), the camera should be able to keep up with the subject, no matter how rapidly it moves.
Freeze a flying bird in action with Smooth Zone AF!
EOS M5/ EF-M55-200mm f/4.5-6.3 IS STM/ FL: 200mm (320mm equivalent)/ Shutter-priority AE (f/6.3, 1/640 sec, EV±0)/ ISO 100/ WB: Auto
I shot an eagle gliding smoothly in the sky. To accurately track subjects when shooting in telephoto at more than 300mm requires skills. However, Smooth Zone AF makes tracking a cinch!
Synergy with continuous shooting
If you set the drive mode to Continuous shooting, you can better capture a moving object frozen in the moment.
3 AF methods available on the EOS M5
The following 3 AF methods are available on the EOS M5: Face + Tracking, Smooth Zone AF, and 1-point AF.
Smooth Zone AF
I took a shot of a bear that was moving around in its enclosure constantly. The bear is of a similar colour to the background, making it a challenging scene for the AF to function in. Thus, I used the Smooth Zone AF function to track the bear for the shoot. The wide area of the Smooth Zone AF allows you to track subjects with ease, even for those that move a lot.
Face + Tracking AF
Even when capturing images of children who tend move unpredictably, such as in this kind of scene where the child is facing the camera, Face + Tracking AF allows you to focus on the child's face reliably. This feature becomes your strong ally when capturing images of a child that cannot keep still.
1-point AF
I took a shot of two gnomes, one placed in front of the other, and focused on the eye of the gnome in the front. For stationary subjects, you can use 1-point AF to focus on the subject without issue if you have determined the position that you want the camera to automatically focus on.
How to set Smooth Zone AF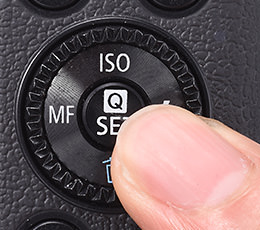 1. Press the [Quick Set menu] button.
2. Tap on the Smooth Zone AF icon.
Receive the latest updates on photography news, tips and tricks by signing up with us!
Kazuo Nakahara
Born in Hokkaido in 1982, Nakahara turned to photography after working at a chemical manufacturing company. He majored in photography at the Vantan Design Institute and is a lecturer for photography workshops and seminars, in addition to working in commercial photography. He is also a representative of the photography information website studio9.

Digital Camera Magazine
A monthly magazine that believes that enjoyment of photography will increase the more one learns about camera functions. It delivers news on the latest cameras and features and regularly introduces various photography techniques.
Published by Impress Corporation