On the road to becoming the renowned landscape photographer that he is now, GOTO AKI had to take on more work in what sparked his passion: travel photography. In this third article of the series, he tells us how he managed to reach the next milestone in his career - landing that dream assignment that opened the doors to projects that allowed him to travel. (Text: GOTO AKI)
EOS 5D Mark III/ EF24mm f/1.4L II USM/ FL: 24mm/ Aperture-priority AE (f/8.0, 1/10 sec, EV-1.7)/ ISO 400/ WB: Daylight
Location: Outskirts of Yellowknife, Canada
The morning approaches after an overnight shoot of the aurora in temperatures of minus 10 to 15 degrees. The shoot ended when the morning sun rose.
Finally, work that involved travelling!
In 2005, as I entered my 5th year as a professional photographer, I spent days wondering to myself what I should shoot from now on. Although I enjoyed taking commercial photos, it was my trip around the world that had led me to start photography in the first place, so it was natural for me to want to gravitate toward "travel" and "journey" again.
Even after being a professional photographer for a number of years, I still had my doubts and troubles. But when they surfaced, I would calmly listen to the voice in my heart and follow it.
How about you, dear readers? What does the voice in your heart say?
My heart was telling me that I wanted work that allowed me to travel, to go on journeys! Hence, I put the word out to the editors, writers, and directors whom I had worked with up to that time, asking them to let me know if they heard of any jobs that involved travel, and letting them know that I could speak English too. At the same time, I phoned the editing department of travel magazines, and that was how I got my travel-related assignments.
For one of those assignments, I was responsible for producing an article themed on the noodle culture in Vietnam, which took me to Hanoi, Hue, Da Nang, Hoi An, and Ho Chi Minh. In one week, I photographed and ate some 56 noodle dishes, such as pho, banh da, bun cha, and mi quang. Even when I look at the 12-page article I produced for that job now, it still feels like it was only yesterday.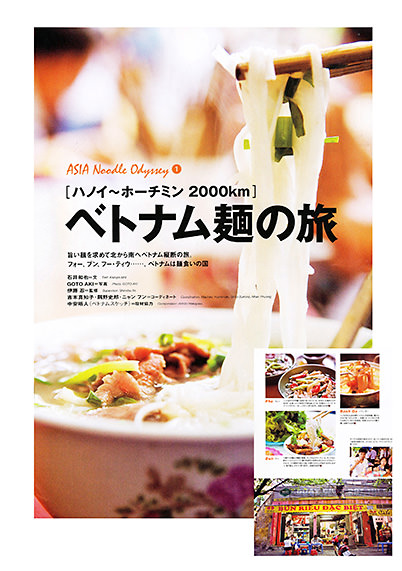 The "Vietnam Noodle Tour" article that was produced after my 2000km journey.
During the trip, I shot a wide variety of subjects, such as landscapes, buildings, food, hotels, models, and products. I only had a short time to shoot each shot, which demanded the ability to determine lighting conditions on the spot. The know-how and experience I had gained through my work since starting out as a professional, such as knowing to affix white paper to a wall to bounce the flash off it when shooting in a poorly lit shop, came in handy here,
My main camera at the time was the EOS-1Ds Mark II, which produced images that were beautiful even when printed in A3-size—the size of a full magazine spread. I used macro lenses, wide-angle to telephoto L lenses, and always had two clip-on flashes with me. All this equipment I kept in a backpack-type camera bag that I carried with me as I travelled around the world for my shoots.
EOS-1Ds Mark II
Released in November 2004.
Equipped with a full-frame 16.7-megapixel CMOS sensor, it boasted the highest specs among the DSLR cameras available at the time.
To continue working in photography, it is important to not only take photos, but also to take the initiative and let others know that you want to do it.
If you are able to make an appointment with directors and editors, it is better to meet them face-to-face. While it might be easier to contact such people online, I still place importance on communicating face-to-face even now so that you are able to convey your feelings and passion.
(Left) EOS-1Ds Mark II/ EF24-70mm f/2.8L USM/ FL: 46mm/ Aperture-priority AE (f/11, 8.0 sec, EV-0.7)/ ISO 200/ WB: Auto
(Right) EOS-1Ds Mark II/ EF24-70mm f/2.8L USM/ FL: 57mm/ Aperture-priority AE (f/2.8, 1/40 sec, EV-0.7)/ ISO 400/ WB: Auto
Location: Bora Bora Island, Tahiti
Images from a Tahiti feature in a travel magazine for women. I was requested to take photos that had a calm atmosphere.
EOS-1Ds Mark II/ EF17-40mm f/4L USM/ FL: 40mm/ Aperture-priority AE (f/16, 1/160 sec, EV±0)/ ISO 200/ WB: Daylight
Location: Gold Coast, Australia
This bird's eye view taken from a helicopter at a height of 420m was for a travel magazine.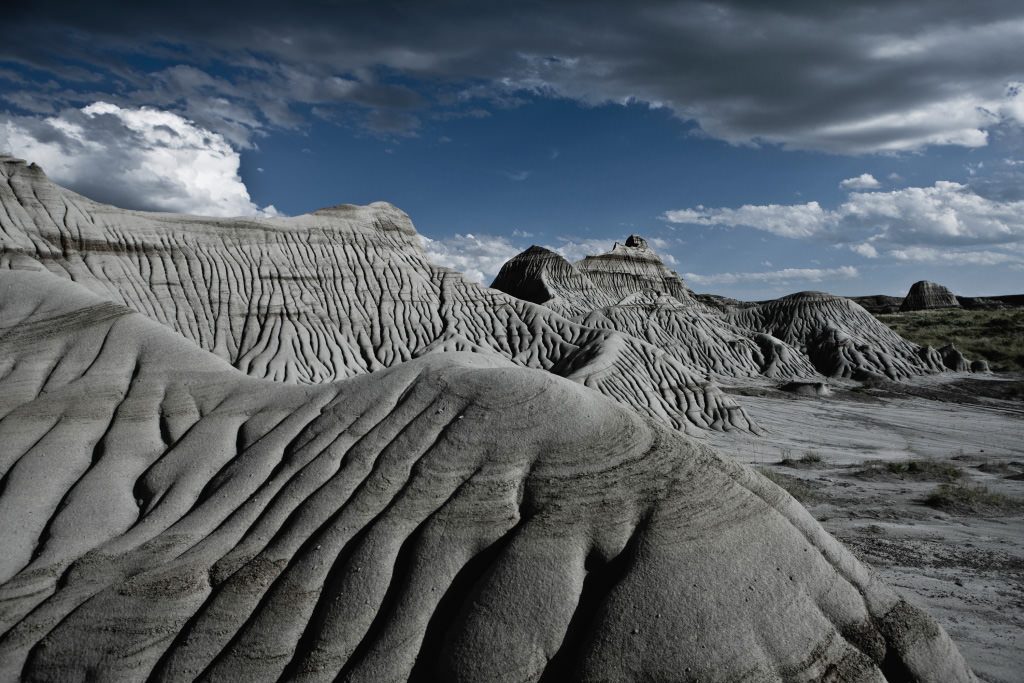 EOS 5D Mark III/ EF24-70mm f/2.8L USM/ FL: 24mm/ Aperture-priority AE (f/8, 1/640 sec, EV+0.3)/ ISO 200/ WB: Daylight
Location: Dinosaur Provincial Park, Alberta, Canada
For a feature on Canada in a travel magazine. I shot it to make the rocks themselves appear as if they were living things.
EOS 5D Mark III/ EF24-70mm f/4L IS USM/ FL: 70mm/ Aperture-priority AE (f/6.3, 1/1000 sec, EV±0)/ ISO 400/ WB: Daylight
Location: Lakeside at Plitvice, Croatia
The patterns on the water surface are reflections of clouds.
In travel articles, capture variations as far as time and lighting permits
Magazine and online jobs involve collaboration with designers, directors, and writers. In the case of a 10 to 20 page travel feature, how a photo looks can change greatly depending on the layout and size of the photo. Even if a photo stands out on its own, it might not be needed in a collection of multiple photos. If there is text designed for the photos, putting together two photos taken at completely different locations might tell a different story. To make a high quality article, it is important to take photos you can use.
The first feature I was in charge of in ANA's WINGSPAN magazine. These were shot on the Goto Islands, Nagasaki Prefecture. (Because these islands were formerly a place where envoys would wait for favourable winds, the theme I was given was "Wind".)
When I take a good picture at the scene of the shoot, I don't just end the shoot there. Instead, I aim for greater variation in the shoot. If the time and lighting conditions allow, I take a variety of shots using landscape and portrait orientations, wide-angle, standard and zoom lenses, from a low angle and from a bird's eye view, etc., to ensure that post-production proceeds smoothly. A single article is finished from a combination of various elements in addition to the photos I take, such as taglines, writeups and diagrams. Therefore, while concentrating on the shoot at the scene, I also place importance on thinking about the end result of the various elements coming together.
A request for a shoot from a travel magazine I had aspired to work for
Among the travel magazines in circulation, the in-flight magazine WINGSPAN, published by ANA, one of the major airlines in Japan, was a magazine that I had aspired to work for. In May 2007, having built up my skills and experience, and confident enough with myself in travel photography, I called the editor of WINGSPAN and went to meet him. All I took to show him was one travel portfolio and 5 landscape photos. Two weeks after that, I received a request from WINGSPAN's editing department to shoot a series introducing the culture of Tokyo. I was finally able to do a job for a magazine that I had dreamed of working for.
It might be nerve-racking to meet someone you don't know, but you have nothing to lose even if they turn you down. Conversely, the photos you put out might open up doors even if you don't have connections. That is probably one of the best things about a job in photography.
WINGSPAN has a high readership (estimated to be around 2.4 million readers per month), so I looked forward to readers' reactions to the articles every month. For the travel features of the magazine, I got the opportunity to travel to various countries and regions such as Taiwan, Vietnam, China, India, Myanmar, the Philippines, North America and Europe, to photograph their cultures and landscapes. The dream that I had imagined as a university student about being able to continue travelling if I became a photographer was finally becoming a reality.
Part of the article on Da Lat, Vietnam, which was themed on their food culture of eating flowers.
Before I knew it, I had travelled to more than 50 countries. In 2008, I replaced my favourite camera, the EOS-1Ds Mark II, and upgraded to the EOS-1Ds Mark III. I then came to use the EOS 5D Mark II as my back-up camera. I had reached a point where I was not only able to use equipment that satisfied me, but also photograph enough to feel fulfilled.
EOS-1Ds Mark III
Released in November 2007.
The successor to the EOS-1Ds Mark II that was released in November 2004.
It is equipped with a full-frame 21.1 megapixel CMOS sensor and a DIGIC 3 image processor.
EOS 5D Mark II
Released in November 2008.
The second generation model of the 5D series for advanced amateurs.
It is equipped with a full-frame 21.1 megapixel CMOS sensor and a DIGIC 4 image processor.
Read more SNAPSHOT articles from GOTO AKI here:
5 Reasons Why the EOS 5D Mark IV is Ideal for Landscape Photography
4 Keys to Shooting Pre-dawn Landscapes
EF16-35mm f/4L IS USM: Breath-taking Landscape Photography Even With Handheld Shooting
Receive the latest updates on photography news, tips and tricks by signing up with us!
About the Author
Born in 1972 in Kanagawa Prefecture and graduated from Sophia University and Tokyo College of Photography. Goto published a photo collection work titled "LAND ESCAPES" and is also actively engaged in works such as "water silence" an installation that merges photographs with videos.