Tips & Tutorials >>
All Tips & Tutorials
Mother's Day Gift: 4 Tips to Create an OOTD Shoot for Your Mum
Apart from buying your mum a fancy dinner or a generic gift this Mother's Day, why not present her with something extra special–an OOTD shoot for your mum. This creates a more memorable experience for the both of you, and allows you to spend quality time with your beloved mother. In addition, you will put your portrait photography skills to the test. Let's begin with the following tips.

EOS RP, RF24-105mm f/4L IS USM lens, f4.0, 24mm, 1/125 sec, ISO250
Preparation Stage

EOS RP, RF28-70mm f/2L IS USM lens, f2.2, 28mm, 1/1250 sec, ISO200
It is important to prepare your model (especially non-professional ones) before the shoot. Sit your mum down comfortably and explain the process as clearly as you can. Use words such as "don't worry", "it's going to be very simple and easy", "let's just have fun" to help her relax and ease her into the process. Once she is ready, it is time to shoot.
Photoshoot Tip 1: Do a Half-Turn

EOS RP, RF24-105mm f/4L IS USM lens, f4.0, 24mm, 1/125 sec, ISO250
A half-turn shows off a much slender side of the model, and it creates more shape than a frontal shot. Throw in an accessory such as a handbag to let her have something to hold on to. This is a great tool to help models who do not know what to do with their hands, and to ensure that their hands are not dangling awkwardly in the photo.
Photoshoot Tip 2: Do a Slow Walk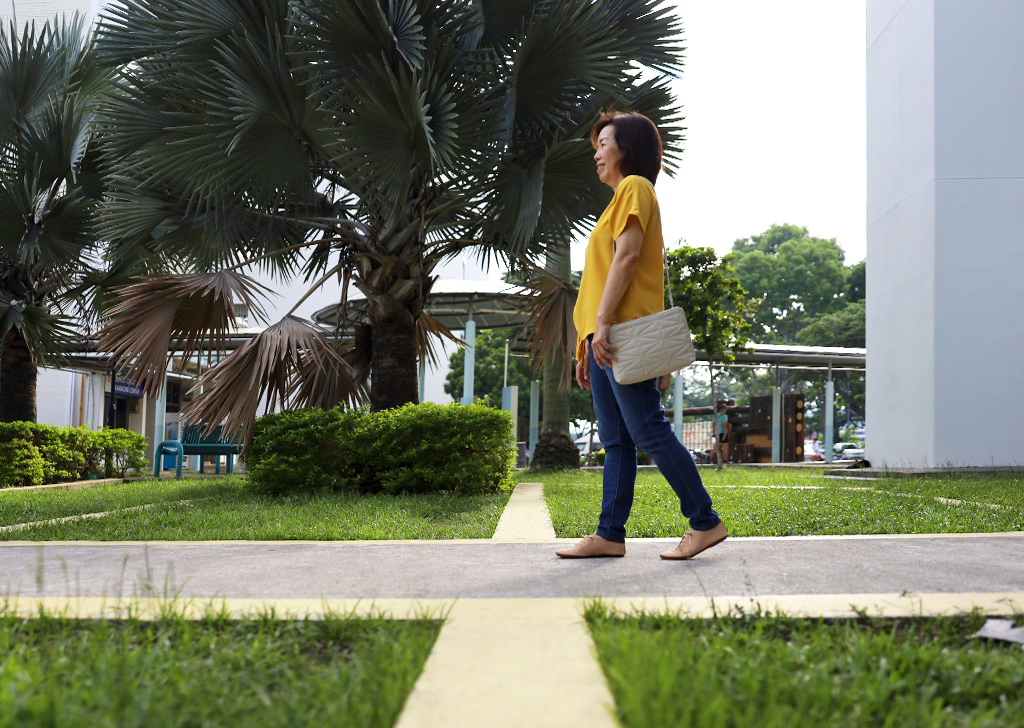 EOS RP, RF24-105mm f/4L IS USM lens, f4.0, 24mm, 1/125 sec, ISO250
Making your model walk can help calm her down as she will be focusing on the action instead of the pose. This is also a more natural option for her. Shoot from a lower angle to create a more dynamic shot and make use of Canon EOS RP's vari-angle touchscreen LCD to manage difficult (high/low shot) angles. Select your AF points or adjust the brightness of your EVF all with a simple touch. Switch to AI Servo mode to capture and track the movement of your subject as she walks across the frame. This is a great function to track your subject and keep it in focus while you take multiple shots.
Find out more about the camera in 7 Key Features of the EOS RP.
*results may vary depending on shooting conditions and lens
Photoshoot Tip 3: Play with Creative Space

EOS RP, RF24-105mm f/4L IS USM lens, f4.0, 24mm, 1/125 sec, ISO250
Observe the different shapes in your surroundings and use them as a creative background for your OOTD shoot. In this case, place your model at the edge of the circle in a relaxed pose to show off her jeans. In here, we create a shape (the circle) and an angle (the legs), which makes the photo more interesting to look at.
Photoshoot Tip 4: Play with Shadows

EOS RP, RF24-105mm f/4L IS USM lens, f4.0, 24mm, 1/125 sec, ISO250
Shooting with the golden light (early morning or late afternoon) creates a creamy and warmer tone to your photos. On top of that, the golden hour in the morning gives you a soft and beautiful silhouette that adds depth to your photo. Your subject will also appreciate better skin tones when shooting in this light. Opt for this if you do not intend to shoot with high contrasting shadows.
Learn more about this in 10 Reasons to Shoot During the Golden Hour by Expert Photography.
Don't forget, this shoot is all about having fun and creating moments that only you and your mum will remember and appreciate. Choose clothes that your mum is comfortable in, or colours that complement her skin tone, or fun accessories that add a touch of personality, because ultimately, this is an OOTD shoot. Be as patient and candid as possible and you may be surprised by how good your mum is in front of the camera!
Learn more about the EOS RP mirrorless camera in Reimagine Your Potential with EOS RP, or explore the Techniques for Posing and Directing Portrait Subjects. If you are looking for more photoshoot inspiration, check out Photography Across Generations: Exploring the Diptych Technique with EOS RP.
---
Receive the latest update on photography news, tips and tricks.
Be part of the SNAPSHOT Community.
Sign Up Now!