Products >>
All Products
[Part 2] Flawless Movie-shooting Performance
This series aims to verify the movie-shooting performance of the EOS 7D Mark II. Here in Part 2, we test the camera's apparent resolution and low light shooting capability. Let's see how close this model gets compared to the full-frame EOS 5D Mark III. (Edited by: Yasushi Sugawara)
A sniper-like camera that scores in telephoto shooting
The EOS 7D Mark II indeed outperforms its categorization as an APS-C camera. The model is capable of establishing AF miraculously swiftly on faraway objects as though it came with a built-in 1.6x extender—just like a sniper who never misses his targets.
This may sound too much to ask, but it is best to use both a full-frame model and the EOS 7D Mark II for different purposes, as the former is more suitable for wide-angle shots, while the latter can be employed in the same way as a telephoto extender. In fact, I use its predecessor, the EOS 7D, as my main camera for taking still shots of wild birds. Continuous shooting capability has improved from 8 fps to 10 fps, and AF performance is significantly enhanced. In fact, I often hear about photographers who have switched from the 7D to the 7D Mark II.
Unlike stills, all movies are subject to editing. Therefore, it is crucial to ensure that movies taken by different cameras have the same image quality. For example, I sometimes combine and edit movies taken using the EOS 5D Mark III with those taken using a professional camcorder. I therefore downloaded the "Video Camera X Series Look" Picture Style so that I could shoot with the contrast slightly toned down. Similarly, as the EOS 7D Mark II used for this write-up was a test model, I chose a Picture Style with a relatively low level of sharpness and contrast. The result showed that movies produced by the EOS 7D Mark II achieved a level of quality that matches that of the EOS 5D Mark III. If I were to mix footage by the former into that taken with the latter, there would be no significant disparity.
Apparent resolution comparable to the EOS 5D Mark III
As mentioned in the previous page, the image quality of the EOS 7D Mark II is high enough to produce natural results when footage from it is merged with that from the EOS 5D Mark III. Of course, if you were to examine the image quality of each frame closely, the EOS 5D Mark III produces a higher apparent resolution. However, the difference would probably not be obvious during normal playback.
EOS 7D Mark II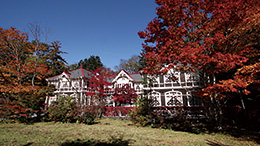 EOS 5D Mark III
Although the cameras use different image sensors, the images produced are very similar. If you are already using the EOS 5D Mark III as your main camera, you should be able to add the use of the EOS 7D Mark II to that without any problem. While apparent resolution is higher with the EOS 5D Mark III (as can be seen in the trees behind the building and the roof), this difference is hardly noticeable during movie playback.
Compared to the EOS 5D Mark III, the auto white balance function of the EOS 7D Mark II tends to apply a more natural tone to the overall colour. There will not be any problem if you are using movies recorded by the EOS 7D Mark II on their own. However, if you wish to match them with the colour tone of movies taken using the EOS 5D Mark III, it would be better to select a white balance setting from the preset settings and fine tune it with the white balance correction function.
EOS 7D Mark II
EOS 5D Mark III
Mercury lamps are a light source I usually would avoid using as they make the images appear greenish. However, the white balance function of the EOS 7D Mark II subdues this green tone and allows the images to appear closer to what we actually see. Not only that, the resulting image looks natural since the auto white balance function adjusts the colour gradually and does not respond in any excessive way.
Whenever a new model is launched, its performance under low-light conditions would always be a cause for concern. The EOS 7D Mark II has a normal ISO speed (recommended exposure index) of up to ISO 16000,  a number that seems extremely close to the performance limit for an APS-C camera. However, for actual movie shooting, ISO 16000 should be used only when the image must be captured by any means possible. Otherwise, ISO 12800 should be the maximum ISO used.
More importantly, the EOS 7D Mark II demonstrates its real capability under low-light settings, by recording moving objects with extraordinary AF performance. It is not uncommon to have to shoot videos of wild birds under low-light conditions, and lighting is always insufficient for shooting indoor sport events. In addition, the subjects are constantly moving, so it is sometimes necessary to obtain a shutter speed faster than 1/60 second. The ISO setting of the EOS 7D Mark II, however, easily meets such a requirement. Moreover, the aperture can be stopped down even under low-light conditions, allowing easier focusing with a deep depth of field.
Revolutionary AF performance in dark locations
The biggest surprise about the EOS 7D Mark II's performance in dark settings is its AF capability in astro videography. AF does not work properly with tiny, spotted light sources such as stars, and this causes videographers a big headache when trying to establish focus on celestial objects. However, the AF of the EOS 7D Mark II can achieve focus even on planets of -2 magnitude—a revolutionary breakthrough in AF performance indeed, when it comes to celestial photography.
The first camera in the EOS series to have an interval timer function
Time-lapse movie shooting, which can capture clouds moving and flowers blooming, is quietly gaining popularity. The EOS 7D Mark II allows you to perform interval shooting without having to use a remote control. The image here was shot with only a small LED lamp as the light source. Altogether, 350 shots were taken at f/4 and ISO 5000 at 20 second intervals.
The required settings are very simple. You only need to select your desired interval and the number of shots to be taken. Note that this function cannot be used in the Live View mode.
Numerous functions for movie shooting
1.Diverse range of recording formats
In addition to MOV, the versatile MP4 has also been added to the list of recording formats. The EOS 7D Mark II is also the first EOS with the Full HD 59.94 fps mode, giving it an advantage in capturing moving objects.
2.Silent movie shooting
As with the EOS 5D Mark III, the EOS 7D Mark II is also equipped with the Silent Shooting feature for recording movies. Touch the inner part of the Quick Control Dial to adjust the settings. Silencing the mechanical noise is a convenient function when you are shooting a movie.
3.Cable protector provided
The EOS 7D Mark II comes with a cable protector for securing the USB or HDMI cable. The HDMI terminal allows captured images to be shown simultaneously on both the camera's LCD monitor as well as on an external monitor. At the rate of 24 fps, 4:2:2 uncompressed output is possible.
Yasushi Sugawara
Takes photographs of all sorts of living things, including birds, insects and plants, using special techniques such as time lapse, high speeds and three dimensional photography. Provides footage for TV, creates footage for exhibitions, writes for magazines and is active in many other areas. Member of the Society of Scientific Photography. Award recipient, EARTH VISION Global Environmental Film Festival (2000). Award recipient, Japan Wildlife Film Festival (2001). 
Video Salon
Video Salon started publication in 1980, and is Japan's only niche magazine on videographic equipment. Catering to readers who range from serious amateurs to professionals, it enjoys an established reputation not only for the information it provides on video cameras and editing software, but also on its drive-run reviews on videography with the latest DSLR cameras and its expert tips and tutorials.
Published by GENKOSHA Co., Ltd