Tips & Tutorials >>
All Tips & Tutorials
[Part 2] What are the photos that parents are glad they have taken with their family?
In this article, I will introduce tips for taking keepsake photos of your child, as well as techniques for capturing the birth of your baby and their growth by month. Pay particular attention to the advice given by fathers and mothers who have taken hundreds of shots of their kids in the past. (Written by: Camera Biyori Editorial Department, Aya Nagaoka, Rika Yamazaki)
Loving gaze of the sister at the sleeping child
Tomoyuki Murakami
This photo was taken on the second day after our youngest child was born. Though our daughter was told when her mother was pregnant that she would be having a "new brother", she looked hesitant while witnessing his birth. Nonetheless, her expression changed quickly at the first sight of her brother. This shot captures the affection she has as an older sister.
[Tips] EOS 700D Camera Techniques
Try out the Creative Filters
The [Creative filters] option allows you to make changes to the photographic expression, such as the colour, tone, and lens effect. Select [Creative filters] in the [Playback 1] menu tab, select an image and press the SET button to display a list of effects for selection. The recommended settings for baby photos are [Soft focus] and [Toy camera effect].
The day we welcomed the fourth member into our family
Yoshihiro Hashiguchi
During the birth of our youngest daughter, my wife chose a hospital where everyone in the family could witness the baby's birth. On the day of delivery, I brought with me two SLR cameras, one digital and one film, and took countless shots both in the labour room and the ward. This shot that I picked captures both the relieved expression of my wife and the adorable smile of my elder daughter.
Memorable family photo on a holiday
kagioka ryumon
This family photo was taken on a hotel bed during our trip back my wife's hometown. I usually do not ask my family to look into the camera or strike a pose, so their expression in this face-to-face shot looked refreshing to me. Our youngest child is now one-and-a-half years old, and this photo was taken about a year ago. Now that I look back at it again, I realised that the kid's cheeks were chubby and the expression was more adorable than I thought. Babies grow up very quickly, and their looks change rapidly too. By making it a point to take regular shots of your family members from the front, you will be able to enjoy looking back at them later.
The favourite photo I have been displaying in the living room for a decade
Katsuhiro Hirata
My child just turned 10 years old. This photo was taken on a picnic outing when the roses were in full blossom. The child was only three months old then. I like to include the surrounding scenery when I compose a shot. Although both of them were not looking at the camera, I somehow just like the ambience of this photo, which successfully captured the loving gaze of my wife at the baby under the gentle sunlight.
The day his younger brother came into the family. Their first shot together
Shigeki Kanamaru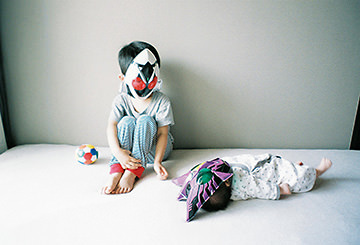 The older brother loves his younger sibling very much, and helps to bottle-feed him. On this day when the little brother first arrived back at home, my elder son begged me to take a photo of the two of them. Despite having said so, the older brother suddenly felt a little shy, and decided to put on a mask, while the younger brother lay on the bed helplessly, of course. This is my favourite shot, as I find it very heartwarming. It was also a very special moment to my children.
An instant photo of the usual morning scene of the two brothers
Takuya Miyamoto
This is an instant photo of my second and third sons who just woke up from their sleep in the morning. My second child, a book-lover, placed picture books around his younger brother who was lying on the bed. It seems like he was reading some stories to his brother. The younger child was smiling, as if he was enjoying the moment. This photo always makes me smile whenever I look at it. While most baby photos are close-up shots, I like this one because it was taken from a slightly far distance, allowing viewers to see the surroundings as well.

Camera Biyori
Camera Biyori is a Japanese photography magazine introducing charming photos and daily joy with cameras. Suggesting fun activities relating to cameras and photography, Camera Biyori editorial department also offer the "Camera Biyori Photography School" to recommend its readers to engage in photography and have fun.
Published by Daiichi Progress Inc.