For new photographers, preparing for the next gig can be stressful and missing things out can lead to disastrous consequences. It is not unheard of for photographers to forget something as crucial as bringing extra batteries for a full-day photoshoot or damaging their equipment due to attaching the camera strap to the camera body incorrectly. To avoid these and ease your jitters, here are some need-to-know best practices when it comes to prepping for a photography gig.
Gear Checklist
Whether you need different lenses and tripods or even external flashes, it's best to make a checklist days before the photoshoot to ensure you have time to gather what you need. Every photoshoot is different, so the requirement's may vary. Start with listing down the essentials like your camera gear, padded camera bags, batteries and SD cards (it's very important to have at least 1 spare battery and SD card no matter the type or kind of project), lenses, lighting equipment and more. Then you can work on listing out the more miscellaneous items like props and back-up inspiration cards. It's also important to double-check all your gear is working the way you want it to be!
Security Comes First
It's normal to remove the camera strap for camera maintenance, changing out a new one or when switching between different camera bodies for different photoshoots. But, imagine grabbing your camera in a hurry and having it crash to the ground because the strap was loose (ouch!). Avoid this by ensuring the strap is properly secured after the last use and ready to go for your next shoot: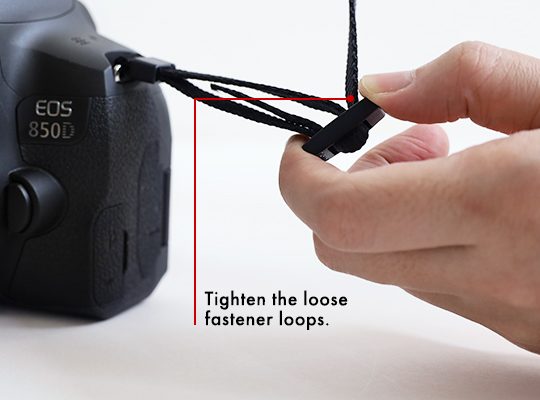 Location Awareness
It's always good to be aware of the environment you're working in, especially when it's outdoors. Take note of the weather forecast and scout the location before the photoshoot day to visualise your concept. When there, pick out great spots and to grasp the feel and mood of the area to fit the shoot. Scouting the location also helps you to familiarise with the route needed to reach the destination, so you won't get lost on the day of the shoot.
Ideation and Moodboard
While this may have been agreed prior to the photoshoot day (such as a wedding photography gig), it's still best to carry a physical copy of your moodboard on the day. This can serve as an inspiration guide or anchor to keep your artistic direction clear and aligned. A moodboard can consist of images, words, text, sketches or anything that can be understood and interpreted by you. Print it out and store it in folders meant for their respective projects.
Work Contract
Before you even start with conceptualising a shoot, it is important to make sure that a mutual agreement in the form of a work contract is in place. This will define the work hours, responsibilities and deliverables so both parties are aware of the parameters in both under-fulfilling or over-fulfilling the job scope. It also allows for negotiation like when the client requests for additional hours and takes.
Now that you've read through this article, we hope that you'll be more prepared for your next photoshoot, have fewer worries and will enjoy the photography experience even more.

For similar articles:
How to Protect Your Camera for Cold Weather Photography
10 Things to Bring on Your First Dive Trip
10 Tips to Get You Started in Underwater Photography.