For anyone starting out in a new area of expertise, even baby steps can be tough when you don't have anyone to guide you along. This is especially true in filmmaking where the bulk of work does not just lie on a person's videography techniques but also on their ability to coordinate schedules, negotiate with clients in pitches and interact with strangers who can potentially be your main subjects in the video.
To help you overcome obstacles you may face as a beginner in the filmmaking industry, we talked to experienced filmmaker, Brenda Er of Lovorth Events & Media, to share her insights on the problems she used to face and how she tackled them! P.S. Watch as she shares her journey as a documentary videographer here!
How should a beginner start their video project and where can they find inspiration?
I would say before you work on your projects, start by being an assistant for other filmmakers first. Learn as much as you can about camera angles, scripting, directing, sound, lighting, editing, etc. You should also research and learn from online tutorials, guides and behind-the-scenes videos to understand what goes on behind the camera.
After that, you can practice making short videos and get feedback from others who are more experienced. Your first video can be a personal project or just a feature on someone with a story that interests you. As a rule of thumb, a good story is something that you can personally connect with. Find a cause or topic you are passionate about and would be proud to share its message.
What was your first project on and what was one common obstacle you had to overcome?
My first documentary project was inspired by my grandmother who was passing away. I wanted to document the last two years of her life. The most common obstacle is getting the subject to agree to be filmed. Some topics like abuse, mental health issues and death are sensitive, so can be difficult to share. To get them on board, you need to constantly build trust and create a safe space for everyone. I would suggest new filmmakers show real interest in wanting to know them as a person. Be patient, be available and learn how to connect with new people emotionally.
What should one consider during the research process?
Ensure that the facts are correct and the events that happened did happen. When it comes to working with intangible events from the subject's memory, you can get them to share it a few times on different days just to make sure that you get the correct story. Just try to gather as many archival materials as possible. This way, you will have more to work with when presenting your story angle.
How do you develop a script?
I will usually have an interview with the subject first before developing any script. Every script needs a beginning, middle and end.
From the interview, you will get a more in-depth understanding of the subject. Then, you can craft your story and determine which sides of the character you want to portray. My storytelling style has always leaned more towards the "sensitive" approach. While it is important to direct the subjects towards the desired outcome or plot, you do need to give adequate space and allow the subjects to be themselves. This way, you can portray a more balanced view of the story.
Where should one find clients as a filmmaker?
For me, my clients know me through word of mouth. I used to attend many networking groups when I first started, but I'm not sure if there are any more happening during the current times. However, I'm sure there are online videography groups you can join to share your work and network. Social media sharing is also important to let people know what you now do. You never know who your work may reach!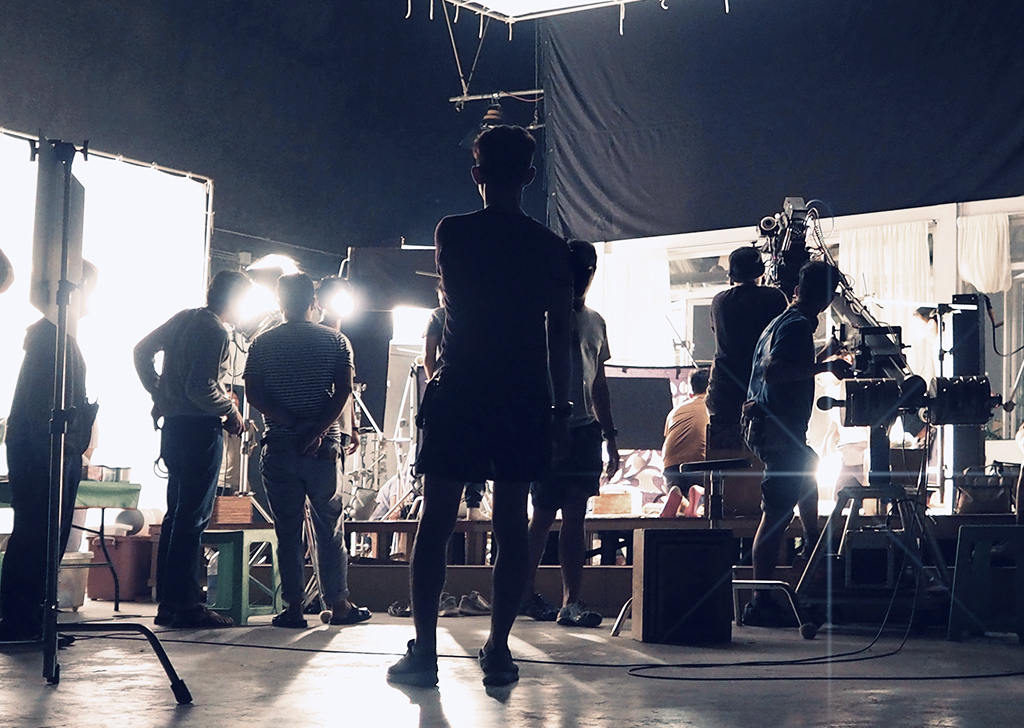 What can you do if you cannot find funding?
You can look for government grants or raise funds through crowdfunding platforms. Write to potential sponsors, brands or communities that may want to support the cause. If all else fails, start by collaborating with other up-and-coming artists in the industry or find stories within your closest circle of friends and family.
Tip: you can always experiment with more affordable cameras like the EOS M50 Mark II before investing in professional equipment like the EOS C300 Mark II.
When given a chance to pitch their story to a sponsor, how should a beginner go about it?
Communicate what you are passionate about and show it during your presentation. Sometimes it can be a short essay or a deck. Include your objective, message, storyline, purpose, budget and timeline breakdown.
What should one have during a pitch? What do you usually bring or present?
Have confidence! If you have a great idea but are not grounded and confident, clients won't feel assured working with you.
For narrative films, present your deck and storyboard. There are many basic storyboard software options available online that you can reference and use. For documentaries, I will suggest presenting a brief storyline with visual and audio references. If you have previous work in your portfolio that is similar in terms of how you want to present the story, you can share it during the pitch too!
What should be discussed during such open pitches?
Find out whether the proposed idea works for the client. Don't feel rejected when the client does not like your idea. Try to be open to changes but also make sure that it does not go against your creative values.
When given a chance to discuss budgets, you must include costs for your research, scripting, directing, producing, camera crews, cameras and equipment, editing and paying for song copyrights. Find out the highest rate that clients can offer and whether it is possible to meet your expectations halfway. You should not do any work for a fee that does not even cover the basic costs.
In your experience, what needs to be confirmed before the actual shoot day?
The script needs to be approved by the client and yourself

Production schedule and call sheet

Confirmation for crew, talents, venue, necessary licenses or permits

Site recce for director and camera crew

Monitor the weather forecast and make alternative wet weather plans

Logistics for transportation, food, refreshments and more
Remember, the first few attempts at something new will always be a rough process. Persevere and you'll find a light at the end of the tunnel!
To hear more from Brenda and her team at Lovorth Events & Media, watch the video Breaking Into the Filmmaking Industry
For similar articles:
Introduction to Filmmaking on your Canon EOS (1): What Every Beginner Must Know
Introduction to Filmmaking on your Canon EOS (3): Settings, Camerawork & Sound and Music