Products >>
All Products
5 Things Made Possible with DIGIC Image Processor
Canon's current digital cameras are equipped with the DIGIC (an acronym for "Digital Imaging Integrated Circuit") image processor, but do you really know the role it plays inside the camera? In this article, we focus our attention on the "brain" of the camera and some of its significant contributions to camera performance. (Reported by: Ryosuke Takahashi)
What does DIGIC do, really?
An image processor is an essential electronic component that is akin to the "brains" of the camera. It controls the camera to a high degree, from how it functions to how it depicts and records images. Canon's DIGIC image processor was developed in-house, and is specifically tailored to address the needs of a camera.
The current EOS models are each equipped with a version of DIGIC image processor (DIGIC 4 to 8) that suits its features and functions.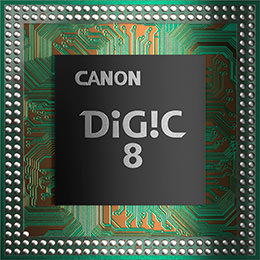 The latest incarnation of the DIGIC image processor: DIGIC 8.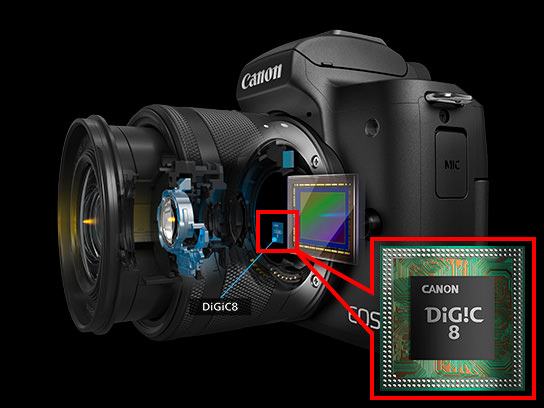 As cameras increase in functionality, pixel counts and sophistication, the burden shouldered by DIGIC has increased as well. A recent example is autofocusing on the EOS R, which requires the image processor to process up to 40 times more data than the maximum required on the EOS 5D Mark IV during Live View shooting, a feat achieved by the new DIGIC 8 processor.
It is not an overstatement to say that the development of new features and future camera models hinges on the capabilities of the DIGIC image processor. Features such as Panning mode, Time Lapse Movies and in-camera lens correction by Digital Lens Optimizer require extensive data processing power, and were successfully implemented with the aid of upgrades to the DIGIC image processor.
EOS M50/ EF-M15-45mm f/3.5-6.3 IS STM/ FL: 24mm (38mm equivalent)/ Aperture-priority AE (f/4.5, 1/80 sec, EV-0.3)/ ISO 100/ WB: Auto
Equipping cameras with features such as Digital Lens Optimizer and its lens aberration correction functions require substantial image processing power. This was made possible for the first time on a mirrorless camera (EOS M50) with DIGIC 8.
Each version of DIGIC features faster, higher-level data processing capabilities than the previous version. Below, we take a look at what this means for shooting performance and image quality.
1. Beautiful images even at high ISO speeds
When the first DIGIC chip was implemented, the maximum standard ISO speed possible was about ISO 1600. Today, with DIGIC 8, you can bump up your ISO speed to as high as ISO 40,000 on the EOS R. This is a phenomenal improvement in your ability to shoot in dark places.
While improvements to the capabilities of the image sensor certain play a large part in this, DIGIC controls the High ISO Speed Noise Reduction feature. It instantly separates noise and image information from vast quantities of image data and reduces the noise digitally, ensuring that even images shot at high ISO speeds are pristine with minimal digital noise.
EOS M50/ EF-M15-45mm f/3.5-6.3 IS STM/ FL: 45mm (72mm equivalent)/ Manual exposure (f/8, 1/15 sec, EV±0)/ ISO 12800/ WB: Auto
The processing capabilities of DIGIC support High ISO Noise Reduction, ensuring your low light images shot at high ISO speeds are clear with minimal noise.
2. Fast, accurate AF and subject detection.
The advent of DIGIC has significantly transformed autofocus (AF) functionality. Advancements to Dual Pixel CMOS AF are particularly astounding. In Dual Pixel CMOS AF, each pixel on the image sensor is composed of two independent photodiodes, and the information captured by each photodiode is used to perform phase difference detection and acquire focus. When shooting, DIGIC processes all this information rapidly, instantly evaluating the subject's brightness and colour and detecting faces. It transmits this information to the lens and adjusts the focusing lenses to establish focus on the subject.
DIGIC 8 takes into account not merely two-dimensional information on the subject, but also depth information between the subject and the background. As a result, subject recognition and tracking is faster and more accurate than before.
Eye Detection AF
The DIGIC image processor is also indispensable for face and eye detection. DIGIC 8 has made Eye Detection AF possible. Activated when face detection is turned on*, Eye Detection AF automatically detects and displays an AF frame on the eye closest to the camera, enabling pin-point focusing.
*During One-Shot AF with Face + Tracking AF
3. Continuous shooting
The continuous shooting performance of a digital camera can be said to be determined by two types of components:
1. Mechanical components such as the shutter and mirror units, and
2. Software components that control processes from image processing up to writing image data onto the memory card.
The advent of mirrorless cameras and DSLR cameras with more than 50 megapixels has led to increasingly high demands on the software component.
To carry out continuous shooting with continuous subject tracking (Continuous AF), it crucial that the DIGIC processor achieves both subject recognition and data processing at lighting speed. The processing power of the latest DIGIC has enabled improvements to focusing accuracy along with an increase in the continuous shooting rate.
Both EOS M50 and PowerShot SX740 HS offer faster continuous shooting speeds than their predecessors thanks to DIGIC 8.
4. Dual Sensing IS
Conventionally, Canon's interchangeable lenses and compact cameras have employed a built-in image stabilisation (IS) system that works on the principles of lens-shift image stabilisation. In this system, vibration from camera shake is detected by gyro sensors built into the lens and this information is evaluated by a micro-computer inside the lens, which then drives the IS unit.
Canon's latest image stabilisation technology, Dual Sensing IS, additionally uses data from the image sensor. The enormous volume of data from the image sensor and the gyro sensors is sent to the DIGIC image processor, which evaluates the data and uses it to control the movement of the IS unit even more accurately, effectively suppressing vibrations.
Dual Sensing IS (featured from DIGIC 7 onward)
1: Similar to the conventional IS system, Dual Sensing IS uses gyro sensors to detect vibration.
2: In addition to point 1, image information from the CMOS image sensor is also used. A new algorithm to detect the amount of camera shake in an image was developed for this purpose.
3: This dual information processing method leads to significant improvements in IS. As much as 5 shutter speed stops'* optical image stabilization (still images only, CIPA standard), is possible, effectively countering not just motion of the hand, but for larger and slower movements of the body as well.
*4 or 5 shutter speed stops, depending on camera model.
5. 4K video
Out of all camera functions, movie shooting is the most demanding on image processing power. This is especially so for 4K video, as it records at approximately 4 times the resolution of Full HD video, generating 4 times more data. The capabilities of the image processor determine the movie frame rate (how smooth the footage appears) and whether or not it is possible to shoot at a high ISO speed.
The high resolution and amazing quality of 4K video allows you to create footage so real that it draws the viewer into the scene. Not only that, Canon's 4K Frame Grab feature allows you to preserve fleeting moments in the video by extracting frames from the 4K movie and exporting them as high-resolution JPEG still images.
DIGIC: Always evolving, always advancing
Each new incarnation of the DIGIC image processor sees improvements not just in terms of basic performance, but also in the camera features that it supports. Recent versions of DIGIC have made the features described above possible. With subsequent versions, we can perhaps look forward to improvements in the functions that demand high image processing power, such as EOS Movies and subject recognition during Live View shooting.
Ultimately, DIGIC is more than just a simple image processor. Its capabilities play a crucial role in determining what comes next, and it is therefore most likely one of the core considerations in any future imaging innovations by Canon.
---
Receive the latest update on photography news, tips and tricks.
Be part of the SNAPSHOT Community.
Sign Up Now!
---
About the Author
Born in Aichi in 1960, Takahashi started his freelance career in 1987 after working with an advertising photo studio and a publishing house. Besides photographing for advertisements and magazines in and out of Japan, he has also been a reviewer for "Digital Camera Magazine" since the launch of the publication as well as published a number of works. In his product and lens reviews, Takahashi particularly advocates photography techniques that bring out the lens performance through his unique point of view and tests. Takahashi is a member of the Japan Professional Photographers Society (JPS).