Products >>
All Products
A Close-Up Look at 13 Key Features of the EOS M50
On 26 February 2018, Canon announced the launch of the EOS M50, the latest model in the EOS M series. We take a look at the camera's key external features. (Reported by: Yuki Imaura)
1. Body design
At first glance, the EOS M50 and EOS M5 look similar, especially since both have a viewfinder. However, there are noticeable differences such as in the layout and number of dials (see point 2).
The camera is impressively light, weighing in at approximately 390g (White model, battery and memory card included. The black model weighs 387g).
The grip allows the camera to fit comfortably in your hands. However, those with larger hands might find the grip slightly smaller than what they might be used to.
The body of the EOS M50 is made of plastic, but it feels reasonably solid.
2. Operating controls
In terms of layout, main operating controls such as the power switch and mode dial are positioned close to the shutter button, which lets you easily operate the camera using just one hand.
Another user-friendly feature is the multi-function (M-Fn) button, which is conveniently positioned to the bottom-left of the shutter button. You can set this button to be a shortcut to your most frequently-used function.
The knurled electronic dial (also known as the main dial) surrounding the shutter button turns with a light touch. The deep button-press on the shutter button makes it easy to distinguish between a half-press and a full-press. These two controls are ergonomically-located on a slant where you can comfortably rest your index finger.
Just like the controls on the camera top, the buttons on the camera rear are also concentrated on the right-hand side. This clears up the left-hand side and gives the camera a clean, simple look. It is easy to identify and operate the various controls.
One thing to note is that the EOS M50 does not employ the electronic dial surrounding the cross-keys, which is present on the higher-end EOS M5 and EOS M6.
3. Image sensor and image processing
The high-resolution 24.1-megapixel APS-C size CMOS sensor on the EOS M50 enables you to print out your images in larger formats such as A3 size while maintaining high image quality.
The EOS M50 is the first camera to feature the new DIGIC 8 image processor. This endows it with even more power to handle an extremely large number of processes at high speed and with high accuracy. These include reducing noise in images shot at high ISO speeds, processing still images and movies, and carrying out Dual Pixel CMOS AF (see point 4).
Yet another feature making its debut is the CR3 RAW data format, "C-RAW", which promises smaller file sizes that retain full image resolution. CR3 data can be processed faster than the conventional "CR2" RAW data.
Shooting in C-RAW allows you to record RAW files with a smaller file size while keeping full image resolution (6000 x 4000 pixels). A 32GB SD card can store up to 1224 C-RAW images, which is 1.5 times the number of 828 standard RAW images.
4. Autofocus (AF)
On the EOS M50, Canon's Dual Pixel CMOS AF is used for both viewfinder and Live View shooting, which makes it different from previous models where viewfinder and Live View AF used different systems.
In Dual Pixel CMOS AF, each of the 24.1 megapixels on the image sensor employs 2 independent photodiodes that carry out image plane phase detection. This enables fast, precise subject acquisition, even for scenes that were previously challenging for mirrorless cameras, such as dark locations or fast-moving subjects.
In addition, the new DIGIC 8 image processor realizes an extremely wide AF area of up to 143 points, covering 88% horizontal by 100% vertical of the sensor surface.
5. Continuous shooting
Extremely high-speed continuous shooting of up to 10 fps using One Shot AF (where the first AF position is fixed), and up to 7.4 fps using Servo AF (where the camera continuously focuses on the subject, even if it moves).
6. Image stabilisation
The EOS M50 is the first EOS M camera to feature Dual Sensing IS, which enables better image stabilisation.
Dual Sensing IS uses a gyro sensor in addition to the conventional camera shake detection method, which uses information from the CMOS sensor. This method enables more precise image stabilisation, and suppresses a wide range of vibrations, ranging from micro vibrations through to vibrations caused by large swaying motions.
Dual Sensing IS supports the following lenses:
- EF-M15-45mm f/3.5-6.3 IS STM
- EF-M18-150mm f/3.5-6.3 IS STM
- EF-M55-200mm f/4.5-6.3 IS STM
*Do note that a firmware upgrade will be necessary for all of these lenses.
7. Viewfinder
The EOS M50 is equipped with an EVF (Electronic Viewfinder). The 0.39 type, 2,360,000-dot high-definition monitor provides a high contrast view when shooting.
One key advantage of the EVF is that it enables you to check what the image will look like at the time of shooting, even after you make pre-shoot adjustments using MF magnification, MF peaking, or adjust for exposure, white balance, and so on. For users who prefer a simpler EVF display without the shooting information, a simplified display option is also available.
Read more about viewfinders here:
Camera Basics #12: The Viewfinder
8. LCD monitor
The EOS M50 is the first EOS M series camera to employ a Vari-angle LCD monitor, which rotates for easier shooting from different shooting positions. (For a comparison between Vari-angle and tilt-type monitors, read: Camera Basics #13: Live View)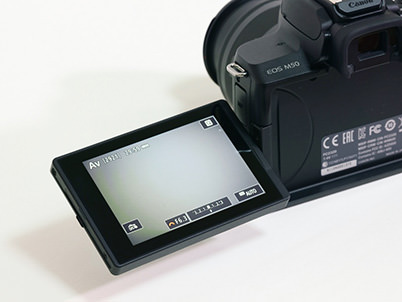 Touchscreen operations, including Touch AF and Touch Shutter, are also supported.
As the EOS M50 is compact and lightweight, you can easily hold it with one hand, leaving your left hand free to operate the touchscreen.
9. Movie shooting
Ultra-high definition movies are a reality on the EOS M50, which is the first EOS M series camera to support 4K video (24p/25p). 4K video is recorded from a cropped, central area of the image sensor. The camera also shoots seamlessly in Full HD 60p/50p.
During Full HD shooting, the active AF system is Dual Pixel CMOS AF. This allows you to use Servo AF, which enables, quick, seamless sustained AF on your subject. AF point transition also occurs seamlessly, which translates to smooth transitions in focus in your finished movie.
10. Connectivity
Bluetooth connectivity has been added to the staple Wi-Fi/NFC functions, and enables a constant connection between the camera and a paired smartphone. This allows quick, fuss-free access to features such as remote control shooting via the free Camera Connect app.
There is also a new Wi-Fi feature that automatically transfers images from your camera to your smartphone right after you have shot them. Accessible via Camera Connect, it will probably be a hit with social media lovers.
The EOS M50 is also able to automatically back up image files to a nearby, paired computer installed with the Image Transfer Utility 2 software. Backup to a cloud storage service such as Canon Image Gateway (CIG) is also possible.
11. Ports
Micro USB and HDMI ports are located on the right side of the body, and an external microphone input port on the left side.
12. Memory card slot
The EOS M50 has 1 SD card slot that is located together with the battery compartment. SDHC and SDXC are supported, but not UHS-II.
13. Battery
The EOS M50 uses the compact LP-E12 battery, same as the EOS M100. If you tend to take a lot of photos in one shoot, don't forget your spare battery.
A sign of the future of the EOS M series?
The EOS M50 is unmistakably the next-generation EOS M, and the result of Canon's years of effort on the EOS M series. This seems to have paid off, judging by how so much advanced technology has been packed into a body as small and light as the EOS M50.
Putting the enhanced Dual Pixel CMOS AF system on a mirrorless camera appears to have brought out the best of the system's true abilities. With the sheer amount of new, enhanced features, you can't help but feel that the EOS M50 bodes the beginning of a new era.
---
Receive the latest update on photography news, tips and tricks.
Be part of the SNAPSHOT Community.
Sign Up Now!
---
About the Author
Delivers daily news related to topics such as digital cameras and peripheral devices, and imaging software. Also publishes articles such as reviews on the use of actual digital camera models and photo samples taken using new models.
Born in 1986 in Saitama prefecture, Yuki Imaura is a landscape photographer. From editing magazines, he now works freelance, photographing various natural landscapes throughout Japan, and wildlife animals with vigor. He also writes for magazines and is a lecturer in photography.