Having spent more than 15 years in South East Asia, Bangkok-based photographer, Aidan Dockery, has understood the elementary requirement of keeping his Asian clientele happy: a blend of traditionality in a modern juxtaposition. His photos often incorporate cultural attire and settings in uniquely-captured compositions, while the use of both complementary and analogous colours frame his images in a combustion of aesthetically-pleasing hues. He describes the style as 'documentary' too - or in layman's term, to achieve and capture a genuine photo with emotions. One of his greyscale shots showcase his ability to balance nostalgia, playfulness and technical skills in using the camera.
EOS 5D Mark II, EF16-35mm f/2.8L USM lens, f/3.2, 24mm, 1/50 sec, ISO 200
For this feature, we reached out to him for two quick tips for budding wedding photographer.
How does one become a wedding photographer?
Aidan: Well – always start with offering photography services for your friends and family. Additionally, you can also take up mentorship by being the assistant for another photographer. Through that, you can then build up your confidence, portfolio and your own unique style that differentiates you from others.
EOS 5D Mark II, EF35mm f/1.4L USM lens, f/2, 35mm, 1/100 sec, ISO 3200
How did you discover your style?
Aidan: Instead of something that one tries to discover or find, I believe that style comes to individuals when they start picking up their camera to take photographs. It's like you have to do it first to realise what you gravitate toward in terms of developing an aesthetic eye, as compared to looking up for stylistic inspirations and imitating them. Also, you'll also start to favour certain lenses and settings that helps to mould and achieve your specific style.
EOS 5D Mark II, EF16-35mm f/2.8L USM lens, f/2.8, 24mm, 1/50 sec, ISO 800
How do you scout for locations?
Aidan: For majority of my shoot, I do recycle the locations that I have previously shot before. I believe in keeping things that work. Additionally, I will also do a search and read about different areas to see what's new and interesting before checking the location on google maps. I do manual scoutings by renting a scooter and zipping around the local vicinity as well. Sometimes when the location is good, I will 'record' the lighting quality down at that exact time of the year for future references.
My tip for others on location scouts is to speak to your own community of photographers, planners, vendors and locals. It is also important to check the venue a day before the actual shoot in case of changes or unavailability.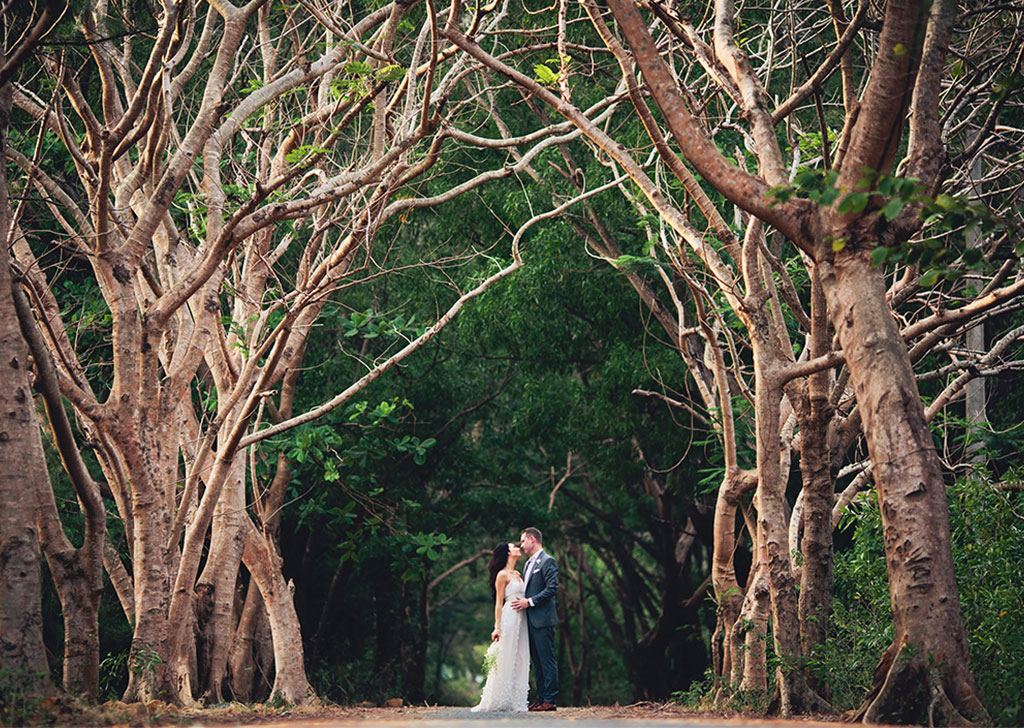 EOS 5D Mark II, EF135mm f/2L USM lens, f/2, 135mm, 1/160 sec, ISO 100
Top tip for wedding photography?
Aidan: Preparation is key! Making sure that your equipment is in perfect condition is not enough. You will also need to know the schedule by heart. Speak to the bride & groom; their family; the wedding planner; the other vendors; the best man & maid of honour. Are there any surprises for the couple? Do the couple have any secret events? It is crucial that you know more about these than everyone else, as if you miss it, you won't get another chance for that perfect shot. Wedding photography is all about freezing the moment that never happens again, so, timing is something a photographer has to grasp well.
For more wedding inspiration, check out:
How the EOS R Helped Me Capture Stunning Wedding Shots
Minimalist Photography for Weddings: Tips From a Pro
---
Receive the latest update on photography news, tips and tricks.
Be part of the SNAPSHOT Community.
Sign Up Now!
---
About the Author
Aidan's style of wedding photography is best described as creative reportage with contemporary portraiture. Natural, un-orchestrated and un-posed - leaving his clients to enjoy your wedding. He works in a documentary style: as unobtrusively as possible, capturing moments as they unfold. He combines this wedding reportage with fun and natural portraits to create an overall picture – the story of his clients' wedding day.