Happenings >>
All Happenings
CP+2017 Report: Frontline Photographers' Talk Show Drew Crowds
CP+, the Camera & Photo Imaging Show, is Japan's biggest camera show boasting a 50-year history. Based on the theme, "to boost enjoyability by leadership in 'capturing', 'seeing' and 'connecting'", the Canon booth separated their space into 4 different zones, held talk shows and exhibited their extensive lineup of products. In this article, we will cover the event with the main focus around the talk show.
An exceptional opportunity where photographers reviewed their works in front of you
Notable photographers with their individual specialities in photography were featured in the respective Centre Stage, Right Stage and Left Stage areas. With their work displayed on the screen, they shared with the audience the thoughts they had when they were taking the picture, details about the shooting scene, as well as photography tips. As it was such a rare and exquisite opportunity where photographers themselves spoke about cameras and their work, many camera enthusiasts and professional photographers attended on all four days of the event just to listen to the talk show.
GOTO AKI and Kentaro Kumon discuss the allure of travel photographs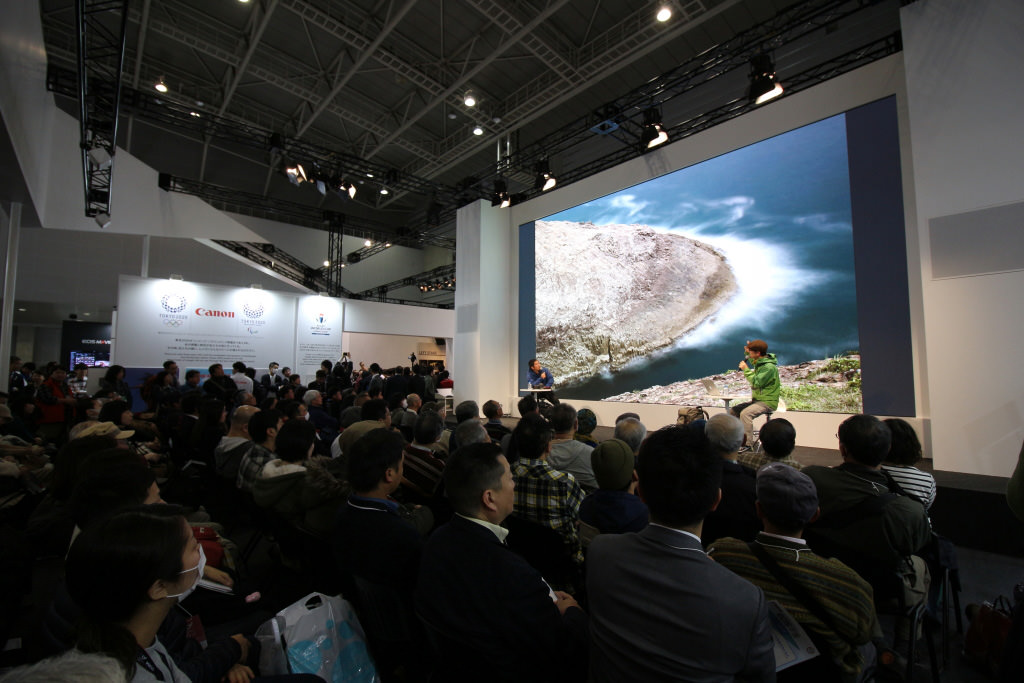 Photographers GOTO AKI and Kentaro Kumon led the opening of the show on the 23rd of February with a discussion on "Why do we travel?". Landscape photographer GOTO AKI discussed about the allure of taking landscape photographs by displaying numerous works that capture the Earth's extended journey throughout time to create its majestic landscapes. Meanwhile, Kentaro Kumon highlighted the importance of building a rapport of trust with your subjects within a short time by using the example of the farmers whom he used as his photography subjects. He also stated that the secret to taking good pictures is not to be aware of the camera the moment you shoot.
At the end of the presentation, GOTO AKI finished with the comment: "By using my works at this presentation, I wanted to show how accurately the EOS 5D Mark IV and L lenses portray the textures and feel of the colours in the scenery and the expressions of the sky. I hoped the notion got across that the landscapes we see created are due to time."
GOTO AKI
Also, when asked about the allure of the theme of travel, he said, "Though there are some who have the opinion that you won't be able to take good photos if you don't stay in that place for a long time, I disagree. The benefit of travelling is that it allows you to capture the subjects of interest by visiting different places and at different times." Furthermore, he said the joy of photography comes through preparing for your own photographic exhibition or portfolio noting that "by ways of arranging your photos, you build new and different ways of storytelling."
To SNAPSHOT readers, GOTO AKI had the following feedback:
"When you are aiming to create photographic works, I personally think you should try to avoid the style of photos found on travel brochures. The internet is chock-full of photos that only tell you what the place is about. I think it's more about extracting and discovering the elements of the picture that you think are beautiful, while in the process, realising the purpose of your pictures. Because you can easily take beautiful pictures with cameras that have amazing features, you want to do more than that. I think that when you shoot with your own perspective of beauty, you get pictures that have their own originality."
Click here to read SNAPSHOT articles by GOTO AKI
Changing Careers to Follow My Photography Passion
5 Reasons Why the EOS 5D Mark IV is Ideal for Landscape Photography
Yuya Yamasaki on interpretations of rail photography
Next, rail photographer Yuya Yamasaki made his appearance on the Centre Stage with a talk entitled 'Interpretations of rail photography enabled by the EOS 5D Mark IV'. He went through the features of the EOS 5D Mark IV that beautifully illustrate both scenery and trains using a stock of photos taken in Hokkaido, which livened up the stage with his unique and humorous presentation style.
At the end of the presentation, Yuya Yamasaki added:
"I wanted to point out the quality of the overall balance on the EOS 5D Mark IV. Even at a high pixel range, it performs remarkably in continuous shooting and at high ISO. I think it's perfect for those who want to capture various types of subjects. The EOS 5D Mark IV captures the speeding trains while also accurately portrays the scenery, which unlike no other camera at high pixels, enables you to also capture scenes of high-speed trains."
Yuya Yamasaki
He also had some advice for his audience: "Where possible, I would like to have overseas camera users experience these exhibitions as they have a unique atmosphere about them. It's a great opportunity to listen to acclaimed photographers and benefit from it. Also, I highly recommend the EOS 5D Mark IV for rail photography. Not just for taking train cars, it's also good for taking street photography scenes and all types of rail photography."
Click here to read articles by Yuya Yamasaki
Railroads – Composition and Camera Features to Capture Impressive Moments
Camera FAQ #14 : How Do I Take Panning Shots?
Takayuki Maekawa on maximising the camera's potential in wildlife photography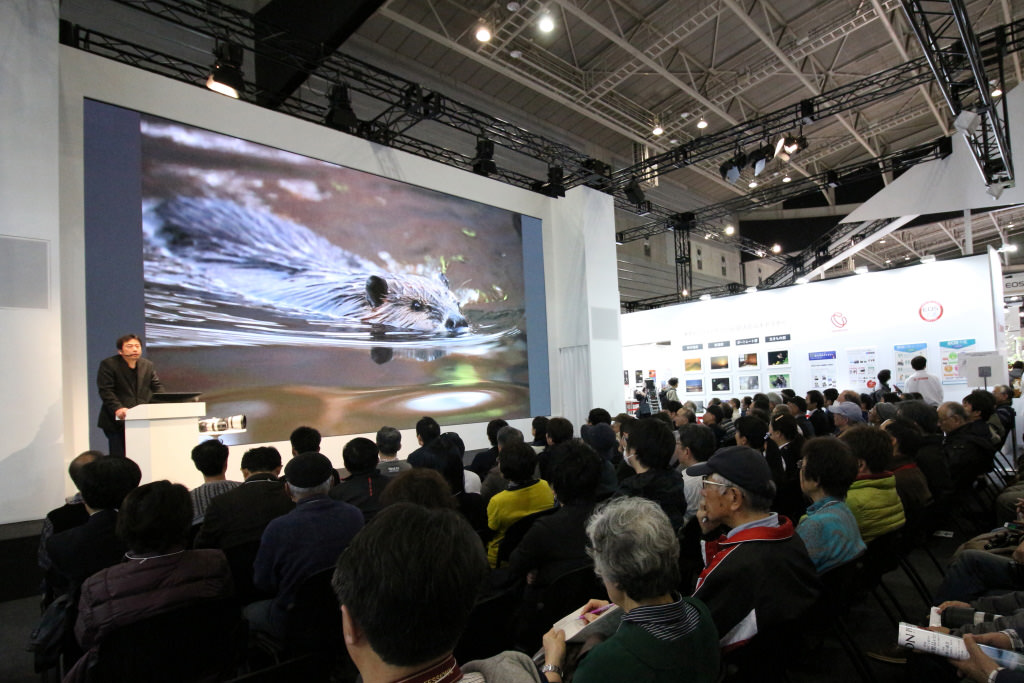 Takayuki Maekawa is a wildlife photographer who has taken photos for National Geographic. In his talk entitled 'Expanding the world of wildlife photography with the EOS-1D X Mark II and EOS 5D Mark IV', he went into careful detail on the camera settings when shooting with the use of some impactful examples from both models.
Takayuki Maekawa
At the end of his presentation, he summarised, "In this presentation, I have had the chance to show you many excellent examples. The important thing is to maximise the camera's potential when you are creating photographic works. I hoped you found the features on the latest models as impressive as I found them to be."
To SNAPSHOT readers, he had the following message:
"When I took photos in Indonesia, the travel guide was an EOS user, but no matter where you live, people have the same enthusiasm about photography. Also, not just taking pictures and stopping there, it's good to consider printing and framing them as well. We should attempt all sorts of things that come into relation with photography."
Click here for an article by Takayuki Maekawa
Super Telephoto Lens Techniques - Wildlife Silhouettes Against the Sun
More than 40-strong photographers participated in each stage with genres spanning landscape, rail, aircraft, sports, wildlife, portrait, pets, street photography and so on. Every year, dozens of visitors flock to the event, which saw the hall jam-packed with people barely able to move.
Receive the latest updates on photography news, tips and tricks by signing up with us!