With the Live View function of the EOS 70D, you will be able to take creativity to a higher level. With the use of creative filters and the ability to shoot at different angles, you can now produce unique and dramatic pictures easily. (Reported by: Ryosuke Takahashi)
Benefits of Live View Shooting
One of the benefits of Live View shooting using the EOS 70D is being able to shoot with Creative Filters. This means that you will be able to select your desired creative filter before taking your shot, allowing you to express your creativity. The camera also gives you the flexibility of selecting from multiple aspect ratio options. By combining the Creative Filter effects with selecting unique aspect ratios such as 1:1 or 16:9, you will be able to create dramatic and unique photos. On top of these, the Live View feature allows you to capture images at different angles, which may have been difficult previously. You will now be able to discover the beauty of subjects from a new angle.
Creative Filter effects can also be applied to images already in your memory card and the aspect ratio can be altered using the Digital Photo Professional (DPP) software which comes with the camera box set. However, you are recommended to apply these settings during your shoot so that you can adjust both the aperture and shutter speed accordingly as these values are not adjustable once the image has been captured.
Exploring Shots at Different Angles
Food photography from the top view is widely used in magazines as it covers the entire styling of the dish. There are many other ways of capturing food, which is especially popular now on social media. With the vari-angle LCD screen of the EOS 70D, you will be able to capture odd-angle shots without even leaving your seat!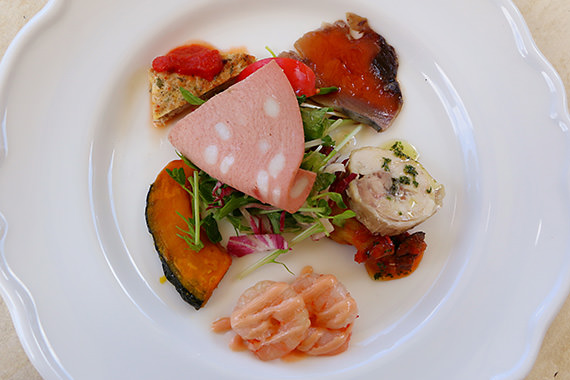 EF-S18-135mm f/3.5-5.6 IS STM/ FL: 22mm/ Aperture-priority AE (1/160 sec., f/7.1)/ ISO 400/ WB: Auto
By using a wide-angle focal length, I managed to capture shots of the dish without having to stand up. Shooting at this angle also gave me a good picture of my dish.
Hold the lens with one hand firmly. To produce a good shot, activate the grid lines on the LCD screen and adjust the angle of your shot. Make use of FlexiZone – Single to achieve precise focus.
Combination of angle and Creative Filter effect
This shot was taken in Chiba Prefecture, Japan, where old townscapes can still be found. In this example, I selected the 1:1 aspect ratio to match the gate of the house, and combined it with the "Toy camera" Creative Filter effect to add a classical touch to the image. The tone of the "Toy camera effect" was set to "Cool tone".
EF-S18-135mm f/3.5-5.6 IS STM/ FL:50mm/ Program AE (1/100 sec., f/5.6, -1EV)/ ISO 100/ WB: Daylight
The 1:1 aspect ratio and [Toy camera effect] Creative Filter combination matches well with the retro townscape. Using FlexiZone - Multi allows you to capture images easily.
The image above was taken across the river, at waist level. I adjusted the angle carefully to prevent the house from turning out distorted.
EOS 70D
Dimensions (W x H x D): Approx. 139.0 x 104.3 x 78.5 mm / 5.5 x 4.1 x 3.1 in.
Weight: Approx. 675 g / 23.8 oz. (Body only)
Ryosuke Takahashi
Born in Aichi in 1960, Takahashi started his freelance career in 1987 after working with an advertising photo studio and a publishing house. Photographing for major magazines, he has travelled to many parts of the world from his bases in Japan and China. Takahashi is a member of the Japan Professional Photographers Society (JPS).

Digital Camera Magazine
A monthly magazine that believes that enjoyment of photography will increase the more one learns about camera functions. It delivers news on the latest cameras and features and regularly introduces various photography techniques.
Published by Impress Corporation