Products >>
All Products
Interview with Developers: PowerShot G7 X Mark II (Part 2) -Features to Assist Shooting-
The inclusion of DIGIC 7 has indeed tremendously increased the shooting powers of the PowerShot G7 X Mark II, but it's not the only improvement to the popular PowerShot G7 X. There are also a variety of features to help you shoot better such as an enhanced IS system and a panning mode. We find out more from the developers.
(from left)
Chief of design
Hideaki Yamaki
Manager ICP Development Center 3, Image Communication Products Operations
Firmware
Yousuke Takagi
CP R&D Center 2, Image Communication Products Operations
IS
Hitohsi Miyazawa
ICP R&D Center 2, Image Communication Products Operations
UI
Seiji Ogawa
ICP R&D Center 2, Image Communication Products Operations
Product planning
Yoshikazu Sakagami
ICP Group 3, Image Communication Products Operations
One step closer to the EOS with the long-awaited Picture Style
- It looks like Picture Style is finally here.
Yamaki: Many models in the G series have been loved as an EOS backup. Being able to use the familiar Picture Style from the EOS on a compact camera is a significant advantage, and has been requested by many users. I'm personally very happy that this is finally available.
1/500sec., f/4, ISO 125, Picture Style: Fine detail
Ogawa:The UI is also designed so that it can be used in the same way as on the EOS. Some adjustment was necessary because the EOS controls are different, however, they have been adjusted so that even EOS users can handle them without stress.
Sakagami:Picture Style is a Canon original function developed so that users can enjoy the world of color reproduction.
Color is an extremely important aspect when handling photos. Choosing color reproduction that fits the subject and scene, such as by adjusting colors to their liking, gives users a wider range of expression.
I really hope users enjoy this 'conversation' with colors. I also would like those who have never tried Picture Style to experience the fun of photo expression through color manipulation.
The 8 popular EOS presets are available on this camera. The new Fine Detail Picture Style is also included.
Each preset can be customized. Just as on new EOS models, the sharpness can be adjusted with the Fineness and Threshold items.
Casually process RAW images on the camera when you have a moment
- It is now possible to process RAW images on the camera.
Sakagami: Although RAW shooting was available on previous G series models, it was not possible to process images on the camera. This is the first time that in-camera RAW processing has been made available at the request of many users. I believe it will make casual RAW shooting even more enjoyable.
Takagi: New advantages result from including this on a compact digital camera, such as being able to carry out post-processing when away from home. When you have a moment of free time, such as during commutes, you can take out the camera and enjoy image adjustment and processing as if it is a game. Because the camera is Wi-Fi ready, you can process images on the camera so that they look good on a smartphone and then instantly post them on a social network.
- Is processing the same as on EOS models?
Takagi: Although it is basically the same, the ability to select and process multiple images in a batch is unique to the compact digital camera. This is useful for when you want to continue processing multiple images with the same settings.
We also focused on the preview UI that appears when changing parameters. I believe that the reason some users don't want to process RAW images on the camera is because they want to check the results of setting changes on the larger screen of a computer. For these people, the display was designed so that you can enlarge a specific section and view it full screen for intuitive identification of differences in setting changes rather than having both the before and after images displayed on the screen at the same time.
RAW effect setting screen
Original image
You can switch between a changed setting preview and original setting preview to compare effects.
Batch processing of RAW images can be carried out by selecting "Select Range" in the RAW image processing menu.
Panning and Time Lapse Movie – Functions that assist in discovery of new shooting experiences
- Are there any other shooting assist functions?
Miyazawa: Panning is included for the first time on this series. In general, panning requires skill and experience. The panning function here supports this type of shooting.
There are two main reasons why panning is difficult. One reason is because it is difficult to move the camera along with a moving subject. The shutter release timing causes a delay between the camera and subject, making subject blurring almost unavoidable. Another reason is because it is difficult to set the proper shutter speed. This newly developed Panning function assists in these two areas.
- What are the specifics?
Miyazawa: The shooting sensor detects subject movement using image information, making it possible to compensate for subject blurring. This is a new ability made possible by DIGIC 7. Although there was a Panning IS function on previous models, this only compensated for camera shake in the direction that the camera was being moved. This new feature compensates also for subject blur. Additionally, the optimal shutter speed is automatically set based on the speed the camera is moving.
DIGIC 7 also enables an extremely short LCD display time lag even in Panning mode, offering the best angle of view for capturing the subject.
Panning shots require camera settings that are appropriate for the subject and the scene, which the PowerShot G7 X Mark II sets automatically. The improved IS system makes it easy to "freeze" the subject properly.
- Are there any other assist functions?
Takagi: There is also an assist function for Time Lapse Movie. Time lapse movies are currently popular on social networks, and although there are already many SLR users who enjoy this type of shooting, there are a few tricks required such as shooting interval settings.
This assist function comes with three presets for common uses which can be adjusted with simple controls, including slow-moving subjects such as clouds, moving subjects such as walking people, and slowly changing landscapes. I believe this will be extremely useful for shooting casual time lapse movies on a backup camera while traveling.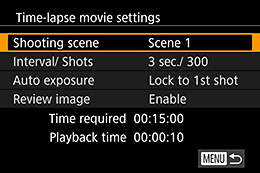 Select from 3 scenes based on your objective.
Scene 1: 1 – 4 second shooting interval. For walking or moving subjects.
Scene 2: 5 – 10 second shooting interval. For slow-moving subjects such as clouds.
Scene 3: 11 – 30 second shooting interval. For slowly changing landscapes.
The shooting interval and number of shots can be changed for each scene.
Quick shooting so you can prepare for the next shot right away
- What improvements have been made for speed?
Takagi: Shooting intervals have been shortened. I'm sure you have experienced the screen turning black after shutter release, and not being able to do anything with the camera while you wait for the shooting standby screen to come on. The processing abilities of the image processor were maximized to significantly reduce this lag time on the PowerShot G7 X Mark II, resulting in a system design that can execute parallel processing of Live View and still images. This results in a significantly shorter shooting intervals and time* where the viewfinder image is blacked out, giving a light response to shutter button operation.
In particular, because image processing takes considerable time after continuous shooting, I think users have missed photo opportunities while waiting for the camera to be able to shoot the next image on previous models. You no longer need to worry about this happening. Now, even if the camera needs time to process images after shooting, you can press the button to immediately switch to Live View and shoot again.
The PowerShot G7 X Mark II is capable of continuous RAW image shooting so you can experience the convenience of this feature for yourself.
*The time until the subject appears on the LCD screen after shooting
The blackout time following shutter release has been shortened considerably on the PowerShot G7 X Mark II, so that you can keep up your shooting rhythm. It also makes an ideal travel camera.