Products >>
All Products
An Introduction to Canon Cinema Lenses
Discover the range of Canon Cinema lenses. Explore creative cinematic possibilities with our advanced optical designs to produce high quality videos in any environment.

Cine Servo Series
Canon Cine-Servo Lenses support cinema production as well as 4K content creation for broadcast. Featuring a servo drive unit, they can be ideal for shooting scenarios where speed and mobility are key. Covering an extreme range of 17mm-1000mm with three lenses, the Cine-Servo series are designed for the most demanding use cases.
Learn more about Canon Cine Servo lenses.
Sumire Prime Series
"Sumire Prime" (pronounced "Soo-mee-ray") is Canon's new line of cinema prime lenses. These lenses have a unique optical design that introduces a nuanced look as the lens aperture approaches its maximum setting – subtly modifying the textural renderings of the human facial close-up. These lenses also smooth the transition to the fall-off portions of the scene resulting in a pleasing bokeh. This combination adds emotional expressiveness to a memorable scene.
Learn more about Canon Sumire lenses.
Zoom Series
Canon Cinema Zoom Lenses offer superb optical performance that achieves 8K resolution and are designed to meet the most demanding of high-end productions. They combine fluorite and aspherical lens elements, the latest in advanced optical coatings and superior lens designs for outstanding edge-to-edge image quality with minimal focus breathing.
Learn more about Canon Cinema Zoom lenses.
Flex Zoom Series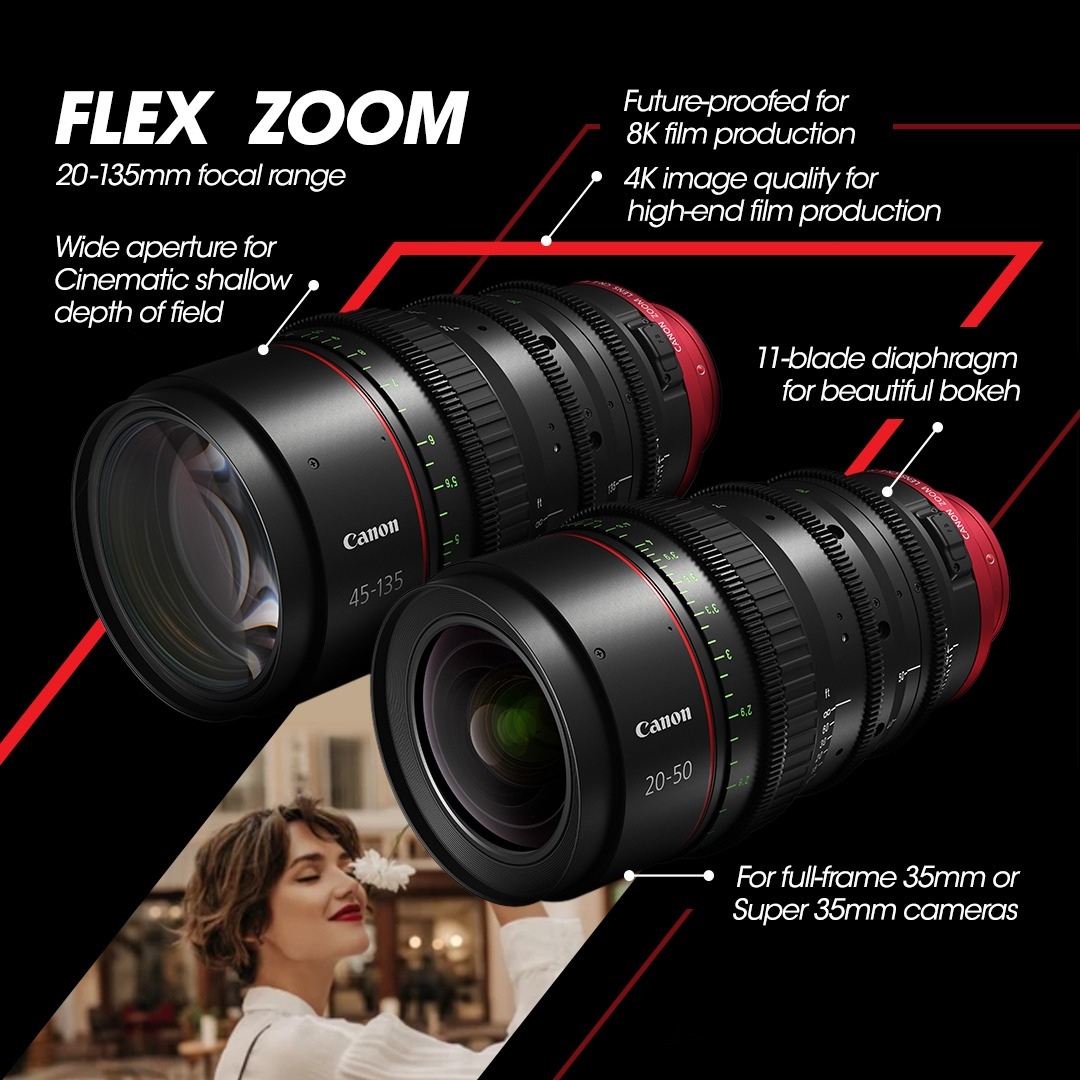 The Full-Frame compatible Cinema Lens series offers T2.4 with a large aperture ratio. These lenses increase the expressive range in depth of field while carrying on the operability of Cinema Style.
Learn more about Canon Cinema Flex Zoom lenses:
Prime Series
The well-established series of Canon Cinema Prime Lenses offer spectacular 8K image quality and a full-frame image circle housed in lightweight and compact design. They feature high optical speed of up to T1.3 for some lenses and produce remarkably sharp 8K images. Focus breathing and geometric distortion are also tightly controlled in this high-performance series of affordable prime lenses.
Learn more about Canon Cinema Prime lenses.
Compact Servo Series
The Compact-Servo series of lenses are aimed at users looking for the benefits of a cinema lens in a smaller and lighter package. Featuring cinema lens advantages such as stepless iris and geared focus rings, they are capable of high image quality in a smaller housing.
Learn more about Canon Cinema Compact-Servo lenses.