Photographer Alvin Tan has many interests, from gardening to jiu-jitsu, but it is his passion in photography that has led him from the path of an interior design student to a well-known commercial photographer in Singapore. Having worked with renowned local and international photographers, Alvin's photography is displayed with a touch of fine art – the delicate juxtaposition of art and commercial photography.
EOS 5D Mark IV, EF70-200mm f/2.8L IS II USM lens, f/4.0, 110mm, 1/500sec, ISO400
An example of how higher frame speed can capture the magical moment when our young talent bursts a bubble with her palm! The difference a nano second can make a difference
Why choose commercial photography and what does it entails?
I've been doing commercial photography for so long that I think I grew into it. Like other forms of photography, it is a translation from emotions to pictures. The difference in commercial photography is its translation from our client's story instead of our own. The process involves meeting the advertising agency to discuss the brief of the campaign, and going through everything from props, location to wardrobe. It is our duty to ensure that we have all we need to bring out the essence of the campaign when it's time to shoot.
How is it different from other types of photography?
The process might be a little different as it includes meetings and productions, but basically photography is photography, just like pen to a writer – it is a medium for expression.
Where do you get your inspirations from?
From asking questions, caring less about oneself, and feeling emotions – rage, love, just feel something, and doing something with that emotion.
How do you balance art and commercial works?
Whenever there's a down time in the commercial industry, it becomes a good time to execute some personal work. To me, art is considered a high achievement, which is why I aspire to become an artist one day but until then, my work is not art, but more personal.
EOS 5D, EF17-40mm f/4 USM lens, f/4.0, 35mm, 1/50sec, ISO800
The monastery donations are laid on the table; donations are welcomed when you choose to photograph within each hall. The donations are later used to purchase high land barley and tea leaves for the monks in the monastery
How has the EOS 5D series helped you improve in your work?
My first DSLR was an EOS 5D, which I had with me ever since. Until recently I welcomed the addition of the new EOS 5D Mark IV. I think what helps a photographer the most is the reliability of the camera, and I must say the EOS 5D series has evolved from each generation only to prove itself repeatedly.
EOS 5D Mark IV, EF50mm f/1.2L USM lens, f/5.6, 50mm, 1/500sec, ISO400
A portrait shot of one of the featured vision makers, cinematographer Wutt, for the launch of the EOS Canon 5D Mark IV
What do you love most about the EOS 5D series?
I've been concentrating solely on still photos, but with the EOS 5D series' high quality video features, it's hard not to give it a go, and I'm excited about doing it!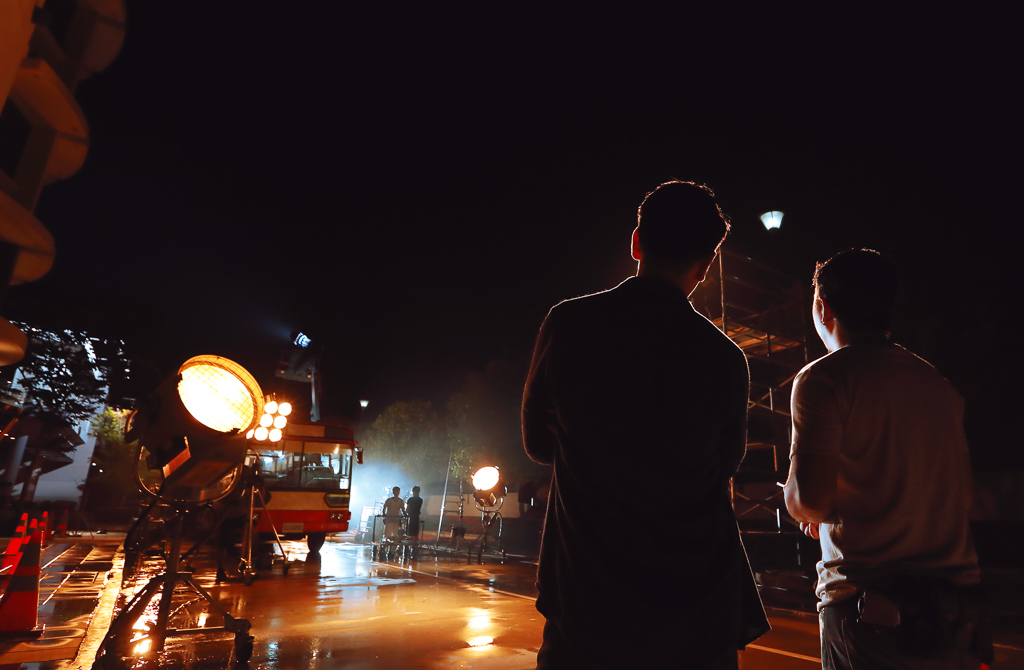 EOS 5D Mark IV, EF16-35mm f/2.8L II USM lens, f/4.5, 16mm, 1/100sec, ISO1600
A discussion scene between the cinematographer and his assistant on set
What do you think of the new EOS 5D Mark IV?
I was lucky enough to get my hands on the new model for a shoot before its launch, and it was incredible! For instance, resolution has always been a key issue for most commercial photographers, so the upgrade is a huge welcome. The fast focusing speed in Live View is exceptionally handy when it comes to shooting from a difficult position.
EOS 5D Mark IV, EF16-35mm f/2.8L II USM lens, f/3.5, 35mm, 1/60sec, ISO3200
Capturing an intense moment on the film set where the hero of our story is being stalked by the villain. The colours and lighting on set were very exciting for me!
Receive the latest updates on photography news, tips and tricks by signing up with us!
About the Author
Honing his craft in commercial photography since 2005, Alvin creates and produces striking visions in his role as associate photographer at Teo Studio. Alvin's technique and versatility are part of his many abilities that have garnered recognition, and expressed through a myriad of lifestyle and still life images. Alvin's portfolio and work show a strong conceptual influence from fine art; testing aesthetic and intellectual boundaries through photography as a medium.