Products >>
All Products
Pro Techniques for Using the EOS 7D Mark II – Wildlife
Canon's EOS 7D Mark II demonstrates outstanding tracking performance when photographing moving objects of all types. In the following, I will introduce hands-on techniques employed by professional photographers for capturing such subjects. (Reported by: Yukihiro Fukuda)
EOS 7D Mark II revolutionises animal photography
While many are aware that the EOS 7D Mark II excels in tracking moving objects, which is very important in animal photography, I am also attracted to the quiet shutter sound of the camera. Also, when combined with the EF100-400mm f/4.5-5.6L IS II USM, the EOS 7D Mark II boasts an angle of view that is equivalent to about 640mm at the telephoto end, enabling users to capture super telephoto shots without the need of a tripod. This camera will certainly help to widen the scope of photographic works that capture the subject from different angles. In this sense, its release is set to bring about changes to conventional styles of shooting animal photographs.
Basic EOS 7D Mark II Settings for Animal Photography
AF operation: AI Servo AF
Drive mode: High-speed continuous shooting
AF area selection mode: AF point expansion (up, down, left, right, surrounding)
AF Configuration Tool: Case 1, Case 6
ISO speed: ISO 200 to 3200
WB: Daylight
If your subject is a monkey, it is relatively easy to establish focus on it using AF. The most important consideration would be ISO speed, as you will need to alter the setting according to the season, weather and time of day. To prevent camera shake, ensure that your settings are appropriate for the lighting conditions at the time of the shoot. It is vital to know the lowest shutter speed limit that you can use while taking a handheld shot.
Technique 1: Use Single-point Spot AF for a super shallow focus
EOS 7D Mark II/ EF50mm f/1.4 USM/ FL: 50mm (equivalent to 80mm in 35mm format)/ Manual exposure (f/2, 1/500 sec.)/ ISO 2000/ WB: Daylight
A baby monkey enjoying having its hair groomed. While I could have cropped away all the other objects in the composition except for the subject, I chose to include the monkeys in the foreground and background to convey the crowded feel. I then set focus on the baby monkey and captured the best facial expression.
Create bokeh in front of and behind the point in focus for more dimensionality
My go-to lens when shooting pictures of monkeys is the EF50mm f/1.4 USM prime lens. While the depictive power of recent zoom lenses is excellent, the amount of bokeh that can be created at a maximum aperture of about f/5.6 is incomparable to that by a prime lens. For those who are used to seeing works produced by conventional zoom lenses, photos captured near the maximum aperture of a prime lens would appear completely different.
When taking a photo, create bokeh in front of and behind the surface of the focus, which is set on the main subject, and position it accordingly to bring out dimensionality. You will need to adjust the focus precisely as the depth of field is extremely shallow in this case. For me, I usually combine the use of One-Shot AF with Single-point Spot AF, select an AF point that overlaps with the main subject out of the total of 65 points, and make use of high-speed continuous shooting to capture movement of the subject.
[Camera Settings]
One-Shot AF + High-speed Continuous Shooting + Single-point Spot AF + Case 1
Since it was unlikely that the baby monkey would move vigorously in this scene, I chose settings that allowed me to compose a perfect shot and establish focus precisely.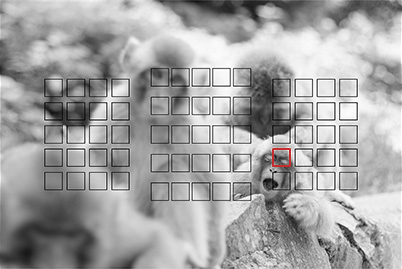 Taking into consideration the position of the four monkeys, I chose an AF point that was located on the golden ratio.
Technique 2: Capture decisive moments with high ISO speed + fast shutter speed
EOS 7D Mark II/ EF70-300mm f/4-5.6L IS USM/ FL: 140mm (equivalent to 224mm in 35mm format)/ Manual exposure (f/5.6, 1/2,000 sec.)/ ISO 3200/ WB: Daylight
At Jigokudani Monkey Park, you can find many wild Japanese macaques soaking in the hot springs. However, to produce works with a more unique touch, I aimed at a scene where two monkeys were having a small fight. To avoid the dark shadows and strong contrast you get on a clear day, I took this shot on an overcast day.
Act fast by observing signs from the monkeys
In animal photography, the most challenging task is to capture the decisive moment. Taking continuous shots blindly does not help to produce quality works. In order to seize the right moment, the most crucial point is "prediction". In this case, it would be to sense the tension in the air way before a monkey fight starts. Some signs include raising of the voice and twitching of the mouth. Once you notice any of these signs, get ready for the shoot by increasing the shutter speed immediately, and then raise the ISO speed to make up for the underexposure. Whether the resulting shot is successful will depend on how fast you can act from the instant you sense something up to the moment the settings are adjusted. Although many may be extremely concerned with the noise at a high ISO speed, it is still recommended that you select a high ISO speed if this is necessary, as doing so helps to "freeze" the movement of the subject for better results.
[Camera Settings]
AI Servo AF + High-speed Continuous Shooting + AF Point Expansion (Surrounding Points) + Case 1
These are the usual settings I use for photographing monkeys. They are versatile and are capable of handling most scenes in general.
It is hard to predict the movement after the fight starts. Here, I set the focus on the monkey that was bathing peacefully.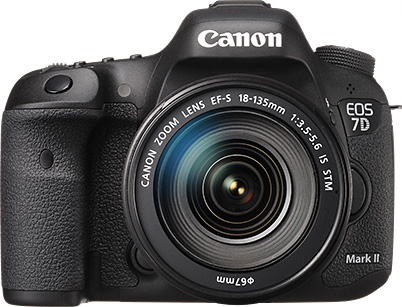 EOS 7D Mark II Kit (EF-S18-135mm f3.5-5.6 IS STM)
Yukihiro Fukuda
Born in 1965 in Tokyo. Fukuda's visit to Hokkaido in search of the Japanese cranes he loved led him to become an animal photographer. After spending 10 years on wildlife coverage in Hokkaido, Fukuda expanded his scope to other countries and underwater photography. Wildlife, underwater, and landscape photography now form the three pillars of his current activities.

Digital Camera Magazine
A monthly magazine that believes that enjoyment of photography will increase the more one learns about camera functions. It delivers news on the latest cameras and features and regularly introduces various photography techniques.
Published by Impress Corporation