Meet Phattharin Khumthukthit, an active photographer in Thailand who specializes in wild birds. Employed at a Japanese firm on weekdays, when the weekend comes, he gets busy with his favorite mode of expression. In this respect, Phattharin is indeed a photographer with an unconventional background. We catch up with him for this interview, and attempt to get to the bottom of the passion behind his wild bird photographs. (Edited by: SNAPSHOT, Special thanks to Obayashi Corporation)
"I believe that you can gain happiness even with a simple life"
Q1: Why did you choose wild birds as your subject matter, out of all the other appealing possible subjects that must exist in Thailand?
One day, I was looking through the pictures in a friend's camera, and found a wild bird picture among them. I was so surprised by the colours; the first thing I thought was that the colours were so beautiful. Until then, the birds that I had seen flying around were either grey or black in colour. From then on, wild birds became my main photography subject.
Name of the bird
Rhinoceros Hornbill
Shooting Location in Thailand
Hala Bala Wildlife Reserve, Suratthani Province
EOS 70D/ EF800mm f/5.6L IS USM/ (f/7.1, 1/800 sec, EV+1.3)/ AF
Q2: What do you hope to gain through your wild bird photographs?
I don't expect to gain any benefits through taking photos, nor do I aim to compete with other photographers. What I do hope is that through my photos, people can see how beautiful Thailand's nature is, and that this will contribute to the conservation of wild birds in Thailand.
Name of the bird
Blue-throated Bee-eater
Shooting Location in Thailand
Hat Wanakon National Park, Prachuap Kiri Khan Province
EOS 5D Mark III/ EF800mm f/5.6L IS USM/ (f/7.1, 1/200 sec, EV-0.7)/ Manual Focus/ WB: Auto/ ISO 200
Q3: Of all the processes that wild bird photography involves, what do you find the most pleasant?
I find camping in the nature most pleasant. I love it. I want to live in the nature and leave the modern world behind. When I am camping in the nature, I am alone but not lonely because nature is my friend. I find peace and solace through it. Also, I believe that you can gain happiness even with a simple life. In fact, as long as you live with sufficient economy, you can lead a happy life regardless of whether you are poor or rich.
Q4: You must have experienced many challenging situations shooting in the wild. Could you share with us about one such tough experience?
Once, when I had set a blind in the jungle and was waiting for wild birds to appear so that I could take photos, a leech went into my nose and started sucking my blood. I had to wait more than 10 minutes before I could blow my nose to take it out. Yet all that time, I was still continuously taking photos.
Name of the bird
Oriental Darter
Shooting Location in Thailand
Sa Kaeo Province
EOS 7D/ EF800mm f/5.6L IS USM/ (f/5.6, 1/200 sec, EV+2.7)/ AF Mode: One-Shot/ WB:Auto/ ISO 250
Q5: Readers of SNAPSHOT include many photographers of wild birds. Please share with us one technique to take good photos of wild birds, which anyone can try out immediately.
First of all, you must hold still and remain motionless when shooting, so as not to surprise or frighten the birds. I also recommend making good use of the Live View shooting mode to check whether the point of focus is where you need it to be.
Q6: Since we never predict when or where we can see the wild birds, it would be really hard to catch the chance to shoot them. Is there any technique to get more shooting opportunities?
The sharing of knowledge and experiences within the same group of photographers is most important in order to increase photographic chances. This is because you will learn about things such as life cycles, migration routes, mating seasons and the unique character of each species of wild bird.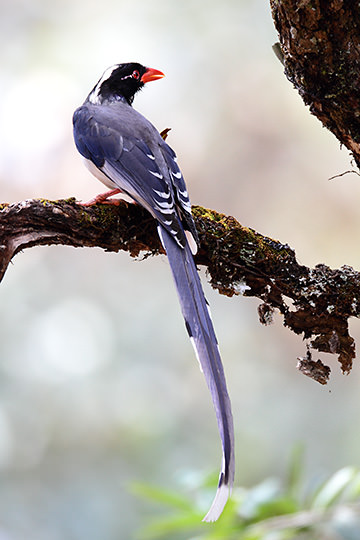 Name of the bird
Red-Billed Blue Magpie
Shooting Location in Thailand
Phu Kaew, Chaiyaphum Province
EOS 7D/ EF800mm f/5.6L IS USM/ (f/5.6, 1/125 sec, EV+0.7)/ AF Mode: One-Shot / WB: Auto/ ISO 400
Q7: Please let us know what kind of equipment you use.
The DSLR camera bodies that I use are the EOS 5D Mark III and EOS 7D Mark II. For compact cameras, I also have the PowerShot G1 X. For lenses, I use the EF15mm f/2.8 Fisheye, EF17-40mm f/4L USM, EF24-105mm f/4L IS USM, EF70-200mm f/4L USM, EF400mm f/5.6L USM, EF300mm f/2.8L IS USM, EF100mm f/2.8 Macro USM and the EF800mm f/5.6L IS USM. As for accessories, I use the Speedlite 270EX II and Speedlite 580EX.
Q8: Please tell us about the camera functions that you use most often, and why you use them.
The camera functions and settings that I use depend on the situation. If the bird that is my subject is moving, such as when it is flying or hunting for prey, I will use AF (One-shot or AI Servo). But if the bird is not moving, such as when it's perched on a tree, I will carry out manual focus using the display magnification function in Live View mode. To prevent the image quality from being affected, I rarely use an ISO that is more than 400. But if the lighting is good, I use an ISO that is not more than 200. I set the white balance to Auto mode. I also use [Standard] Picture Style so that colours of the bird appear true to life. As for recording format, I shoot in RAW format so that I can process them with Digital Photo Professional.
Name of the bird
Black-Shouldered Kite
Shooting Location in Thailand
A rice field in Petchburi Province
EOS 70D/ EF800mm f/5.6L IS USM/ (f/5.6, 1/1600 sec, EV+1.3)/ AF Mode: AI Servo/ WB:Auto/ ISO 400
Q9: You hold an office day job on weekdays, and are active as a photographer on weekends. Have your experiences as a photographer helped in your day job? How have they helped?
While watching the bird you need to be patient—waiting, keeping silent. But you also need to be ready to press the shutter release smoothly, without jerking the camera and ruining the shot, the instant the shot becomes available. It's a great time, because you can practice meditating. That has its benefits. For example, it helps to build your concentration, mental focus, self-confidence and self-awareness; it also helps to develop creativity, power of imagination, inner silence and calmness, emotional balance. On top of that, it also removes negative emotions and reduces stress. All of benefits mentioned apply not just to photography, but also on weekdays.
Q10: Please tell us about your dream shot, which you hope to take someday.
I see every photo I take as my dream shot, so that I can give each and every one of them my best shot.
Phattharin Khumthukthit
Born 1953, Phattharin is currently the General Manager of the Procurement Department at Thai Obayashi Corp.,Ltd, the Thai branch of Obayashi Corporation. He is also an active photographer, whose lifework involves photographing wild birds while camping in nature on the weekend. Through these photos of wild birds, he shares the beauty of Thailand's nature with the rest of the world.