Products >>
All Products
EOS 5D Mark IV: Lens Aberration Correction—A Close-up Look (Part 1)
The EOS 5D Mark IV includes the Digital Lens Optimizer, which performs high-level correction for lens aberration in-camera that previously could only be done on a computer with the Digital Photo Professional (DPP) software. In this article, we take a closer look at this function and how to use it. (Reported by: Ryosuke Takahashi)
Feature 1: The Digital Lens Optimizer now corrects JPEG files, too
When you take a photo, the light rays reflecting off a subject have to pass through all sorts of optical influences (lens elements within the lens, optical filters, etc), before they finally reach the camera's image sensor. In an ideal situation, the light rays originating from a point on the subject would converge at the same point on the sensor. However, in reality, the optical influences affect the light rays in various ways and prevent them from converging to the same point. Lens aberrations are an example of such an influence. Yet another example is the effect of a low-pass filter when it corrects moiré.
When the light rays are prevented by these optical influences from converging to the same point on the image sensor, the image that is recreated is less accurate and image quality deteriorates. The Digital Lens Optimizer seeks to restore image quality by identifying these influences, converting them into mathematical functions (optical transfer functions (OTF)), and then applying the inverse function in order to restore the light rays as close as possible to their state before entering the lens.
A dedicated integrated circuit
The Digital Lens Optimizer in the EOS 5D Mark IV runs on a dedicated engine and corrects coma, sagittal halo and other aberrations that fall outside the capabilities of the lens aberration correction function.
The Digital Lens Optimizer started out as an expansion to DPP. It made its debut as an in-camera feature on the EOS-1D X Mark II. At that time, its effects could not be reflected in real time on JPEG images. This has been overcome on the EOS 5D Mark IV. Compatibility with JPEG images, in a sense, completes the in-camera functionality of the Digital Lens Optimizer. It is an achievement made possible by advancements in image processing technology, including improvements to the image processor engines, and a remarkable first for the EOS lineup.
The philosophy behind the Digital Lens Optimizer
Key optical influences affecting image quality
A: Dispersion at the light source
B: Lens
C: Infrared ray-absorbing/UV blocking glass
D: Low-pass filter
E: Primary colour filter
F: Shape of CMOS sensor opening
The transmission coefficient of the light rays are converted into mathematical functions/filters, which are then applied to the image received by the sensor to correct the effects of these optical influences.
Before a light ray reaches the image sensor, it has to pass through all sorts of optical influences. The Digital Lens Optimizer converts these influences into mathematical functions, and then applies the inverse function to prevent deterioration in image quality. Camera and lens characteristics can also be comprehensively converted into data.
Feature 2: The lens aberration correction function has new features and improved capabilities
How lens aberration correction has developed over time
EOS 5D Mark IV
The EOS 5D Mark II featured only "Peripheral illum corr.". On the EOS 5D Mark III, chromatic aberration correction was added to this, and both were categorized as lens aberration correction functions. More of such functions were added on the EOS 5D Mark IV, such as distortion correction, which until then could not be fixed in-camera. These additions helped improve the usability of the lens aberration correction function.
How to use lens aberration correction
1. On the [SHOOT1] menu tab, select [Lens aberration correction] and then press the SET button.
2. Check to see if the correction data for the attached lens is available. Then go to the function you wish to apply and select [Enable] to turn it on.
3. If [Digital Lens Optimizer] is set to [Enable], [Chromatic abber. corr.] and [Diffraction correction] will not be displayed.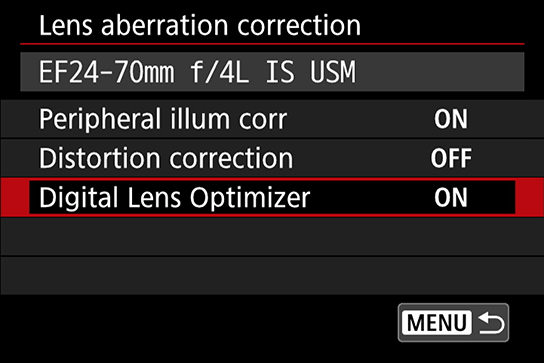 Originally, Digital Lens Optimizer and lens aberration correction were two separate features, but the correction aspect of their functions links them intimately. Some key lens aberrations that Digital Lens Optimizer can correct are chromatic aberration (axial and lateral) and spherical aberration. This is why the "Chromatic aberr. corr." item automatically disappears from the menu display when you enable Digital Lens Optimizer—the latter will carry out high level processing of this aberration, as well as other types of aberrations.
Feature 3: Digital Lens Optimizer can even remove small-aperture blurring, astigmatism and coma
Digital Lens Optimizer helps in all sorts of scenes when enabled.
If you were to use a very narrow aperture in order to slow down the shutter speed, it automatically carries out diffraction correction, which fixes the small-aperture blurring and restores the sharp quality of the photo.
At the same time that it carries out diffraction correction, it can also help to overcome one weakness of wide angle lenses by suppressing the effects of spherical aberration, something that cannot be avoided by tweaking the aperture settings.
Digital Lens Optimizer can also help to fix the loss of sharpness that happens when shooting at maximum aperture, caused by the presence of a low-pass filter, and coma (comatic aberration) that frequently occurs during night photography.
As you can see, it is a useful feature for all types of photography scenes, regardless of how much you narrow or widen your aperture setting.
Scene 1: Fixing the lack of sharpness in an image shot at maximum aperture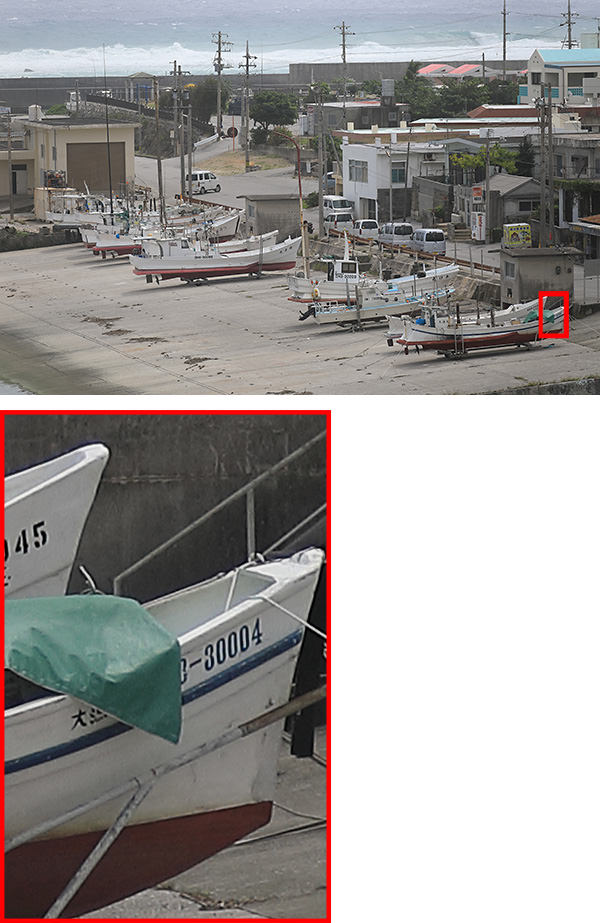 Digital Lens Optimizer: ON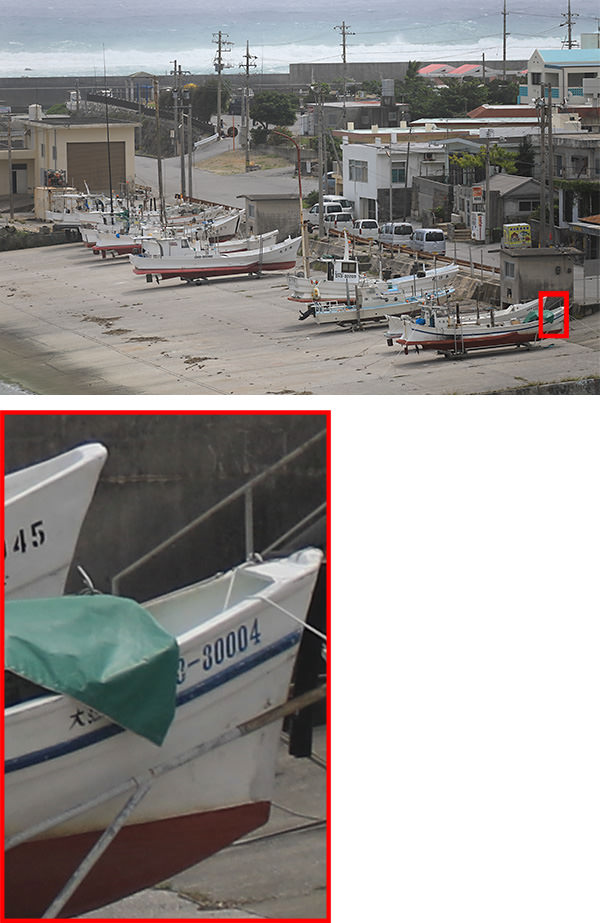 Digital Lens Optimizer: OFF
EOS 5D Mark IV/ EF28-300mm f/3.5-5.6L IS USM/ FL: 235mm/ Aperture-priority AE (f/5.6, 1/800 sec, EV±0)/ ISO 100/ WB: Auto
When you shoot at maximum aperture, a low-pass filter may adversely affect image quality. Enabling Digital Lens Optimizer helps you to achieve a sharper image. This works for spherical aberration too.
Scene 2: When using deep focus
Digital Lens Optimizer: ON
Digital Lens Optimizer: OFF
EOS 5D Mark IV/ EF24-105mm f/4L IS USM/ FL: 24mm/ Aperture-priority AE (f/22, 1/50 sec, EV-1.0)/ ISO 100/ WB: Daylight
In this example, I narrowed the aperture to f/22 intending to deep focus, but this resulted in a loss of sharpness due to diffraction. Digital Lens Optimizer restored the sharpness. This will come in useful if you want to obtain a slow shutter speed, so do keep it in mind.
Bonus tutorial: Using Digital Lens Optimizer on DPP 4
Digital Lens Optimizer is also available as part of the bundled Digital Photo Professional (DPP) 4 software, where some post-processing features are more robust than the in-camera version. One such example is noise reduction, which is somewhat conservative for the in-camera function but can be adjusted along a scale of 0 – 100 in the DPP version. Also, the correction of some aberrations such as Petzval field curvature may be more easily carried out when the image is magnified on a computer screen.
Just like its in-camera counterpart, enabling the DPP 4 version of Digital Lens Optimizer will automatically disable the diffraction correction and chromatic aberration correction functions of Lens Aberration Correction, so as to avoid conflict between the features.
 
1. Applying the Digital Lens Optimizer may result in the [Sharpness] effect being applied excessively. To avoid that, it's best that you leave [Sharpness] unselected.
2. Click on the [Lens] tab and check on the lens data status. If there is no lens data, click on the button to download the data.
3. Checkmark the [Digital Lens Optimizer] checkbox, and move the slider to adjust the effect.
4. Preview the effects in the small window. To save the image, go to [File] and then [Convert and save].
Receive the latest updates on photography news, tips and tricks by signing up with us!
Ryosuke Takahashi
Born in Aichi in 1960, Takahashi started his freelance career in 1987 after working with an advertising photo studio and a publishing house. Photographing for major magazines, he has travelled to many parts of the world from his bases in Japan and China. Takahashi is a member of the Japan Professional Photographers Society (JPS).

Digital Camera Magazine
A monthly magazine that believes that enjoyment of photography will increase the more one learns about camera functions. It delivers news on the latest cameras and features and regularly introduces various photography techniques.
Published by Impress Corporation