Tips & Tutorials >>
All Tips & Tutorials
[Question 1] Photos taken in the dark are blurry! Is there a way to prevent this?
Blurry images often occur when shooting night scenes or in dimly lit rooms. They occur easily in low light conditions because the shutter speed is slowed down. Here are some tips on how to prevent blurry images. (Edited by Camera Biyori, Photo by Takeshi Akaogi)
A: Secure the camera firmly
Camera Settings
Any mode will do.
Keep your arms close to the body and adopt a firm posture
Grip the camera with your right hand and support the bottom of the lens with your left hand. When you lock your arms securely against your body, the camera is stabilised making it difficult for blurring to occur.
Lean against a pillar, wall or handrail
Leaning against any pillars, walls, or handrails nearby is another way to stabilise the camera. This can effectively prevent blurring as your body is supported.
Use the camera strap for support
When shooting in Live View, extend your hand and pull the camera strap tightly to support and stabilise the camera.
A: Increase the ISO Speed and Shutter Speed
Increasing the ISO speed allows you to increase the shutter speed, thereby preventing blurring.
Camera Settings
Program Auto
Aperture-Priority AE
Shutter-Priority AE
Manual
What's ISO speed?
ISO speed is a measure of the camera's sensitivity to light. The higher the value is, the more sensitive it becomes, making blurring difficult even in dark places and when shooting moving subjects. However, the image finishing tends to get ruined at higher ISO speeds so remember to use the values in "Normal ISO Sensitivities" as a guide.
*"Normal ISO Sensitivities" refers to the range of ISO sensitivities defined by the manufacturer for each camera model to take beautiful pictures. The higher the value is, the more suitable the camera model is for shooting in dark places.
Take up the photography challenge!
Failed Examples
f/4/ ISO100/Shutter speed 1/30 s
The slow shutter speed causes camera shake to be captured and the image to be washed out.
Example taken at a higher ISO speed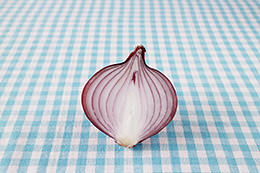 f/4/ ISO400/Shutter speed 1/125 s
Faster shutter speeds can be achieved when the ISO speed is increased, allowing for the picture to be shot vividly without blurring to even show the fibres of the onion.
Takeshi Akaogi
As a photographer, Akaogi works mainly for magazines and writes books introducing photography and practical tips. He also teaches at photography workshops.
http://www.flipphoto.org

Camera Biyori
Camera Biyori is a Japanese photography magazine introducing charming photos and daily joy with cameras. Suggesting fun activities relating to cameras and photography, Camera Biyori editorial department also offer the "Camera Biyori Photography School" to recommend its readers to engage in photography and have fun.
Published by Daiichi Progress Inc.