Have you adopted a few plants during the stay-home period and are now a proud plant parent? Well, take this chance to show off your thriving plant babies by giving them a photoshoot with these 4 creative plant photography concepts!

A Series Of Neutrals
Plants can wilt or dry up. When this happens, the wilted parts will turn brown which allows you to photograph in this consistent neutral palette to create a plant photography series.

When attempting this concept, try to preserve or find as many subjects as you can. Then, experiment with alternative ways to photograph the subject in different perspectives. If it's a flower, try peeling the petals off to reveal what's hidden inside. When you're happy with the look of your subject, play with white balance to supplement the photo with a warm filter. You can try Cloudy, Shade or adjust to create a custom white balance filter. We also used a shallow depth of field to focus on certain areas of the subject to give it a delicate outlook.
The backgrounds used are coloured papers meant to compliment the neutral shades of the subjects. Don't camouflage the details by using coloured papers that are too close to your subject's palette. Instead, create contrast with either a lighter or darker background.

Translucent Petals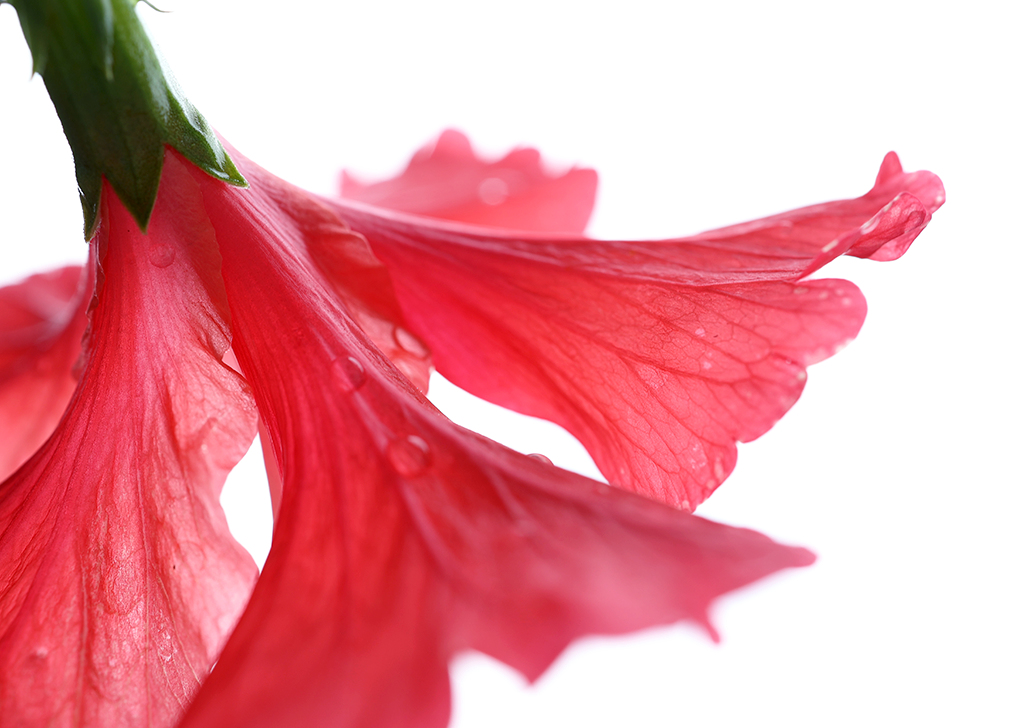 Flower petals are often slightly translucent and with the right backlit lighting, the vein-like pattern known as venation can be accentuated as beautiful details. For this shoot, we picked a few hibiscus flowers and shot them against the sky. The backlit effect complements stunningly with the beautiful bokeh created by the RF 35mm f/1.8 Macro IS STM lens.
The venation also added a sense of delicateness through its organic structure of the flower petals.
If you're planning to attempt this concept, experiment with bokeh and play around with the organic quality of flowers. Don't get too rigid with having a set composition for your final look, or to have a fixed focal point.

Water Droplets and Twinkles


Photo Credit: @Abdulgapurdayak
Canon EOS 7D, EF 100 mm F 2,8 L USM, F 5.6, ISO 200, 1/80s, 100mm
Water droplets and light twinkles bring an ethereal-like effect to your plant photography. If you have a macro lens at hand, learn how to create water sparkles in this step-by-step tutorial here! You should pick out plants that can hold the delicate droplets well, and preferably with colours to pop from the backdrop. If the surrounding is too messy or cluttered, you can choose a wider aperture to create background bokeh.

Use a thin syringe to place the water droplets on your subject. For lighting setup, a simple light bulb angled downwards to the water droplets will suffice to create the sparkling effect and light up a macro scene, just like above.

Low-Angle Perspective
For younger trees, a play on perspective works to give your subject the illusion of towering height. It also gives a cleaner look with the sky as the white background and shows off the unique underside side of leaves.

For this shoot, we used the Canon EOS 850D which comes with a Vari-angle LCD, allowing us to have the flexibility to compose this low-angled composition without the need to lie down on the ground. Start by placing your camera with the screen facing the ground and your lens close to one of your subject's main trunk. Then, play around with a shallow depth of field (with the focus on the trunk) to create the illusion of distance from the trunk to the leaves.
When attempting plant photography, we would suggest working with a camera that has macro capability to capture smaller indoor plants and its details. Do experiment with the closest focusing distance you can achieve with the lenses to capture a tight subject crop for your photos without the need for post-processing. If you have tried any of these concepts and want to show it off, do feel free to submit it to Our Canon Story!

For similar articles:
Telephoto Macro Technique: An Ordinary Leaf Gets the Limelight
Macro Photography: Dew, Foliage and Flowers
Handling Natural Light: Telephoto Macro Flowers in the Evening Light
Beginner's Introduction to Gardening Photography