Products >>
All Products
Part2
Documenting Life in the Great Outdoors: A Professional Photographer's Camping Trip in Photos
Every camping trip is a one-of-a-kind experience worth treasuring. And with a camera in hand, anyone can go about recording their precious memories. How then does the world look through the eyes (and lens) of a professional photographer? Taiwanese photographer Sean Huang shares with us his photos of a hike up the Junda Forest Road, shot with the EOS M6. (Text and Photos: Sean Huang (鳳梨))
EOS M6/EF-M15-45mm f/3.5-6.3 IS STM/ FL: 26mm (42mm equivalent)/ Manual exposure (f/4.5, 1/4sec, EV±0)/ ISO 1000/ WB: Manual
For taking photos while on a hike up a mountain, compactness and interchangeability are everything
Every weekend, I jump at the chance to pack my bags and go camping outdoors with my family, to bask in nature as I record everything that I see and hear around us.
On this camping trip where we hiked up Junda Forest Road, the EOS M6 really made shooting a breeze. Its compact body and lightweight lens weighs in at a mere 390g. It is also compatible with a wide range of lenses, making it a trusty companion in outdoor photography. Despite bringing along 5 different lenses on this trip, I never once felt burdened. This is probably what mountain hikers would find the most appealing about the camera.
The tiltable touchscreen LCD monitor not only allows for responsive and simple AF point selection, but also lets you shoot freely in any angle without having to change your position. In addition to being able to reproduce the vibrant colours of the scene, the EOS M6 is equipped with in-built Wi-Fi and NFC capabilities that lets you view the photos on your smartphone. You can then use a smartphone application to directly post-process the images and upload them to social media without having to first go through post-processing on a computer. This is exactly the kind of convenient and easy-to-use camera that you cannot leave home without, so that you can truly relax and enjoy the natural scenery before you.
In addition to sharing my favourite photos from this camping trip, I have also included some tips on how to capture photos of the great outdoors. Hopefully, you will be able to capture the splendid scenery before you, as well as how you felt there and then.
The camera that I brought along for this camping trip is the EOS M6: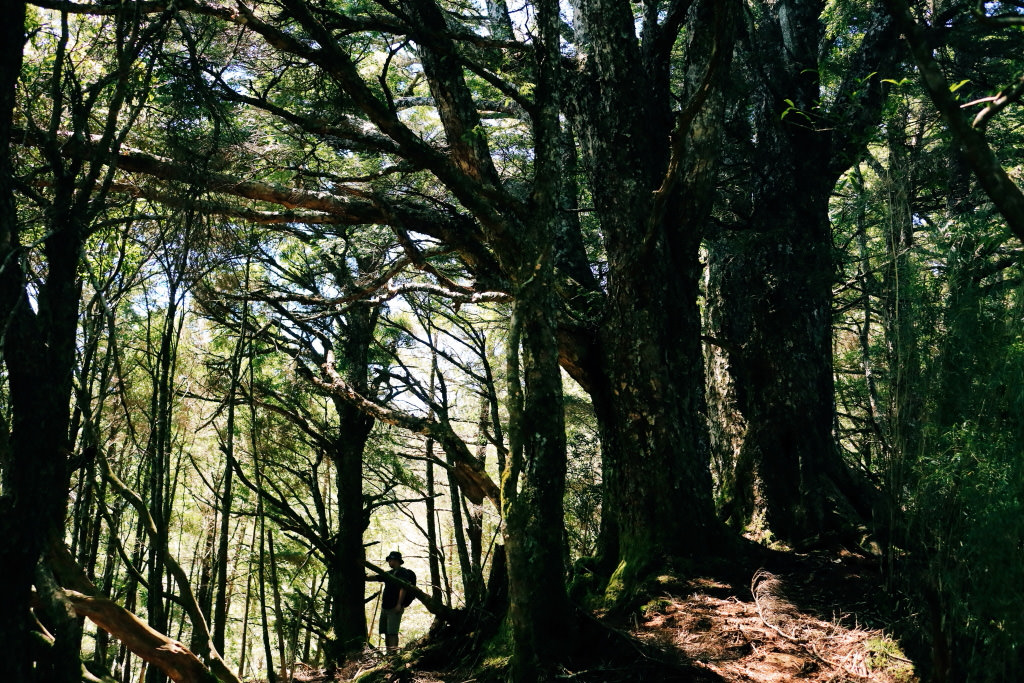 EOS M6/EF-M22mm f/2.0 STM/ FL: 22mm (35mm equivalent) /Aperture-priority AE (f/3.5, 1/640sec, EV-1.3)/ ISO 1000/ WB: Auto
One of my favourite things to do whenever I go hiking is to stop and gaze upon the gigantic trees nearby as their lush branches present a sense of vitality. I wanted to show how much the trees love the sun in this photo, with their branches extending towards the light in the left side of the image. The tree trunks covered in moss from years of minimal sunlight lend the image an air of mystery.
EOS M6/EF-M22mm f/2.0 STM/ FL: 22mm (35mm equivalent) /Aperture-priority AE (f/8, 1/4sec, EV-1.7)/ ISO 800/ WB: Auto
Waking up at 5am, surrounded by trees that can only be found at high altitudes, with the sun rising from the forest behind my tent, it was then that I realised that I had spent the night in a breathtakingly beautiful place. To shoot photos where the sun shines through the scenery from behind, narrow down to a very small aperture so as to create a starburst effect.
Scene 1: Observing the minute and subtle details of nature up close
EOS M6/ EF-M28mm f/3.5 Macro IS STM/ FL: 28mm (45mm equivalent)/ Aperture-priority AE (f/3.5, 1/100sec, EV+0.7)/ ISO 4000/ WB: Auto
Up in the mountains, you will encounter many insects, especially when they are drawn to your campfire at night. I saw one that remained mostly stationary on the tent-pole, so I whipped out my camera to try and get a close-up shot of the insect and its compound eyes. I originally mistook this insect for a long-horned beetle, but I realised that it was actually a rare species of beetle called idgia oculata. This was to be just one of a few rare insects I came across on this camping trip.
One of the main concerns in macro photography is the light source, as when you get closer to a subject, you inevitably end up blocking out some of the light. For this shot, I used the EF-M28mm f/3.5 Macro IS STM macro lens which has a built-in forward-facing Macro Lite to provide additional illumination. This lens was a great help during the shoot, especially since it also provided image stabilisation to prevent camera shake and inaccurate focusing.
You might be interested in the following article:
Macro Photography in Low Light: Preventing Camera Shake
Scene 2: A tranquil forest shrouded in mist with the trees peeking through
EOS M6/EF-M11-22mm f/4-5.6 IS STM/ FL: 11mm (17mm equivalent)/ Aperture-priority AE (f/5.6, 1/10sec, EV-1.3)/ ISO 100/ WB: Manual
Along the way up the mountain, there were trees towering by the side of the road. There was even a stretch that was shrouded in mist. I like driving through mist as the beam of the car lights create an air of mystery.
When shooting photos of mist, special attention has to be given to the setting of the exposure value (EV). As mist is white, the camera's automatic exposure tends to be insufficient. You will have to manually set the exposure compensation to a value that resembles that of the scene itself. This method can also be used if you encounter similar problems while shooting a sea of clouds.
The EOS M6 I brought along was equipped with intuitive control dials, which let me quickly adjust the aperture, shutter speed and exposure compensation value. Thanks to that, I could shoot the gorgeous scenery effortlessly.
Scene 3: Discovering the vast wonders of nature from a whole new angle
EOS M6/ EF-M11-22mm f/4-5.6 IS STM/FL: 11mm (17mm equivalent) /Aperture-priority AE (f/5.6, 1/800sec, EV-0.7)/ ISO 320/ WB: Manual
In the evening, I came across a large forest on the way up the mountain. The expansive forest stretched on for miles, almost like a corridor leading to the mountain range ahead, while the sunlight brought out the different layers of the forest. I became enchanted by this wondrous scenery and stopped the car to take some photos.
Usually, when trying to depict the depth of a scene and the angle-of-view of the human eye, I would use a wide-angle lens or even an ultra wide-angle lens. These lenses are able to bring out the vastness of the scenery and produce an expanded perspective effect, allowing the viewer to feel as if they were actually present. With the tiltable LCD monitor, you can also shoot effortlessly at various angles whether high or low to see what new views you can discover. For example, in this photo, I was able to take a shot from a high angle-of-view by stretching my arms up high and using the tiltable LCD monitor.
Scene 4: A slowly crackling fire—the warmest and most soothing light source during the night
EOS M6/ EF-M22mm f/2.0 STM/FL: 22mm (35mm equivalent) /Manual exposure (f/2.0, 1/200sec, EV±0)/ ISO 6400/ WB: Manual
Whenever I go camping, I enjoy watching the campfire as I find it especially therapeutic and comforting. This was the case on this trip as nights on high mountains tend to be cold. On this particular day, it was 35 degrees at the foot of the mountain, but only 12 degrees on the mountain itself. Using the firewood and the portable fire pit that I had brought along, I started a fire for warmth and also to ward off wild animals. The fire pit also leaves less of an impact on the environment.
When photographing campfires or camping lights, I recommend reducing the shutter speed to capture the movement of the flickering flames as well as the occasional spark. This photo was taken with the EF-M22mm f/2.0 STM lens, which has a large aperture. Used in combination with the camera's image stabilisation capabilities, the night-time shoot was concluded without a hitch.
---
Receive the latest update on photography news, tips and tricks.
Be part of the SNAPSHOT Community.
Sign Up Now!
---
About the Author
Sean Huang is a photographer who specialises exclusively in portrait photography for fashion magazines and commercials. In his free time, he enjoys outdoor activities such as mountaineering and camping.
Randonée is a lifestyle magazine on Outdoor Style, with a focus on comfortable, practical and fashionable outdoor apparel. Additionally, it also covers a range of topics such as gourmet dining, mountaineering, camping, outdoor lifestyles and various outdoor activities. As more and more Taiwanese are becoming interested in camping, mountaineering and various other outdoor activities, Randonée has always been at the forefront of delivering valuable knowledge about the methods to enjoy outdoor activities. Furthermore, Randonée collaborates with automobile companies, outdoor brands, sports brands and fashion brands, introducing readers to such brand and driving the outdoor lifestyle industry and interest in a fun outdoor lifestyle.