Don't these cats look cute with their lovely gestures? However, when you wish to take a picture, very often you will find that the picture does not turn out the way you want it. Introducing 3 techniques to shoot cats, and make them look cute. (Reported by: Akiyo Ogawa, Yusuke Yuzawa).
Method 1: Get a close up of their large eyes
Take care to capture the cat's eyes in a bright place. In a dark place, the eyes would become round and large. However, you have to be careful since unless you use a mode that allows you to set the shutter speed manually, the latter will become slower when the surroundings are dark. You will have to set your shutter speed to at least 1/60 sec. and increase your ISO settings to prevent the occurrence of motion blur. Your aim is to capture the big round eyes of the cat. A good time to capture those are when the cat is playing excitedly with its favorite toy, in the daylight or in brightly lit places. Those moments when the cat looks straight up at the toy and stops right there are easy to capture.
EOS 7D/ EF70-200mm f/2.8L IS USM/ FL: 150mm (240mm equivalent) / Aperture-priority AE (f/2.8, 1/640 sec, EV+0.7) / ISO 3200/ WB: Auto
Tip: Make good use of a cat tower
EOS 7D/ FL: 40mm/ f/2.8/ 1/1250sec/ EV+0.3/ ISO 6400
The holes of a cat tower are the best places to capture the large eyes of cats. Since the inside of the holes are dark, the eyes will look big. Capture them when their heads pop out of those holes.
Method 2: Aim to capture that adorable pose
One of the charms of a cat is its flexible body. You will not get tired of looking at it washing its face, curling up, and stretching its body or legs. Observe it carefully, and capture it using continuous shooting once it starts its adorable poses. Even if it moves a bit, you can rest assured that with a shutter speed of 1/200 sec. or more, you can prevent motion blur and even take clear photos easily. Take note of the angle to capture that cute pose.
EOS-1D X/ EF24-70mm f/2.8L II USM/ FL: 70mm/ Manual exposure (f/4.5, 1/200 sec.)/ ISO 2000/ WB: Auto
Photo A EOS-1D X/ EF24-70mm f/2.8L II USM/ FL: 70mm/ Manual Exposure (f/3.2, 1/200 sec.)/ ISO 160/ WB: Preset
Tip: Tickle the cat's belly with one hand, and shoot with the other
When you touch the kitten and it exposes its belly, rub its belly to tickle it with one hand, and take a shot with the other. It is difficult to secure the right timing, but if it goes well, you will successfully capture a cute moment just like in Photo A.
Method 3: Get a close up of parts of their body
One of the reasons people love cats is for their soft, cute, and round bodies. Do not miss the chance to take close up shots of parts of their bodies. When they are moving, it will be difficult to take photos of parts of their bodies, so the best way would be to capture them when they are relaxing or sleeping. The subject may not be in focus if you are too close, so you will have to check the closest focusing distance of your lens.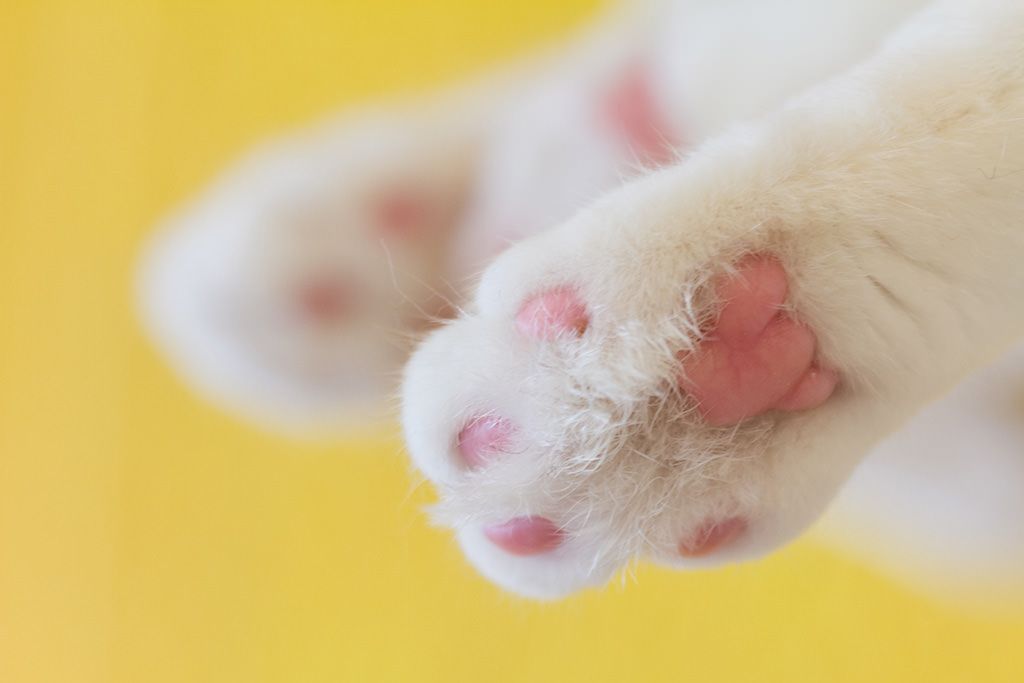 EOS 60D/ EF100mm f/2.8 Macro USM/ FL: 100mm (160mm equivalent) / Aperture priority AE (f/4, 1/50 sec., EV±0) / ISO 640/ WB: Auto
EOS 7D/ EF100mm f/2.8 Macro USM/ FL: 100mm (160mm equivalent)/ Aperture-priority AE (f/2.8, 1/80 sec., EV±0) / ISO 1250 / WB: Auto
Tip: Capture parts of the subject's body using a macro lens
When you use a macro lens to shoot a close up of the cat, it is possible  to make it appear as a lovely ball of fur. It is critical to ensure that the image that appears through the macro lens is in focus before taking a shot, so it is advisable to take photos of the cat only when it is not active.
Akiyo Ogawa
Born in Saitama Prefecture in 1980. Akiyo is a pet photographer who has obtained many animal-related qualifications, including those for a trimmer and dog trainer. She is currently a lecturer giving photography classes, chief editor of a pet magazine, and the director of a pet program.
Yusuke Yuzawa
Born in Tokyo in 1980. Yusuke is a pet photographer who takes photos of more than 500 pets per month. He is currently a pet photography lecturer and pet magazine cover and gravure photographer. He is also involved in scriptwriting and making appearances in pet programs.

Digital Camera Magazine
A monthly magazine that believes that enjoyment of photography will increase the more one learns about camera functions. It delivers news on the latest cameras and features and regularly introduces various photography techniques.
Published by Impress Corporation