Tips & Tutorials >>
All Tips & Tutorials
Designing and Composing Waterfall Photographs: A Visual Approach
In another article, Edwin Martinez shared some basic tips on photographing waterfalls. Here, he provides some more ideas on how to approach the next exciting challenge: Deciding how to compose your shot. (Text by: Edwin Martinez)
Visual design is a key element in presenting your photographs. It is about how you implement your vision and arrange elements to work harmoniously within the frame. Here are some basic templates that may help you out.
Before you start: Explore first and assess the location
Check vantage points. Can you access the waterfalls? What are the elements present at the base of the waterfalls? Are there iconic landmarks around the waterfalls that you can include in the frame, such as a rainbow, mountains, hills, or grand scenes?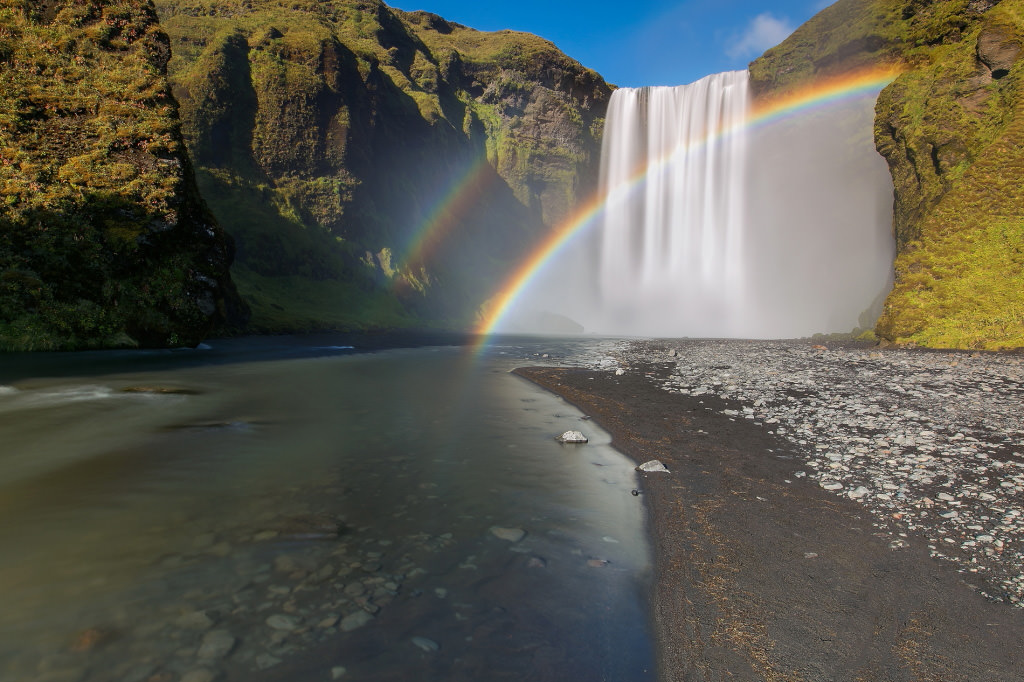 Skogafoss, Iceland
EOS 5D Mark III/ EF16-35mm f/2.8L II USM/ FL: 19mm/ f/16.0, 8.0 sec/ ISO 50/ WB: Auto
1. The Classic
If a waterfall can be approached near its base, find interesting elements such as rocks, leaves, tree branches, etc. Choose your foreground and make sure the shapes lead the viewer to the waterfalls. Never choose a foreground element that is horizontal in shape.
Kalayaan Twin Falls
EOS M3/ EF-M11-22mm f/4-5.6 IS STM/ FL: 12mm (19mm equivalent)/ f/8, 1.0sec/ ISO 100/ WB: Auto
2. The Diagonals
The inclusion of dynamic lines, such as diagonals or curves, will be a sure hit in any visual design. Such lines lead the eye of the viewer to the waterfall. Diagonals can be found in almost anything from rocks to the shape of the shoreline of the river.
Gulfoss, Iceland
EOS 5DS R/ EF16-35mm f/4L IS USM/ FL: 22mm/ f/16.0, 1.0sec/ ISO 100/ WB: Auto
3. Reflections
In any waterfall environment, you will usually find shallow pools of water forming around the area. Look for reflections in them and use this as your foreground element. Don't forget to use a circular polarizing filter (CPL filter) to enhance the reflection.
You might be interested in: Tips for Water Reflection Photography: Fun with Puddles!
Skogafoss, Iceland
EOS 5D Mark III/ EF16-35mm f/2.8L II USM/ f/16/ 1.0 sec/ ISO 50
4. The Top View 
Certain types of waterfalls such as the punchbowl type can only be viewed from the top. Try to use the cliff as your leading lines. Remember that curves are also dynamic lines.
Aldeyjarfoss
EOS 5D Mark IV/ EF70-200mm f/4L USM/ f/16/ 129.0 sec/ ISO 100
5. The Intimate
You don't always have to use a wide-angle lens to photograph waterfalls. Certain types of waterfalls, such as those with multi-levels and steps, would be better shot with a telephoto lens to highlight details.
Hraunfossar, Iceland
EOS 5D Mark III/ EF70-200mm f/4L USM/ f/16/ 4.0 sec/ ISO 50
6. The Inclusion of Iconic elements 
If the waterfall is beside a mountain, include it in your composition too. Use the waterfall as the foreground element that leads towards the landmark.
Kirkjufellfoss
EOS 5DS/ EF16-35mm f/4L IS USM/ f/16/ 1/4 sec/ ISO 100
I hope these tips will provide a jumpstart to photographing waterfalls. Research the nearest waterfalls in your area. In the Philippines, some waterfalls worth visiting are in Laguna, around 2 hours drive from Metro Manila. They include the Pagsanjan Falls, Kalayaan Twin Falls, Liliw Waterfalls and others.
Happy shooting!
 
For more tips on photographing waterfalls, read:
Photographing Waterfalls: To Freeze or to Blur?
Waterfall Photography: Accentuating Your Photo with a Rainbow
For more stunning landscape photos by Edwin Martinez,  check out our Photographer's Blog:
Capturing the magnitude of landscapes with Edwin Martinez
---
Receive the latest update on photography news, tips and tricks.
Be part of the SNAPSHOT Community.
Sign Up Now!
---
About the Author
Travel and Nature Photographer

When one speaks of travel and landscape photography at its apex, his name quickly comes to mind. Well known locally and gaining recognition abroad for his ethereal landscape images, his works exemplify landscape photography as a fine art.

A former medical and corporate professional, Edwin has found his niche and true calling in landscape photography. Still imbibed with the commitment and dedication for always achieving his best, these qualities are now his staples, whether he is shooting for clients or himself, mentoring photographers that join him in the tours that he guides in Iceland, Norway, Canada, the American west and other parts of the world or teaching in workshops under Wide Horizon Photo Adventure (https://www.facebook.com/WideHorizonPhotoAdventure)

Edwin's excellence has been recognized by brands that support his projects. By virtue of his acknowledged skill and influence, he has been tapped to field test and help in the launch of a number of new photography gear. His works have graced both local and overseas publications and websites. Edwin's images surely speak the language that draws attention and leaves an indelible mark of excellence.

To connect with or learn from Edwin, visit his social media accounts:

Introductory video: https://youtu.be/EvZrbGv4ENc
Facebook: www.facebook.com/EdwinMartinezPhotography/
Instagram page: https://www.instagram.com/edwinmartinez/
500px: https://500px.com/edwinmartinez
Youtube: https://www.youtube.com/edwinmartinezphotography
Website: https://edwinmartinezphotography.wpcomstaging.com/info/

https://www.facebook.com/EdwinMartinezPhotography
https://500px.com/EdwinMartinez
http://edwinmartinezphoto.com/